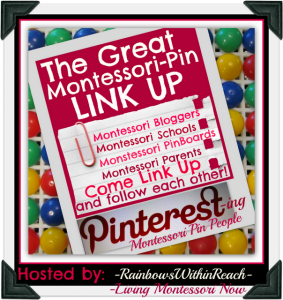 Debbie Clement from RainbowsWithinReach has started blog hops for specific groups of educational pinners. These blog hops are wonderful ways to find pinners in your educational field to follow – and to link up to a linky that fits with your specialty. I already co-hosted 3 Pinterest Link-Ups: Edu Pinners, ECE Pinners, and Kinder Pinners. Today, I'm co-hosting a link-up that's very special for me … a Pinterest link-up for Montessori pinners!
Here are the links to the other Pinterest directories at RainbowsWithinReach:
Notes about Living Montessori Now:
I'm definitely a Pinterest addict! In addition to specialized Montessori boards, I have LOTS of themed boards for unit studies and holidays. If you're looking for educational pins for almost any level, please follow me!
If you would like a post of yours pinned, join us at the Living Montessori Now community Parent/Teacher Pinterest Pinning Party! (See featured conversations.)
If you'd like to know more about Montessori education, I have TONS of posts about Montessori education for teachers and homeschoolers as well as specific ideas for using Montessori principles in any home. Check out my About Montessori page, Montessori Resources page, and popular posts and categories of posts in the right sidebar.
Montessori Pinterest Pinner Link-Up/Directory
This linky is for all Montessori pinners – Montessori teachers, Montessori-inspired bloggers, Montessori-inspired homeschoolers, and/or anyone who pins lots of Montessori posts! If you just have a specific Montessori board, you could link up that specific board if most of your boards don't have Montessori posts. This will be a great resource and directory of Montessori pinners! So join in the fun!
Go to your Pinterest account (the wall that houses all your Pinterest pin boards).

Look up in the task bar with your Pinterest identity.
Copy that URL.
Go down to the bottom of the link-up below.
At the bottom of the list, click on the blue words that say: "Click here to enter".
Designate your Pinterest collection with a descriptive title in the section for Link Title.

Then paste your Pinterest URL in the URL line.
After you add yourself to the linky, please pin the image at the top so that others will find us. If you are a blogger, you're welcome to grab the HTML code in the footer and circulate the list from your blog! Thanks so much, and have fun! 🙂




If this is your first time visiting Living Montessori Now, welcome! If you haven't already, please join us on our Living Montessori Now Facebook page where you'll find a Free Printable of the Day and lots of inspiration and ideas for parenting and teaching!