Children are typically fascinated by invertebrates. Invertebrates can also be a perfect theme for summer. I'm excited today to share some Montessori resources that are both fun and educational for summer (or any time of year). KHT Montessori is letting me host free invertebrate cards and presentations, including bug activities. These pages are part of the zoology manual from the KHT Montessori 12-month course.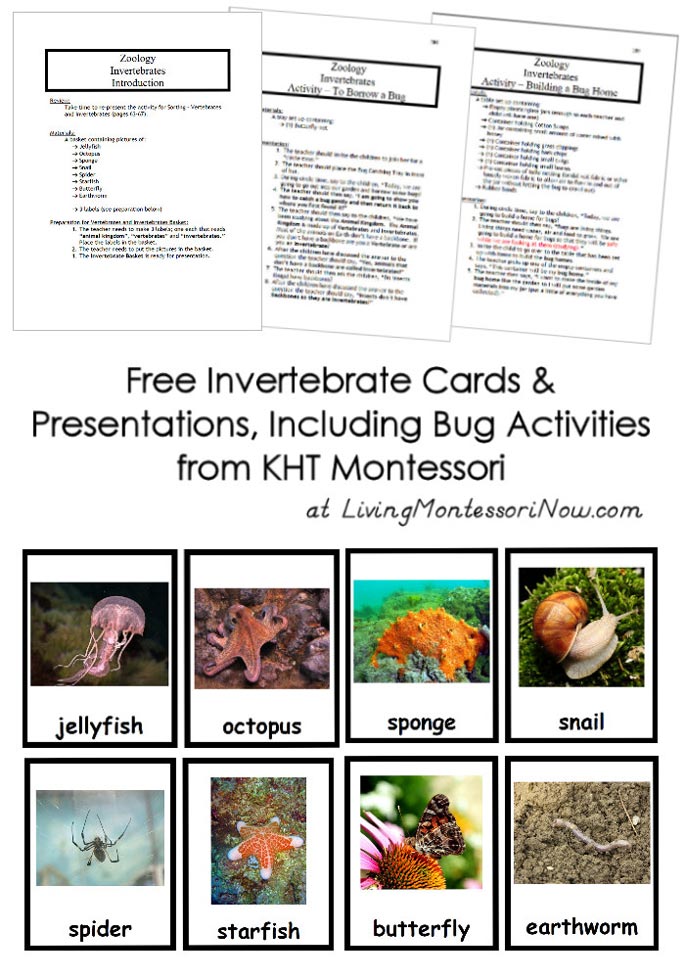 Free Invertebrate Cards and Presentations, Including Bug Activities from KHT Montessori
These are free instant downloads, courtesy of KHT Montessori!
You can download Zoology – Invertebrates – Introduction and Cards here. These materials can be used to discuss the characteristics of invertebrates and prepare an invertebrate basket.
You can download some great bug activities (Zoology – Invertebrates – To Borrow a Bug and Building a Bug House) here. I love that the first activity reinforces the concept of invertebrates, the vocabulary that bugs are insects (and invertebrates), and the idea that we just borrow bugs and return them gently to their homes. The second activity gives a tutorial for making a simple bug home and discussing what a bug needs to live.
All the Freebies from KHT Montessori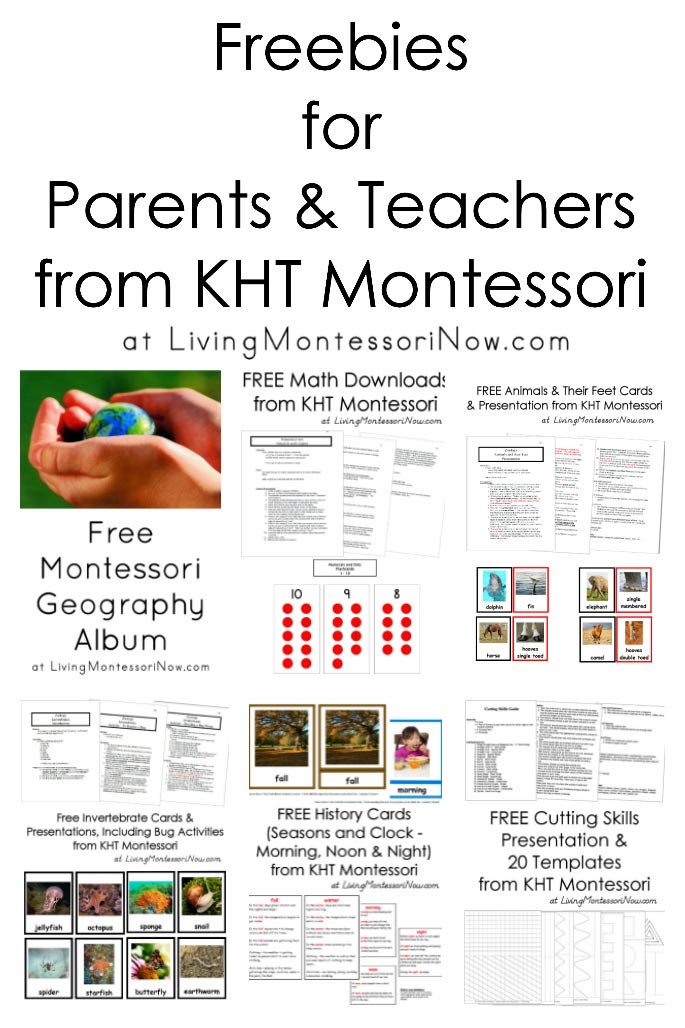 To get all the freebies (instant downloads except for the subscriber freebie geography album) from KHT Montessori and see my latest KHT Montessori post, go to my "Freebies for Parents and Teachers from KHT Montessori" post.
KHT Montessori Course Schedule for 2018
ENROLLMENT OPENS 60 DAYS PRIOR TO THE START DATE.
2018 START DATES:
February 26
April 30
July 2
September 3
December 3
The Structure of the KHT Montessori Online Course with Class Forum Example
If you wonder about how the course is structured, check out this information by Karen Tyler about the forum based classroom:
"Let's be honest here, most of us are very busy with family, outside jobs, etc. We also all live in many different time zones. Most "virtual class rooms" require you to log in at a specific time to be part of a live webinar/class. Self-paced online programs do not offer the personal direction and discussion with a teacher nor classmates. We have created a Forum Based Classroom that can be accessed any day of the week any time day or night. You can log in on your schedule and read the lectures, ask questions, join in on the discussion and I check in daily to reply and keep the class moving forward. It is the benefits of a live classroom but on your schedule!"
You can see an example of the forum (answering the question: "Is Montessori education rigid?") here. (Click on the forum image to see it at full size.)
More about the KHT Montessori Online Certificate Program
You'll find lots more information about what's included in the KHT 12-month online course in this post.
Free KHT Montessori Geography Album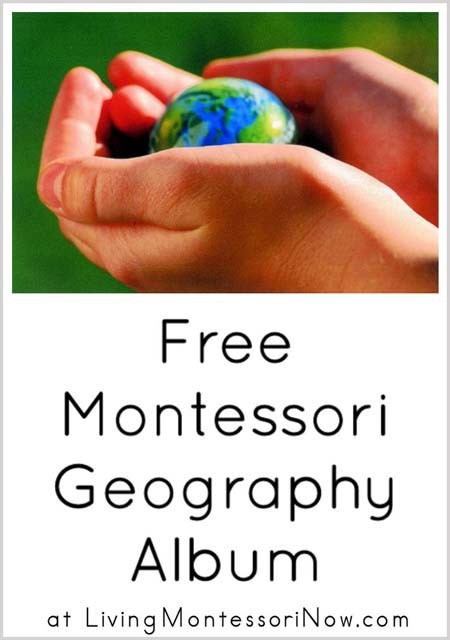 You'll get the entire KHT Montessori geography album if you simply sign up for my newsletter! You'll also read more about my experiences with KHT Montessori in this post.
I highly recommend Karen's KHT Montessori training! It's great for all sorts of people, including homeschoolers, Montessori teachers who want to refresh their training, and preschool teachers who'd like to add Montessori activities to their preschool classrooms. Karen also has all the details at KHT Montessori.
Giveaway – KHT Montessori Online Course and 12 Albums (ARV $330)! The giveaway is now closed.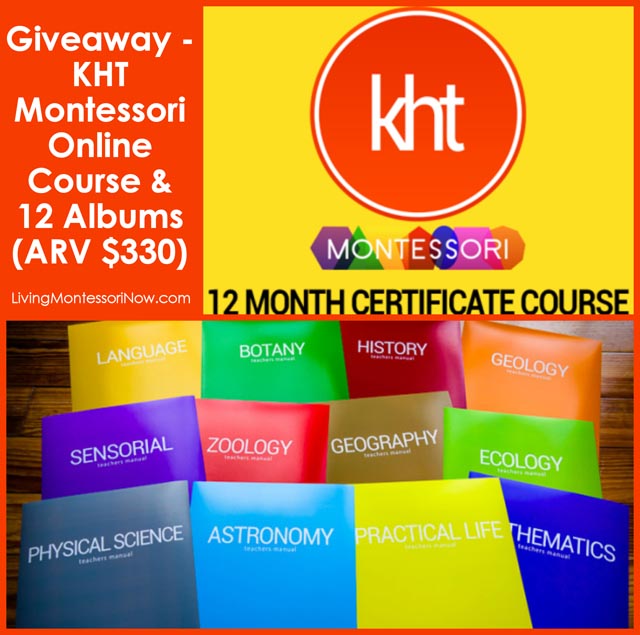 What You Will Win: Karen Tyler's Complete Montessori Training Course that starts July 10 AND the 12 Montessori teacher training albums/manuals that are full of curriculum!!! (ARV $330)
Who is Eligible:
This giveaway is open to anyone 18 and older worldwide. The first entry is mandatory. You must leave a blog post comment telling why you want to win (and be sure to say you did that on the Rafflecopter form)! After you've completed your mandatory entry, there are lots of optional entries. You have many chances to win! (Note: For the extra entries, you may count ways of following that you already do. For example, if you previously followed @DebChitwood on Twitter, you may still count that for your "follow @DebChitwood on Twitter" entry!)
It's easy to enter giveaways with Rafflecopter! Just follow the directions to enter.If you still have questions about the Rafflecopter form, here's a video with quick directions for entering through Rafflecopter. (Note: If you have problems with the Rafflecopter form, you can sign up on the Rafflecopter form at the Living Montessori Now Facebook page. Just be sure to leave your blog comment here! Both Rafflecopter forms are the same, so it doesn't matter which one you sign up on.)

You must complete the Mandatory Entry to qualify for any additional entries. The giveaway closes 9:00pm PST on Friday, June 16. Best of luck!

UPDATE:
It's Saturday morning, June 17. I really appreciated all the comments and 1,162 entries. A winner has been selected using Random.org through Rafflecopter!
The winner of the $330 KHT Montessori Online Course with 12 Montessori Teachers' Manuals is Christina K!
I'm so happy for Christina, who had multiple entries! (Note: Christina, you have 48 hours to respond to my email, or a new winner will be chosen.)
The comment for Christina's mandatory entry (why she wanted to win the online training course) said:
"I would love to win as my oldest is on the cusp of learning so much and I am at a loss as to what direction to go with her. I am researching as much as I can and love the Montessori philosophy but I am sure I am not applying it correctly as I have no idea what to do. But even with the little I am able to do, she has already mastered so many skills!"
CONGRATULATIONS, Christina!!! A HUGE THANK YOU to KHT Montessori for sponsoring this awesome giveaway – and thank you to everyone who entered! Note: A new KHT Montessori course starts July 10!
And, always, thanks so much to all my blog sponsors!
Montessori Print Shop
Montessori Compass
Spielgaben
Pin It! Maps
Maestro Classics
Alison's Montessori
KHT Montessori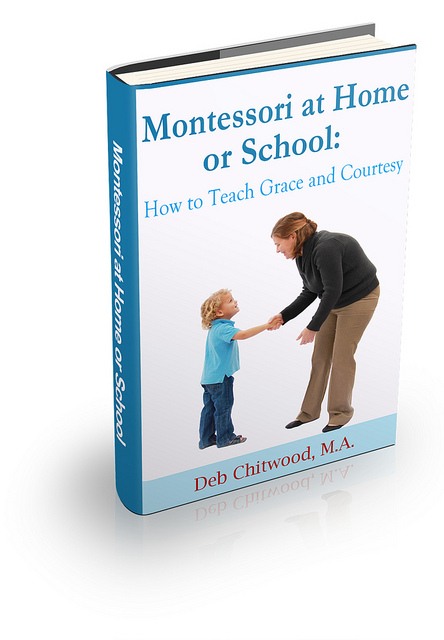 Learn more about my eBook Montessori at Home or School: How to. Teach Grace and Courtesy! I'm also one of the coauthors of the book Learn with Play – 150+ Activities for Year-round Fun & Learning!
The Montessori at Home! eBook and Montessori at Home! eBook and Materials Bundle are AMAZING resources! You can learn more about them here. Buy them in the Living Montessori Now shop.
If this is your first time visiting Living Montessori Now, welcome! If you haven't already, please join us on our Living Montessori Now Facebook pagewhere you'll find a Free Printable of the Day and lots of inspiration and ideas for parenting and teaching! And please follow me on Pinterest (lots of Montessori-, holiday-, and theme-related boards), Twitter (blog posts by me and others along with the Parent/Teacher Daily and other interesting information), and Google+ (post updates and Montessori Community). You can find me on bloglovin', Instagram, and YouTube now, too.
And don't forget one of the best ways to follow me by signing up for my weekly newsletter. You'll get two awesome freebies (and a monthly subscriber freebie) in the process!
May be linked to Practical Mondays Link Up, LouLou Girls, Hip Homeschool Hop, Tasty Tuesdays, A Little Bird Told Me Linky Party, Link-ups at Squishable Baby, Sharing Saturday