Meals are a natural part of many holiday gatherings, and it's important to prepare your child for those meals. By using Montessori techniques, you can help your child have appropriate table manners for any situation.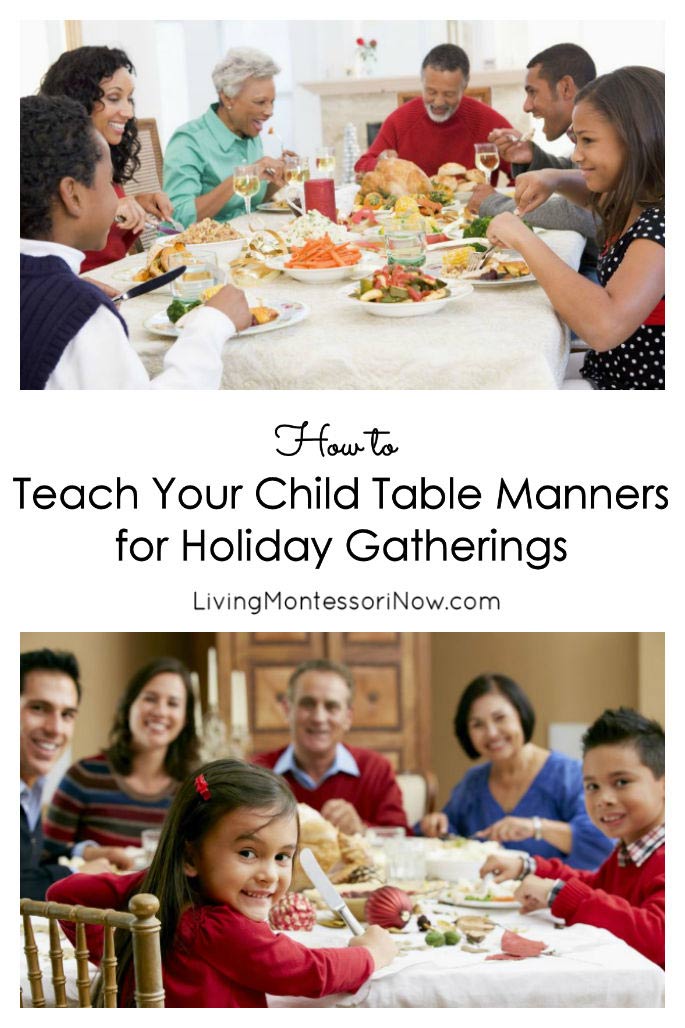 This will be a very condensed version of how to teach table manners.
Even if you don't have time to teach every rule of etiquette at the table before the holidays this year, you can emphasize the most important manners your child will need for a particular gathering, whether it's an informal family gathering, meal at a restaurant, or formal holiday meal.
If you've been following my manners posts, the Montessori techniques will be the same:
Demonstrate the appropriate behavior.
Give your child plenty of opportunities for practice.
Be specific in your praise.
Don't criticize or embarrass your child in public.
Repeat the demonstration and give your child more opportunities to practice a technique if he or she forgets or doesn't use a manners rule consistently.
There are also detailed guidelines for giving presentations for any practical life activity (including grace and courtesy) in my post called How to Help Your Preschooler Help Himself.
Here are some table manners you might want to emphasize (choose which ones will be important for the meal you will attend). With demonstrations and plenty of repetition, preschoolers can learn almost any table manner. Elementary-aged children are typically capable of learning and discussing any table manner.
Check that you look neat and clean before coming to the table.
Participate or stand or sit quietly with your head bowed if grace is said before a meal.
Put your napkin on your lap.
Begin eating after the hostess begins to eat.
Sit up straight at the table without putting your elbows on the table when you eat.
Don't talk with food in your mouth.
It's always nice to sincerely compliment the food. Talk about pleasant topics during the meal.
If there are extra knives and forks, start at the outside and work your way in.
Hold and use a knife, fork, and spoon properly.
If someone asks if you would like a serving of food, say, "Yes, please," or "No, thank you." If you say, "Yes, please," say, "Thank you," when you are served.
Use the serving utensils, not your own silverware, to take food from a serving dish.
Say, "Would you please pass the ____?" Say, "Thank you" when someone passes food to you.
Say, "I'm sorry," and clean up any messes if you drop or spill something.
Wait until the hostess excuses you unless it's a meal where it's appropriate to say, "May I please be excused?" Thank the hostess for the meal before leaving the table.
To practice table manners:
With preschoolers, it's best to introduce and emphasize in practice one table manner at a time.
Before an important meal or gathering, you can have a practice meal in which you go through each step of the meal, discussing and practicing each etiquette technique.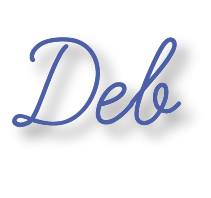 Learn more about my eBook Montessori at Home or School: How to. Teach Grace and Courtesy!
If this is your first time visiting Living Montessori Now, welcome! If you haven't already, please join us on our Living Montessori Now Facebook page where you'll find a Free Printable of the Day and lots of inspiration and ideas for parenting and teaching! And please follow me on Instagram, Pinterest (lots of Montessori-, holiday-, and theme-related boards), and YouTube. While you're here, please check out the Living Montessori Now shop.
And don't forget one of the best ways to follow me by signing up for my weekly newsletter. You'll receive some awesome freebies in the process!