The Margaret Homfray free Montessori video lectures are back at Montessori World!
Margaret Homfray trained directly with Dr. Montessori and was responsible for re-establishing Montessori education in Great Britain after World War II. Her video lectures are popular as inspiration for Montessori teachers and as guidance for Montessori homeschoolers. Margaret Homfray covers the Montessori materials in depth, so many of the lectures won't be of interest to other Montessori parents except for the first videos with a brief background about the early work of Dr. Montessori
and the needs of the baby and young child.
The Margaret Homfray lectures weren't available at Montessori World Educational Institute for a length of time, so it's great to see that they're easily accessible again online.
You'll find the videos listed at Montessori World as "Introductory Course in the Montessori Approach to Education." Right now, there are 23 lectures – the introduction plus sensorial and practical life videos available at Montessori World. The videos are lectures, so they're not exciting to watch. They're very educational, though, and a wonderful resource.
For a variety of free Montessori video lessons, see "Free Montessori Video Lessons Online."
Montessori Monday Link-Up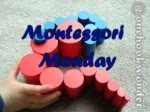 If you have some Montessori activity trays/lessons to share, please link up below. It's fine to link up a post from your archives – and you may link up anytime during the week!
Your post may be any Montessori-inspired activity or idea. It doesn't need to be related to my Montessori Monday post. If you're wondering what's considered "Montessori inspired" and what to link up (or not link up), check out my "What Is Montessori Inspired?" post.
Link up your exact post URL so that we can find your activity if we return to the linky at a later date (which I often do when I'm looking for activities for a roundup post). I publish the Montessori Monday post and linky each Monday morning and keep the linky open throughout the week. Please place the Montessori Monday button (using the code from the right sidebar) in your post or put a link back to this post. I do a lot of pinning on Pinterest and sharing on the Living Montessori Now Facebook page from the Montessori Monday link-up. Thanks for participating!
Notes For community discussions, please join us at the Living Montessori Now Facebook page and/or Google+ Montessori Community. And don't forget the Saturday/Sunday weekend sharing days where you may share a kid-related activity of any kind at the Living Montessori Now Facebook page!
It's also Motivational Monday on Mondays! I invite you to share something positive on the Bits of Positivity Facebook page (Bits of Positivity is my other blog) to help us all get a good start on the work/school week. You might share an inspirational or motivational quote, positive graphic, or post about finding balance or simplifying your life. Or you might share a post on organizing, an encouraging post, a post about making a difference in the world, or a positive parenting post. Just go ahead and share on the Bits of Positivity wall any time today! (Please "like" the Bits of Positivity Facebook page if you haven't already.) I'll be pinning a number of ideas to my regular Pinterest boards.
If you have a giveaway on your blog, please add it to my Family-Friendly Giveaway Linky Page! If you enjoy entering giveaways, you'll always find some great giveaways there.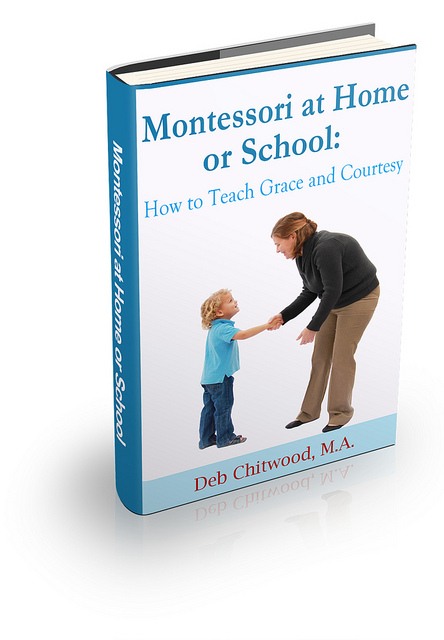 Learn more about my eBook Montessori at Home or School: How to Teach Grace and Courtesy! It's designed to help parents and teachers feel comfortable teaching manners to children ages 2-12. (And courtesy is a great addition to any curriculum.)

Also, if you've ever been linked to in one of my roundup posts, please feel free to grab the "Featured on" badge.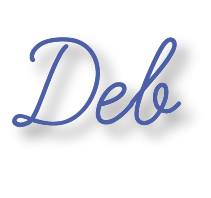 May be linked to Afterschool Express, Thoughtful Spot, The Mommy Club Resources and Solutions, Mom's Library, A Little Bird Told Me Linky Party, The Weekly Kid's Co-op, Homeschool Link-up, TGIF Linky Party, Preschool Corner, Ultimate Homeschool Pinterest Party, Sharing Saturday, Share It Saturday, Show-and-Share Saturday, The Sunday Showcase, Link & Learn.
Background photo at top of post by wckiw.