Magnetic and non-magnetic is typically a very popular science activity for Montessori preschoolers. It's one of the introductory science presentations in the primary (preschool) Montessori classroom and is an activity that can work well in a homeschool or preschool environment.
Following are some ideas for magnetic and non-magnetic from around the blogosphere.
Disclosure: This post contains Montessori Services affiliate links (at no cost to you).
Montessori Preschool Magnetic and Non-Magnetic Activities
Magnetic vs. Non-Magnetic from Counting Coconuts
Magnetic and Non-Magnetic by Cindy from Along the Way at Totally Tots
Magnetic and Non-Magnetic from The Education of Ours
Magnetic and Non-Magnetic from Umamah Learning Academy
Magnetic and Non-Magnetic (photo) and Magnetic and Non-Magnetic from The Adventures of Bear
Magnetic and Non-Magnetic from The Moveable Alphabet
Use of a Magnet Presentation from Moteaco
Free Magnetic and Non-Magnetic Printables from Primary Treasure Chest
Free Magnetic/Non-Magnetic Sorting Mat from PreKinders
Magnetic and Non-Magnetic Materials Available for Purchase from Montessori Print Shop
Magnetic/Non-Magnetic Activity Available for Purchase (containing all necessary items) from Montessori Services
(My review from an earlier Montessori Services Review/Giveaway): The Montessori Services magnetic/non-magnetic activity includes:
9 Magnetic Items
9 Non-Magnetic Items
Magnetic and Non-Magnetic Labels
Presentation and Extension Suggestions
I really like the Alnico horseshoe magnet that's included with the set. It has an especially strong magnetic field and would work well for a variety of activities exploring magnets … as well as for "fishing" games you can prepare to reinforce colors, shapes, letters, or numbers.
The magnetic/non-magnetic activity can be set up in just a few minutes. The labels are made with a special new material that doesn't need to be laminated. You can bend the material and get it wet.
I've seen magnetic/non-magnetic activities prepared in a number of different formats in Montessori schools and Montessori manuals. Some teachers have the child test and sort the materials on the tray itself. My photo of the magnetic/non-magnetic activity on a Montessori Services rug shows one way the activity could be laid out.If you prefer to prepare your own magnetic/non-magnetic activity rather than purchasing the set, you can purchase most of the parts separately from Montessori Services. The horseshoe magnet is great, and I find Montessori Services trays and boxes useful for activities of all kinds.
Variations on the Traditional Magnetic and Non-Magnetic Activity and Montessori Elementary Magnet Activities

Spanish Magnetic and Non-Magnetic Activity from Olives and Pickles
3 Ways to Have Fun with Magnets from Gift of Curiosity
Magnet Sensory Bin from Little Hands, Big Work
Magnetic Work Mostly for Younger Students from The Moveable Alphabet
Magnetic Fishing from The Wonder Years
Magnetic/Non-Magnetic Objects (using a magnetized fishing pole) from Chasing Cheerios
Sink or Float and Magnetic or Non-Magnetic from Tired, Need Sleep
Magnetic Bottle from The Wonder Years
Discovery Magnetism Box from The Imagination Tree
Layers of the Earth, Magnetism (Elementary) and More Magnetism from What DID We Do All Day?
Magnetic and Non-Magnetic Activity for Seniors from The Moveable Alphabet
Montessori Monday Link-Up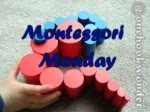 If you have some Montessori activity trays/lessons to share, please link up below. It's fine to link up a post from your archives – and you may link up anytime during the week! Your post may be any Montessori-inspired activity or idea. It doesn't need to be related to my Montessori Monday post.
Link up your exact post URL so that we can find your activity if we return to the linky at a later date (which I often do when I'm looking for activities for a roundup post). I publish the Montessori Monday post and linky at 6:00 a.m. EST each Monday and keep the linky open throughout the week.
Please place the Montessori Monday button (using the code from the right sidebar) in your post or put a link back to this post. Let's use Montessori Monday to gain inspiration/ideas and to encourage each other! If you would leave an encouraging comment on the post linked up ahead of you (along with any other posts you're drawn to), that would be awesome! I'm not able to comment on every post, but I do a lot of pinning on Pinterest and sharing on the Living Montessori Now Facebook page from the Montessori Monday link-up. Thanks for participating!
Notes
For community discussions, please join us at the Living Montessori Now Facebook page, We Teach Montessori Group, and/or Google+ Montessori Community. The We Teach Montessori group has a Member Resources Sharing (for resources such as freebies and series) as well as a Linky Party for We Teach Montessori. We Teach Montessori has a linky just like the one here except that it's continuous where you may add your Montessori-inspired activities and ideas to the same linky. New links will go to the top of the linky. I'd love to see us build up a great collection of Montessori-inspired ideas there, too. After you link up here, why not hop over to the We Teach Montessori Group and link up there?! And don't forget the Saturday/Sunday Parent/Teacher Preparation Days share where you may share a kid-related activity of any kind at the Living Montessori Now Facebook page!
It's also Motivational Monday on Mondays now! I invite you to share something positive on the Bits of Positivity Facebook page (Bits of Positivity is my other blog) to help us all get a good start on the work/school week. You might share an inspirational or motivational quote, positive graphic, or post about finding balance or simplifying your life. Or you might share a post on organizing, an encouraging post, a post about making a difference in the world, or a positive parenting post. Just go ahead and share on the Bits of Positivity wall any time today! (Please "like" the Bits of Positivity Facebook page if you haven't already.) I'll be pinning a number of ideas to my regular Pinterest boards.
If you have a giveaway on your blog, please add it to my Family-Friendly Giveaway Linky Page! If you enjoy entering giveaways, you'll always find some great giveaways there.
Also, if you've ever been linked to in one of my roundup posts, please feel free to grab the "Featured on" badge.
'); // ]]>
Have you added the Montessori Monday button or a text link? Please be sure you've done one or the other so that others can find the link-up, too! Thank you!If this is your first time visiting Living Montessori Now, welcome! If you haven't already, please join us on our Living Montessori Now Facebook page where you'll find a Free Printable of the Day and lots of inspiration and ideas for parenting and teaching! And please follow me on Pinterest (lots of Montessori-, holiday-, and theme-related boards), Twitter (blog posts by me and others along with the Parent/Teacher Daily and other interesting information), and Google+ (post updates and Montessori Community). You can find me on bloglovin' now, too. I'm also a Parenting Expert on Sulia. Thank you for following me there. And don't forget one of the best ways to follow me by signing up for my weekly newsletter in the right sidebar. You'll get two awesome freebies in the process!
May be linked to Afterschool Express, Thoughtful Spot, Tuesday Tots, The Mommy Club Resources and Solutions at Milk and Cuddles and Crystal & Co., Mom's Library, It's Playtime, The Weekly Kid's Co-op, Hearts for Home Blog Hop, Ultimate Mom Resources, Learn & Link, TGIF Linky Party, Preschool Corner, Ultimate Homeschool Pinterest Party, Sharing Saturday, Saturday Show & Tell, Share It Saturday, Show-and-Share Saturday, The Sunday Showcase, Link & Learn, Discover and Explore: Science, Best of 2013 Saturday Science.