If you're like me, you just want a way to organize your home library that's simple and manageable long-term. I homeschooled my kids through high school and started a home library when my oldest was a baby.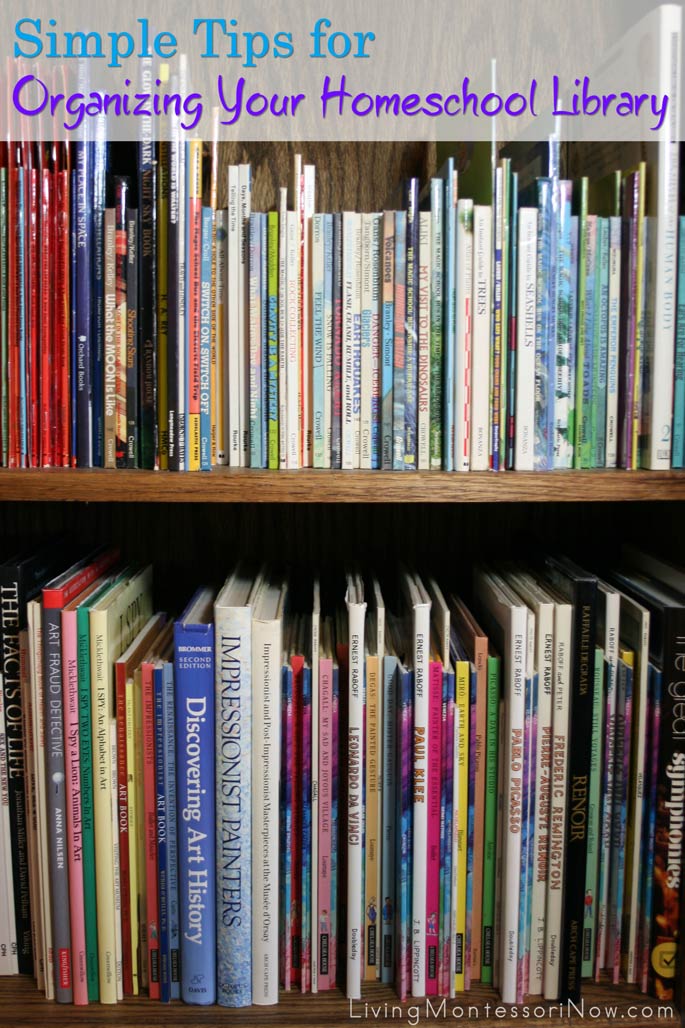 My husband and I were book lovers, so we collected more books than anything else. You can read more about our book-loving family in my post from two days ago: How to Help Your Child Treasure Books.
Fortunately, I discovered a system early on that I was able to maintain through my kids' graduation from homeschool high school. We lived in four different houses and moved our books with us each time. Each time, it was simple to set up our home library.
And I need simple routines I can manage. I'm not a born-organized person. (You can read more about my need for Montessori and Fly Lady to keep any semblance of organization: How Fly Lady and Montessori Help Me Keep My House Clean.)
Of course, you might be a born-organized person who enjoys a more elaborate system for organizing your home libray. That's awesome. Just find what works for you.
Or, you might be a homeschooler who just enjoys frequent visits to the public library rather than creating a home library. That works perfectly well, too. It's important to provide plenty of reading materials at home to give your children the best opportunity to become readers and book lovers. But you can do that with library books.
If you're like many homeschoolers, though, you might like to set up a home library, especially if you use unit studies rather than textbooks for certain subjects. This system works with any size library. After my kids finished with homeschool high school, I sold a lot of our homeschool library and donated a lot of it to the public library. I kept some our favorite books for our future grandkids. And those books are organized using the same system.
I'm not obsessive with the system. It's designed so that I can always find a book easily. Minor variations aren't important. Here's what I did to organize our home library:
Some Simple Tips for Organizing a Homeschool Library
Don't worry about organizing baby and toddler books. We kept our baby- and toddler books on a low shelf where our baby or toddler could choose books easily. I just returned the books to the shelf in no particular order. You could use a basket for the books instead of a shelf.
I didn't use any labeling for our books. It really wasn't necessary, and I appreciated that my kids' books were in good to excellent condition and without labels when it was time to sell or donate them. My earlier post tells what we did to teach our children to take care of books from an early age.
We used bookshelves organized from left to right and top to bottom (ingrained from my Montessori training). When our kids were little, my husband and I kept our books on the top shelves and our kids' books on the lower shelves.
For preschoolers on up, I organized fiction books by author. I didn't worry about alphabetizing a particular author's books. It's still possible to find a specific book when they're organized by author without needing a more detailed classification.
If you'd like more order within your fiction section, you could organize it by genre, like bookstores do.
You could have a basket for your child to place books after he or she looks at them until your child is old enough to put the book back in its place on the proper shelf.
Like libraries, I organized most biographies according to the last name of the person who was the subject of the biography or autobiography. If a particular biography worked better within another category (such as artists), I used that.
I organized non-fiction books according to the Dewey Decimal System. I typed out the entire Dewey Decimal System in the pre-computer era and always kept that list in an accessible place. Now, you can just print out a copy of the Dewey Decimal System or refer to it online. I only used the level of organization that was necessary to be able to find books easily.
And that's it! I'd love to hear about your home library and what works for you! 🙂

If this is your first time visiting Living Montessori Now, welcome! If you haven't already, please join us on our Living Montessori Now Facebook page where you'll find a Free Printable of the Day and lots of inspiration and ideas for parenting and teaching!
Share your favorite kids' activities! Link up Montessori-inspired lessons and activities here at Montessori Monday! Link up kids' activities of all types at the Weekly Kid's Co-op!
Linked to The Mommy Club Resources and Solutions at Milk and Cuddles and Crystal & Co. , Enchanted Thursdays, The Weekly Kid's Co-op, Living Life Intentionally Linky Party, Preschool Corner, Saturday Show & Tell, Show-and-Share Saturday, The Sunday Showcase, Link & Learn, Homeschooling Havens Linky, and Not Back to School Blog Hop.