If you have a child who will be starting kindergarten soon, you might be worried about your child's kindergarten readiness. If your child has worked through a Montessori curriculum in a Montessori preschool or Montessori homeschool, you most likely won't need to worry about kindergarten readiness. Your child should be ready.
If your child hasn't had the opportunity to have a Montessori preschool education (or another good preschool- or homeschool education), you can use some ideas from Montessori to help prepare your child for kindergarten. Even if your child was in a good preschool program, using some Montessori-inspired activities as an end-of-summer refresher can reassure you that your child really is ready to start kindergarten this year.
Kindergarten Readiness Skills
If you're wondering which skills to focus on, Cheerios & Latte has a free printable: What Your Child Needs to Know for Kindergarten. You'll find other kindergarten readiness ideas on my Back to School Pinterest Board. Different schools and teachers will have different ideas of what indicates kindergarten readiness. Just use general guidelines such as the ones in the printable, in the posts pinned to my Pinterest board, or found by Googling "kindergarten readiness."
Montessori education doesn't use tests and grades, but Montessori teachers do keep records of what each child has been introduced to and what knowledge each child has mastered. You can use Montessori-inspired activities to check and reinforce your child's knowledge in a non-stressful way.
If you're unsure, you can find out what your child knows by using the Montessori 3-period lesson: How to Teach Concepts and Vocabulary to Your Preschooler Using the Three-Period Lesson. Many children who are 5 years old will just need the 3rd period lesson for kindergarten-readiness concepts. Then, if there are concepts your child is unsure of, you can re-introduce those using the 1st and 2nd period lessons.
You can also have your child show you an activity he or she has worked with before to check your child's understanding of a concept.  When you find a weak area, use the three-period lesson and hands-on activities to help your child master the concept.
Following are some Montessori activities for your checklist and to help your child with common areas used for kindergarten readiness. Your child isn't expected to be proficient in each area, but it helps if your child is as comfortable as possible with the concepts.
Montessori-Inspired Kindergarten Readiness Activities
Montessori Practical Life Activities (Although it's most effective to introduce practical life activities when your child is a toddler, you can still use them with a 5 year old to improve your child's coordination, concentration, independence, and ability to follow directions. Introducing an activity with a number of steps is particularly helpful in improving the ability to follow directions, an important skill for school.
How to Teach Your Preschooler Manners Using Montessori Principles (Be sure your child knows basic etiquette skills such as greeting someone, saying please and thank you, and taking turns.)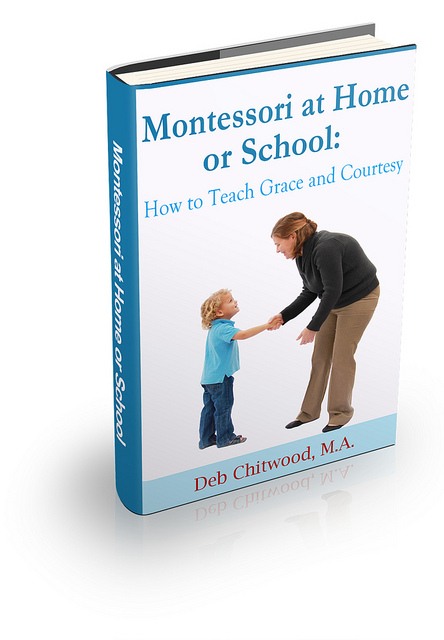 My eBook Montessori at Home or School: How to Teach Grace and Courtesy is designed to help both parents and teachers teach grace and courtesy to 2-12 year olds.
Montessori-Inspired Activities for Care of Self (If there are weak areas in care of self, you can introduce an activity from this post to help your child master the necessary self-care skill before starting school.)
DIY Color Tablets (If you just want to check which colors your child knows, you could print out and cut apart the free Montessori Print Shop color tablet printable and then have your child match and name the colors for you.)
DIY Geometric Shapes (If you want to check which geometric shapes your child knows, you could print out one of the template patterns on colored card stock. You could have your child name the shapes or name the shapes and find matching shapes in your house.)
DIY Cards and Counters (To check understanding of numbers 1-10, one of the cards and counters activities works well. You could have your child place numerals 1-10 in order and then count out the correct number of objects below each numeral.)
DIY Alphabet Box (A variation of the Montessori alphabet box is a great way to check which letters and phonetic sounds your child knows. Using small objects is more fun, but your child can match the initial phonetic sounds of pictures such as (these or these) rather than objects if you want to prepare the activity quickly. Just print out and cut apart the pictures and letters to easily prepare a matching game.) Check out my "DIY Beginning Montessori Phonics for Preschoolers" for lots of ideas about introducing Montessori phonics activities.
Back to School Pinterest Board


In addition to kindergarten readiness ideas, my Back to School Pinterest Board has back-to-school- and back-to-homeschool ideas for many levels. Try to make any kindergarten readiness activities as much fun as you can, and enjoy this important milestone in your child's life! 🙂
Montessori Monday Link-Up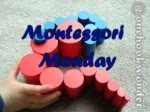 If you have some Montessori activity trays/lessons to share, please link up below. It's fine to link up a post from your archives – and you may link up anytime during the week! Your post may be any Montessori-inspired activity or idea. It doesn't need to be related to my Montessori Monday post. Link up your exact post URL so that we can find your activity if we return to the linky at a later date (which I often do when I'm looking for activities for a roundup post). I publish the Montessori Monday post and linky at 6:00 a.m. EST each Monday and keep the linky open throughout the week. Please place the Montessori Monday button (using the code from the right sidebar) in your post or put a link back to this post. Let's use Montessori Monday to gain inspiration/ideas and to encourage each other! If you would leave an encouraging comment on the post linked up ahead of you (along with any other posts you're drawn to), that would be awesome! Thanks for participating! Note: If you have a giveaway on your blog, please add it to my Family-Friendly Giveaway Linky Page! If you enjoy entering giveaways, you'll always find some great giveaways there! Also, if you've ever been linked to in one of my roundup posts, please feel free to grab the "Featured on" badge.

May be linked to Afterschool Express, Thoughtful Spot, Tuesday Tots, The Mommy Club Resources and Solutions, Mom's Library, The Weekly Kid's Co-op, Homeschool Link-up, Learn & Link, TGIF Linky Party, Preschool Corner, Ultimate Homeschool Pinterest Party, Sharing Saturday, Saturday Show & Tell, Share It Saturday, Show-and-Share Saturday, The Sunday Showcase, Link & Learn.