You may have noticed that I spend a lot of time emphasizing practical life, or daily living, exercises for preschoolers. Those are the exercises for control of movement, care of self, care of the environment, and grace and courtesy.
Activities in each of those areas have obvious practical benefits. Even more important are the skills such as order, concentration, coordination, and independence that practical life activities develop.
Focusing on coordination and control of movement is especially important during the preschool years. Young children are in their sensitive period for refinement of movement from ages 2-4.   
To help your child during the sensitive period for refinement of movement and to give your child every opportunity for success in an activity, it's important to analyze the movements, or break the movements down into clear steps, when presenting an activity.   
Every complex action is made up of successive incidents, one quite distinct from the other; one act follows another. Trying to recognize and to execute exactly and separately these successive acts is the analysis of movement. – Maria Montessori, The Discovery of the Child
When presenting a practical life activity, be sure that your movements are slow and precise and that you use the least number of words possible. Too many words can distract your child from focusing on the movements.  
…the adult must be always calm and act slowly so that all the details of his action may be clear to the child who is watching. – Maria Montessori, The Secret of Childhood
Notice the detailed steps in presenting a lesson on pouring grains at Info Montessori. And watch how slowly and precisely the teacher presents the simple activity in the video.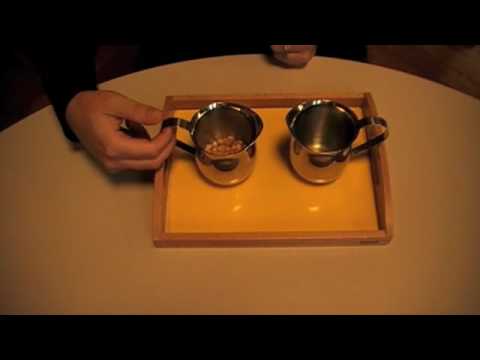 Once a direction is given to them, the child's movements are made towards a definite end, so that he himself grows quiet and contented, and becomes an active worker, a being calm and full of joy. This education of the movements is one of the principal factors in producing that outward appearance of "discipline" to be found in the "Children's Houses." - Maria Montessori, Dr. Montessori's Own Handbook 
It seems almost magical that so much can happen from simple exercises of practical life. But I've seen it happen over and over again. Have you had the chance to experience the beauty of practical life activities with your child or another child?
Photo Credit: Photo from Practical Life Ideas at United Montessori Association.