Whether you homeschool or not, I think a summer bucket list is a great idea for summer fun and learning. [Note: a summer bucket list is a list of activities your family wants to do before the summer ends.]
Without an intentional focus on choosing some summer activities, it's too easy to feel a bit aimless and lost during summer vacation. I'm all for unstructured time to dream and create … you can even add ideas and time for that in your bucket list (for example, "Lie in the grass and look at the clouds")!
It's great if you have a bucket list of activities your whole family can enjoy. If you wish, you could also have a special bucket list for your toddler or preschooler.
Remember, a summer bucket list is supposed to be fun … maybe you "win" if you don't actually accomplish everything! You can choose a format for your bucket list or activity list that gives you the amount of control over the activity for the day that you wish. For little control but more suspense, draw the activity from slips of paper with an activity written on each one. Use a format like an activity calendar or grab bag if you'd like more control.
Some Great Ideas for Creating a Summer Bucket List or Activity List
Summer Bucket List 2011 from Little Wonders' Days (using an actual bucket – includes suggested activities) and Summer Bucket Ideas (more suggested activities from around the blogosphere)
Summer Bucket List (also using a bucket) from Montessori 3-6 Homeschool
Summer Bucket List Activity from Thrifty NW Mom
Summer Bucket List Banner from Fakin' It
Summer Activity Jars and Grab Bags (with printable ideas) from The Crafting Chicks
The Family Fun Sack from Oopsey Daisy
Doorway into Summer from The Artful Parent
Jar of Fun from the Daily Digi
Get Organized for Summer Learning (learning space and learning options) from Imagination Soup
Summer Boredom Jar from I'm Bored, Let's Make Something
"Mom, I'm Bored" Jar from Somewhat Simple
Activity Calendars (an option for an activity a day instead of a standard bucket list) from Quirky Momma
Bucket Lists from Around the Blogosphere
Summer Bucket List Party and Summer Bucket List Posts from Little Wonders' Days
Summer Bucket List for a Toddler and Five Simple Tips for Summer Time Learning from Teach Preschool
Summer Bucket List Activity from Thrifty NW Mom (has a blank Summer Bucket Activity Sheet)
Share Your Summer Bucket List Posts and Ideas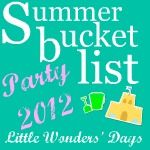 There are also summer bucket list posts and ideas in our Living Montessori Now Community!
Thanks to the Flickr Creative Commons photographers for the adorable photos of babies in buckets! Photo Credits:
My Nephew 004 by Dabe Murphy
Tin Bucket Baby 2 by Charlotte Morrall
A Child and Her Bucket by Chandra Marsono
Beach Baby by Turkinator
Linked with All Year Round Blog Carnival: Summer and Everything Summer Linkup