If you're looking for a snack to use for an insect unit … or, like us, recent ant unit … the classic ants on a log snack is perfect. Not only is it healthy and fun, but it's a snack that can be prepared entirely or almost entirely by a preschooler.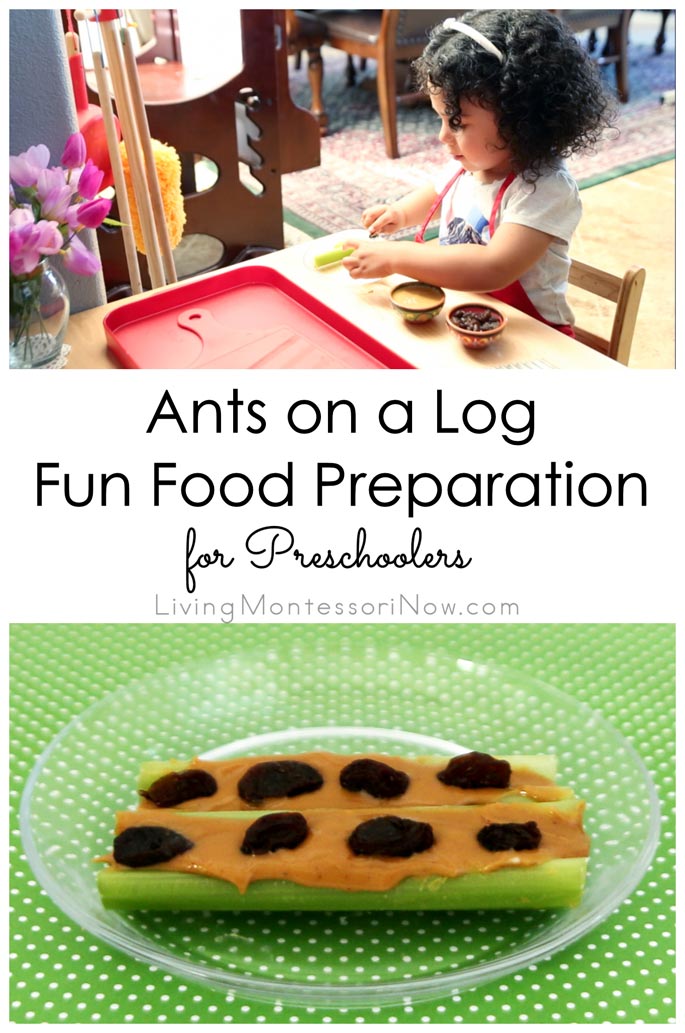 Disclosure: This post contains affiliate links (at no cost to you).
Our Food Preparation Activities
Zoey always wears the apron from the Montessori By Mom Helping Hands Toolbox for food preparation activities. I really recommend having a child-size apron for any cooking or baking activities. We typically use the Learning Tower so that Zoey can safely and comfortably reach everything. Sometimes she works at her snack/work table, like she did to prepare the ants on a log.
Ants on a Log Fun Food Preparation for Preschoolers – YouTube Video
Check out this super-cute 58-second video with my granddaughter, Zoey, to see how easy it is for a preschooler to prepare ants on a log!
Helpful Tools for Preparing Ants on a Log
Ants on a Log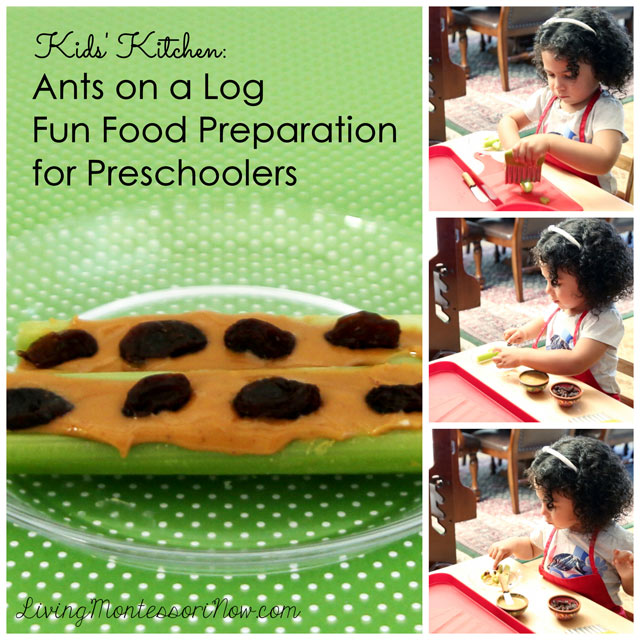 I like to use organic ingredients whenever possible.
Ingredients:
celery
peanut butter (or other spread if child has a peanut allergy)
raisins for ants
Instructions:
Wash celery. (Preschoolers typically love to use a scrub brush to wash vegetables.)
Cut ends off celery.
Spread peanut butter or other spread on celery.
Add raisins.
Kids' Kitchen: Preparing Ants on a Log Snack
Preschoolers can prepare this snack from start to finish. Even toddlers can prepare it as long as you cut the ends off the celery. Some older toddlers will be able to cut the ends off as well!
Adapt the instructions as needed for your toddler or preschooler. The important part is for your toddler or preschooler to prepare as much of the snack independently as possible. This is wonderful for concentration, fine-motor skills, independence, and following a series of steps. The confidence your child will feel is also a great benefit!
My 2¾-year-old granddaughter, Zoey, loves food preparation activities. Preparing ants on a log was a fun extension to our recent ant activities. Of course, it's fun at any time.
After your child scrubs and rinses the celery, you'll want to have a cutting board and child-size cutter available (unless you cut the celery for your toddler). (Note: the wavy chopper is typically used with two hands, which keeps the child's hands out of the way. Zoey is used to cutting activities, so she likes to hold the chopper with one hand and the celery with the other.) Zoey loves the small nylon knife for many foods, although she found it easier to use the wavy chopper for cutting celery.
Spreading is a useful skill for toddlers and preschoolers to work on. Preparing ants on a log gives lots of spreading practice!
Placing the "ants" on the "logs" is always fun. Zoey liked to count the "ants," too.
Here's your printable Ants on a Log Recipe (printed copy will include an image):
Ingredients

celery for log(s)
peanut butter or other spread
raisins for ants

Instructions

Wash celery.
Cut ends off celery.
Spread peanut butter or other spread on celery.
Add raisins.

https://livingmontessorinow.com/ants-log-fun-food-preparation-preschoolers/
You could also use a picture recipe card for children like the one shown in my previous post about ants on a log.


This post is part of Kids' Kitchen Monthly Series
Check out the school snack recipes this month:
Enjoy! 🙂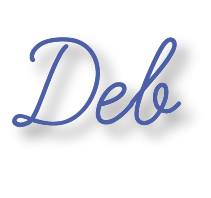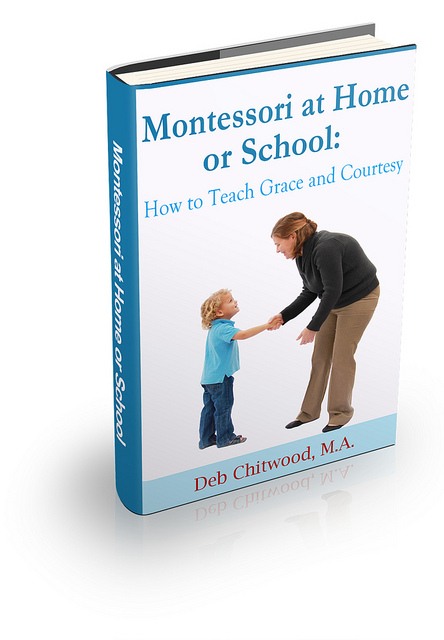 Learn more about my eBook Montessori at Home or School: How to. Teach Grace and Courtesy!
The Montessori at Home! eBook and Montessori at Home! eBook and Materials Bundle are AMAZING resources! You can learn more about them here. Buy them in the Living Montessori Now shop.
If this is your first time visiting Living Montessori Now, welcome! If you haven't already, please join us on our Living Montessori Now Facebook page where you'll find a Free Printable of the Day and lots of inspiration and ideas for parenting and teaching! And please follow me on Pinterest (lots of Montessori-, holiday-, and theme-related boards), Instagram, and YouTube. You can find me on bloglovin' and Twitter, too.
And don't forget one of the best ways to follow me by signing up for my weekly newsletter. You'll receive some awesome freebies in the process!