My 2-year-old granddaughter, Zoey, has been having lots of fun with our butterfly theme and /b/letter sound work, so I wanted to put together a butterfly sensory bin for her. After I got the necessary materials, it was simple to put together. It's easily adaptable, so I have lots of plans for adding to the learning activities and keeping it exciting for Zoey for the next month.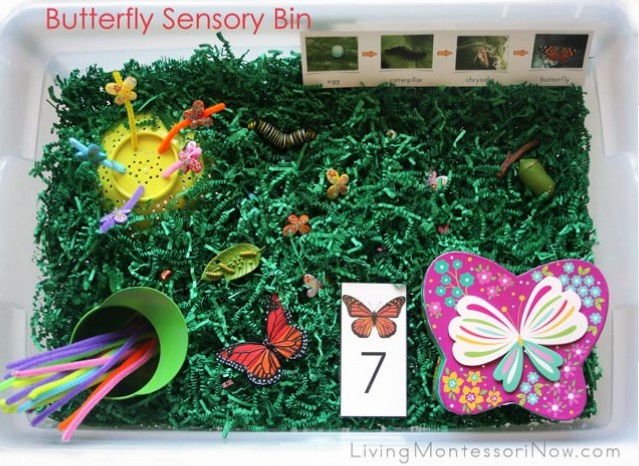 Disclosure: This post contains affiliate links (at no cost to you).
Butterfly Sensory Bin –

YouTube Video
Zoey always has so much fun with her sensory bins … and I love her reactions! Sensory bins can be great for teaching concepts, too. 🙂
Butterfly Sensory Bin (and DIY Sensory Table)
I already had my DIY sensory table, so it was easy to make a butterfly sensory bin once I had the materials from free printables, the Dollar Tree, and Amazon.
Materials Used for Butterfly Sensory Bin with Scavenger Hunt and Life Cycle Activities
DIY sensory table (I REALLY, REALLY love this. It's been very durable and the perfect container for our sensory bins. Of course, you can use a bin on the floor.)
paper shred Easter grass from the Dollar Tree. I used 14 oz. (7 2oz. packages from the Dollar Tree for the large container I have in my sensory table.) (You can also get shredded paper Easter grass from Amazon, search for inexpensive Easter grass after Easter, or shred green paper with a paper shredder.)
butterfly number cards from my subscriber freebie
free butterfly life cycle cards from The Helpful Garden, featured in my life-cycle post (Note: The cards I used are no longer available, but you'll find similar free monarch butterfly life cycle cards by The Laminatrix at Teachers Pay Teachers.)
green colander for fine-motor activity
12-inch pipe cleaners cut in half for fine-motor activity
green watering can from the Dollar Tree that I purchased another year (could be any container that works for holding the pipe cleaners)
acrylic flowered butterfly beads (the ones on the pipe cleaners in the photo)
Fimo polymer clay butterfly beads (also for placing on the pipe cleaners)
butterfly box from the Dollar Tree
cream-colored pony beads or round beads for kids with advanced fine-motor coordination (to represent butterfly eggs) for number cards (I found a set of multicolored 4x7mm pony beads that included cream-colored beads at Michaels craft store.)
Feel free to adapt your sensory bin for your family. These are just the materials I used. If you use this with a toddler, be aware that many of the butterflies are very small and are dangerous for children who mouth objects.
Scavenger Hunt and Life Cycle Activities

I like to add at least one special hands-on learning activity using a free printable to each sensory bin I prepare. For the life cycle activity, I used a free butterfly life cycle card from The Helpful Garden. (Note: The cards I used are no longer available, but you'll find similar free monarch butterfly life cycle cards by The Laminatrix at Teachers Pay Teachers.) I just printed it out and laminated it before cutting it out. Of course, lamination is optional since this isn't a wet or messy activity.
Zoey had fun finding the figures that matched the butterfly life cycle card as well as finding the small butterflies hidden in the grass.
We had discussed the butterfly life cycle before, and this was a great way to reinforce terms like "caterpillar" and "chrysalis."
Fine-Motor Activity – Threading Butterfly Beads on Pipe Cleaners

Zoey enjoyed threading the butterflies onto the pipe cleaners. She doesn't show this in the video, but she also places the pipe cleaners in the holes in the colander for more fine-motor work.
Math Activity – Focusing on Butterfly Number Cards with Optional "Butterfly Eggs" for Counting
After Zoey had fun with the monarch butterfly from the Safari Ltd. life cycle of a monarch butterfly, she matched the number card. I had placed 7 small cream-colored pony beads in the butterfly box to represent butterfly eggs. Zoey liked finding the beads, but she didn't use them as butterfly eggs with the number card in the video. We'll focus on that activity another day. An older child could find the beads hidden in the grass, although they're very hard to find! You can put the correct number of dots on the back of the number card with control dot stickers as a control of error. You can change the numbered butterfly card as often as you wish.
Simple Ways to Expand on the Butterfly Sensory Bin Learning Activities
I have the Safari Ltd. Butterflies TOOB along with the free printable Safari Ltd. Butterflies TOOB key. It will be super simple to add those butterflies for Zoey to find and match with the butterflies on the TOOB key.
If you subscribe to the Living Montessori Now newsletter, you'll get the password and access to the subscriber page where you'll get exclusive Montessori-inspired printables like the butterfly pack. You can use a number of the printables in the butterfly pack in the sensory bin. For example, the butterfly movable alphabet letters would work well for more scavenger hunt activities.
Zoey always works with her sensory bins for long periods of time, and this is looking like another sensory bin that will get a LOT of use!
Butterfly Unit Study
I've teamed up with some fabulous bloggers to bring you lots of activities and resources for a butterfly unit study! Check out the links below!


Are you planning any butterfly activities for this spring or summer?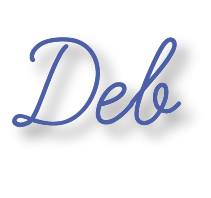 Learn more about my eBook Montessori at Home or School: How to. Teach Grace and Courtesy!
If this is your first time visiting Living Montessori Now, welcome! If you haven't already, please join us on our Living Montessori Now Facebook page where you'll find a Free Printable of the Day and lots of inspiration and ideas for parenting and teaching! And please follow me on Instagram, Pinterest (lots of Montessori-, holiday-, and theme-related boards), and YouTube. While you're here, please check out the Living Montessori Now shop.
And don't forget one of the best ways to follow me by signing up for my weekly newsletter. You'll receive some awesome freebies in the process!