Lately, my 21-month-old granddaughter has been spending hours each day she's at my home with her coral reef sensory bin. The coral reef sensory bin started with the Little Passports Coral Reef Kit. The Coral Reef Kit is designed for older children, but I want to share ideas for using the kit with preschoolers as well as children who are elementary age.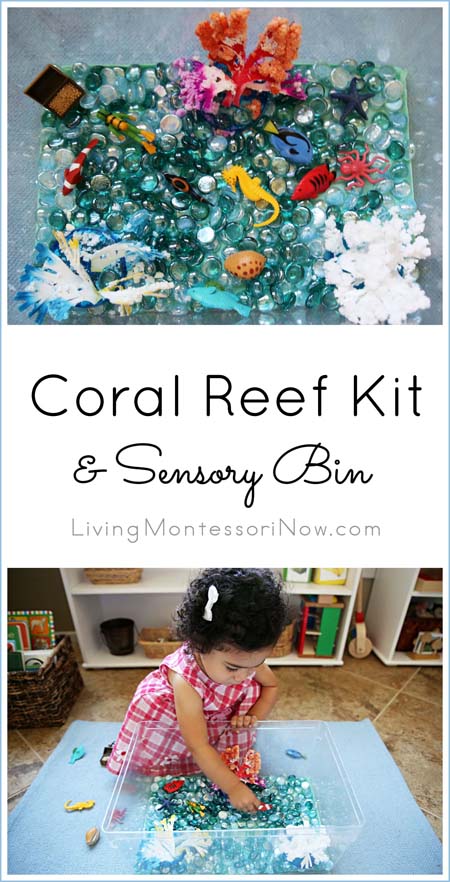 Disclosure: I was given a Coral Reef Kit to review. All opinions are honest and my own. This post contains affiliate links.
About the Little Passports Coral Reef Kit
Here's the information about the Coral Reef Kit ($12.95) from the Little Passports website:
Create your own colorful coral at home with our Coral Reef Kit!
With simple step-by-step instructions, this easy science activity for kids demonstrates how crystals form and encourages an understanding of underwater ecosystems. Set up your trays with the paper coral forms, add the terraforming solution, and enjoy your child's amazement as you both watch the transformation!
The Companion Guide features new adventures in Australia with Sam & Sofia as they explore the world's largest coral reef system, the Great Barrier Reef. The kit includes:
Three coral forms, trays and terraforming solution
Instruction booklet with easy to follow step-by-step instructions
Companion Guide, featuring more Australia adventures with Sam and Sofia
Recommended for ages 6+
Note: You shouldn't use the Coral Reef Kit with toddlers who still mouth objects unless you will be constantly supervising your child and know it won't go in your toddler's mouth. For toddlers, it should be put up out of reach afterward. Also, the completed "coral" is very fragile and will most likely disintegrate if used by a toddler.
The Coral Reef Kit is recommended for ages 6+. It would also work well for a preschooler who has good fine-motor control and will use the materials gently.
The Little Passports Coral Reef Kit is soft coral. The companion guide that comes with the Coral Reef Kit explores new adventures for Sam and Sofia in the Great Barrier Reef.  The Great Barrier Reef has both hard and soft coral.  This page from the Australian Government (Great Barrier Reef Marine Park Authority) explains the two types of coral: About the Reef.
My Experience with the Little Passports Coral Reef Kit
Even though my granddaughter, Zoey, was only 20 months when I put together the Coral Reef Kit and sensory tub, it's been a great experience for her.
Warning: Don't make the mistake I did. The directions clearly state: "Find a good spot. This is where your model will grow and stay. The crystals are very delicate, so it will be hard to move after it is finished."
What I'd do differently: I didn't plan out the size of the needed container well enough in advance and planned to use a shoebox-size sensory bin. In the end, I used a sensory bin that was about 11″ wide and 16″ long. That was a perfect size for the coral plus the Safari Ltd. Coral Reef TOOB figures. So I ended up moving the coral pieces after it was finished. They didn't last as long because of that.  I recommend using a container about 11″ wide and 16″ long to begin with. If you put sea green or teal paper in the bottom, it will be easy for it to look like water, even though it's a waterless coral reef sensory bin. I would also add the glass gems before adding the terraforming solution.
It didn't take long for the crystals to start forming.
I printed out and laminated the free Safari Ltd. Coral Reef TOOB Key and introduced the vocabulary for the Safari Ltd. Coral Reef TOOB figures. I introduce vocabulary using the Montessori 3-period lesson. (Note: the Safari Ltd. Coral Reef TOOB isn't part of the Coral Reef Kit.)
This is the coral reef sensory bin at the end. As I said, the coral pieces didn't look as good as they would have if I hadn't moved them. Still, the coral pieces gives the impression of a coral reef and add a lot to the coral reef sensory bin.
Zoey absolutely loved the coral reef sensory bin! I had told her that the coral was fragile, so she worked to not touch it. (I did let her gently touch one piece of coral.) For days, she has enjoyed saying the names of the Safari Ltd. figures and moving them in and out of the sensory bin. Once the coral began to disintegrate, I simply removed it and let her use the sensory bin without it.
This would be an especially nice project for a homeschool where a kindergartener or elementary-age child grew the crystals and put the sensory bin together for a preschool-aged sibling.
See all my Montessori-inspired Little Passports posts!
Little Passports 3-Month Subscription and Coral Reef Kit Giveaway! The giveaway is now closed. See bottom of post right below the Rafflecopter form for the announcement of the winner.
What You Will Win: 1 lucky winner from the U.S. or Canada will win a 3-Month Subscription to Little Passports USA, World, or Early Explorers Edition plus a Coral Reef Kit!
Who is Eligible:
This giveaway is open to anyone 18 and older in the U.S. or Canada. Little Passports will pay for shipping.The first entry is mandatory.You must leave a blog post comment telling why you want to win (and be sure to click the green "ENTER" on the Rafflecopter form to let me know you left your blog post comment and to open up the optional entries)!
After you've completed your mandatory entry, there are lots of optional entries. You have many chances to win! (Note: For the extra entries, you may count ways of following that you already do. For example, if you previously followed Living Montessori Now on Pinterest, you may still count that for your Follow Living Montessori Now on Pinterest entry!)
It's easy to enter giveaways with Rafflecopter! Just follow the directions to enter.If you still have questions about the Rafflecopter form, here's a short video with directions for entering through Rafflecopter. (Note: If this form doesn't work for you, you can also sign up on the Rafflecopter form at the Living Montessori Now Facebook page. Just be sure to leave your blog comment here!)
You must complete the Mandatory Entry to qualify for any additional entries. The giveaway closes 11:59 EST on Wednesday, June 12. Best of luck!
UPDATE:
It's Thursday morning, August 13. I really appreciated the 1,135 entries. A winner has been selected using Random.org through Rafflecopter!
The winner of the Little Passports 3-Month Subscription is Valentine H!
I'm so happy for Valentine! (Note: Valentine, you have 48 hours to respond to my email, or a new winner will be chosen.)
The comment for Valentine's mandatory entry (why she wanted to win the the Little Passports subscription and coral reef kit) said:
"I have been really wanting to try little passports for our little homeschool and our friends, and how fun would it be for my older one to grow the crystal reefs and set it up for his younger sister! Thank you for the opportunity!"
CONGRATULATIONS, Valentine!!! A HUGE THANK YOU to Little Passports for sponsoring this fun giveaway – and thank you to everyone who entered!

Don't forget to check out the End of Summer sale in the above banner ad! Use the code READY15 at checkout! Sale ends August 17 at 11:59pm EST.
And, always, thanks so much to all my blog sponsors!
Montessori Print Shop
Montessori Compass
Spielgaben
Trillium Montessori
Montessori By Mom
Alison's Montessori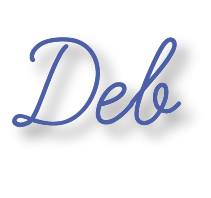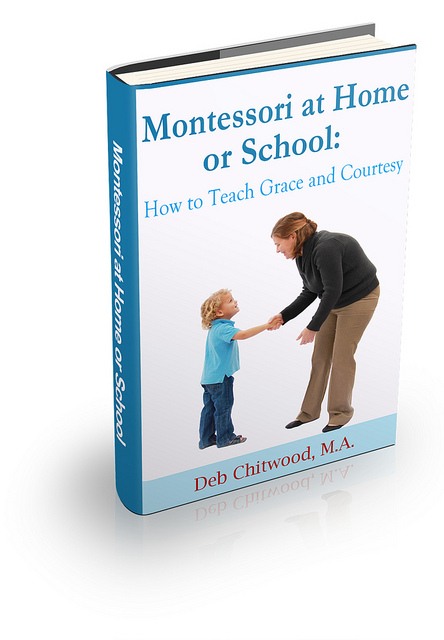 Learn more about my eBook Montessori at Home or School: How to Teach Grace and Courtesy! I'm also one of the coauthors of the book Learn with Play – 150+ Activities for Year-round Fun & Learning!

Linked with Contest Girl and Free Sweepstakes and Contests
If this is your first time visiting Living Montessori Now, welcome! If you haven't already, please join us on our Living Montessori Now Facebook page where you'll find a Free Printable of the Day and lots of inspiration and ideas for parenting and teaching! And please follow me on Pinterest (lots of Montessori-, holiday-, and theme-related boards), Twitter (blog posts by me and others along with the Parent/Teacher Daily and other interesting information), and Google+ (post updates and Montessori Community). You can find me on bloglovin' now, too. And don't forget one of the best ways to follow me by signing up for my weekly newsletter in the right sidebar. You'll get two awesome freebies in the process!
May be linked to Afterschool Express, Thoughtful Spot, Hip Homeschool Hop, The Mommy Club Resources and Solutions, Mom's Library, A Little Bird Told Me Linky Party, Learn and Play, Homeschool Link-up, TGIF Linky Party, Preschool Corner, Ultimate Homeschool Pinterest Party, Sharing Saturday, Tot School Gathering Place.