A police unit study can be used at any time, although you might want to use it to emphasize safety skills at the start of the school year or in observance of the anniversary of 9-11. Today, I'm sharing the links to free printables I've used to create Montessori-inspired police activities for preschoolers through kindergarteners.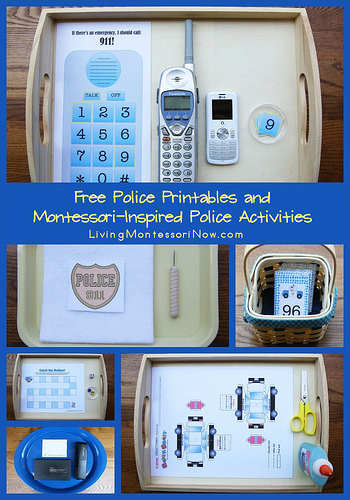 I show how I used the printables to prepare the Montessori-inspired activities. I also have links to other posts with additional ideas and presentations.
Free Police Printables Used in the Pictured Police Activities for Preschoolers-Kindergarteners
How Many Fingerprints? Activity

Free Printable: Police Printables ~ Preschool at Homeschool Creations
This activity used a free printable from the Police Printables ~ Preschool Packet at Homeschool Creations. It also uses an ink pad, stapler, and inexpensive tray from the grocery store. After the child places the correct number of fingerprints on each page, a "How Many Fingerprints?" booklet could be created.
Catch the Robber Math Game

Free Printable: Catch the Robber from the Safety Mini Unit printable (clear box under Day 3)from A Teaching Mommy
I used an inexpensive wooden tray from a hobby store and glass gems as the game pieces. The printable has a numbered die with the numbers from 1-3. I used a regular die with 1-6 dots, but you can choose the die according to your child's or students' level.
Learning to Call 911
Free Printable: Learning to Dial 9-1-1 from I Can Teach My Child
I Can Teach My Child has a creative printable for Learning to Dial 9-1-1 along with helpful ideas for introducing 9-1-1. Children could practice calling 911 first on the printable, then on a cordless phone, and then on a cell phone. I cut out extra numbers from the printable so the children could place the numbers 9-1-1 in the order needed in an emergency.
Police Badge Punching Activity

Free Printable: Hero Badge from Pastiche Family Portal
Police Car Skip Counting by 2s to 100

Free Printable: Numberline Freebies from City Teacher Goes Country
For this activity, I used the Numberline Freebies from City Teacher Goes Country. There are also police car numbers in the printable for counting by 10s, although I chose counting by 2s to 100 for this activity. Many children like big projects and would enjoy placing the numbers in order by twos in a long line across the floor.
Police Station and Police Car Craft

This is an activity for children with advanced cutting and assembly skills. I used Police Station and Police Car printables from Canon Creative Park. UPDATE: Unfortunately, the printable is no longer available.
Free Police Printables for Preschoolers-Kindergarteners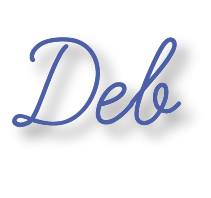 Learn more about my eBook Montessori at Home or School: How to. Teach Grace and Courtesy!
If this is your first time visiting Living Montessori Now, welcome! If you haven't already, please join us on our Living Montessori Now Facebook page where you'll find a Free Printable of the Day and lots of inspiration and ideas for parenting and teaching! And please follow me on Instagram, Pinterest (lots of Montessori-, holiday-, and theme-related boards), and YouTube. While you're here, please check out the Living Montessori Now shop.
And don't forget one of the best ways to follow me by signing up for my weekly newsletter. You'll receive some awesome freebies in the process!