Learning to play competitive games with grace and sportsmanship requires practice. I like to use cooperative games as a way to promote collaborative skills and as an introduction to the etiquette of sportsmanship.
I believe sportsmanship is both a character trait and a skill. Montessori principles and techniques can be used to help teach and reinforce sportsmanship. Like other skills and etiquette techniques, it helps to demonstrate sportsmanship to your child and give plenty of opportunities for practice. Allow time and practice for your child to learn to play fair, show respect for opponents, and be gracious while winning or losing.
This post isn't about a traditional Montessori technique, although it uses ideas and techniques from Montessori grace and courtesy as well as the Montessori focus on collaboration rather than competition.
Why You Should Help Your Child Develop Skills for Competitive Games and Sports
Here's a New York Times article with interesting research and ideas about the dangers and value of competition: The Competing Views on Competition. While I love the Montessori emphasis on collaboration and avoidance of grades and competition, I still think children need to be taught skills for being good competitors.
Even Montessori students sometimes choose to play competitive games with friends or relatives, enter contests, or (like my kids) compete in sports. If they've been given lessons on being a good competitor, their experience will be the best possible … and they'll truly be winners at life, whether or not they win the game.
Creating Cooperative Games
Many games can be made into cooperative games, especially for young children. In most games, you can work together to reach the final goal, taking turns and each moving the same piece until you reach the end. Even with older children, rather than competing to see who can be the best, you can work together to do your best. Instead of competing in a game of tennis, you can work together to see how many times you can hit the ball over the net and inside the boundaries before someone misses the ball. Then you can start over and see if you can reach a higher number together.
Here's an example of making a game for young children cooperative. The Dinosaur Roll and Graph game from my Dinosaur Fun with Printables, Water Beads, and Glass Gems post could be made into a cooperative game in which each child takes a turn rolling the dice and placing a water bead on the graph for the appropriate dinosaur. I like the cooperative aspect of having the children work together to add water beads to the graph until one of the dinosaurs reaches 10.
Although the game is cooperative, you can use it to teach sportsmanship. At the end of the game, the children could shake hands with each other and say, "Good game!" You could also discuss politely which dinosaur won and which one lost (or how the dinosaurs placed), as long as the children aren't overly attached to a particular dinosaur winning or losing.
It's helpful for children to learn the social etiquette for games without the emotions involved in winning and losing. Hopefully, that will make it easier for them to remember to show good sportsmanship during an actual competitive game.
For teaching games- and sports etiquette, you can use similar techniques to those used in teaching any Montessori grace and courtesy technique (How to Teach Your Child Manners Using Montessori Principles).
My posts on the 15th of the month often have learning games (and/or printables for learning games) that can be played cooperatively.
Lessons to Emphasize for Games and Sports
Be modest. Don't boast about how great you are, even if you are great at a game or sport. Let your opponent discover that for him- or herself.
Have whatever equipment or clothing you need.
Be on time if you have to arrive for a game or sport.
Know the rules of the game and follow them.
Don't give excuses if you're losing or not playing your best.
Be a good sport and accept a referee's or judge's calls even if you think they're wrong.
Stay in control of your emotions, and don't swear or throw tantrums if you don't have a good game or performance.
Support your partner or teammates if you're part of a team. Show compassion if someone makes a mistake. Say something like, "Good try," or "That's alright."
Encourage teammates and opponents by praising their efforts.
Be kind and always try to keep your teammates and opponents safe.
If you accidentally knock someone down or hurt someone while playing a sport, genuinely say "I'm sorry," comfort the injured child, and offer your hand to help the child up if he or she isn't too injured to get up.
Smile and shake your opponent's hand at the end of the game. Say "Congratulations" if he or she won. If you won, you could say, "Good game" if your opponent played a good game. If your opponent made a lot of mistakes or had a bad performance, you could say something compassionate like, "Sorry, I know that wasn't your best game," or, "Sorry, I know you had an off day."
Put away the game or leave the area where you played in as good as or better condition than you found it.
Ideas to Help Your Child Transition into Competitive Games and Sports
Emphasize cooperative games until your child is able to follow rules and exhibit sportsman-like skills during and at the end of the game.
Follow your child's lead in playing competitive games. If your child prefers cooperative games, stay with those until he or she is emotionally able to handle competitive games.
When you start playing competitive games, give your child a chance to win as well as lose. My husband always gave our children a handicap in games of skill when they were young. For instance, he'd play a game of chess with one of our children without using his queen (or his rook or knight, depending on our child's skill level).
If you find that competitive games are too stressful for your child, go over sportsmanship rules and focus on cooperative games until your child is ready to play competitive games.
Don't criticize your child for not being emotionally able to handle competitive games. It's very difficult for many adults as well as children. Allow your child to grow into sportsman-like behavior. Find ways to emphasize cooperation and collaboration and minimize competition for a child who isn't competitive by nature.
My two children chose to become ski racers and then competitive figure skaters. If you have children who choose competitive sports, remember that your role is to be supportive and encourage your child despite the outcome. It's always best if sports and games, even competitive ones, remain fun and ways to develop positive character traits. If your child becomes intensely involved in sports, you'll find posts with ideas to help both parents and athletes here: Raising an Elite Athlete.
Have fun! 🙂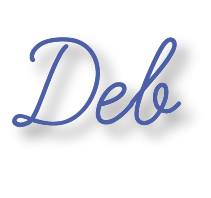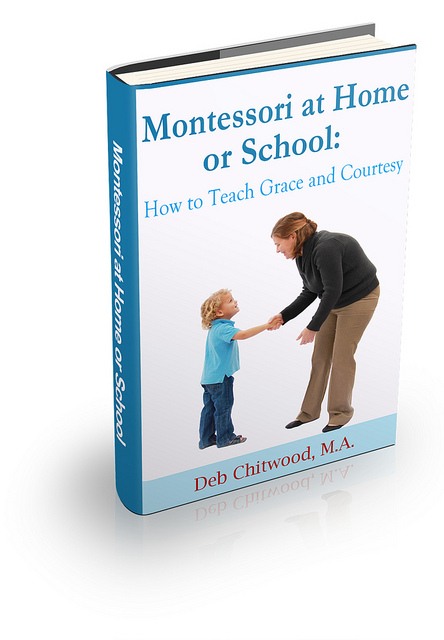 Learn more about my eBook Montessori at Home or School: How to. Teach Grace and Courtesy!
If this is your first time visiting Living Montessori Now, welcome! If you haven't already, please join us on our Living Montessori Now Facebook page where you'll find a Free Printable of the Day and lots of inspiration and ideas for parenting and teaching! And please follow me on Pinterest (lots of Montessori-, holiday-, and theme-related boards), Instagram, and YouTube. You can find me on bloglovin' and Twitter, too.
And don't forget one of the best ways to follow me by signing up for my weekly newsletter. You'll receive some awesome freebies in the process!