I've been having lots of fun with Little Passports and with Safari Ltd. replicas. They both can easily add interest to the study of geography.
Disclosure: Safari Ltd. gave me the TOOBS used to prepare these activities. This post contains affiliate links (at no cost to you). My opinions are honest and my own.
For this post, I used the Safari Ltd. Wild TOOB, Arctic TOOB, Rainforest TOOB, Monkeys and Apes TOOB, and Pandas TOOB. If you're planning a world study, you'll find it helpful to have a variety of animal TOOBS available. Of course, for the study of Asia (or for any continent), there's more than one way to approach the choice of animals used. For Asia, you could even just use the Wild TOOB if you prefer.
For the landmarks, I used the World Landmarks TOOB and Around the World TOOB.
The activities in this post work well in conjunction with a Montessori Asia continent box. (Note: I made the background of the collage yellow because of the yellow South America on the Montessori world map.) These activities could also be used for a study of Asia before (and after) the Little Passports Japan package arrives.
Printable Keys: Thanks to Kateva from Safari Ltd. for the educational keys for the TOOBS! These are very useful not only for simple matching activities, but also as a way for you to keep your TOOBS organized and for older children to use as keys for research or for organizing the animals in the proper TOOB. If you click on each link, you can save and print out the educational key for each TOOB. Here are the keys for the animal TOOBS: Wild TOOB Key, Rainforest TOOB Key, Monkeys and Apes TOOB Key, and Arctic TOOB Key. Here are the keys for the landmarks: World Landmarks TOOB Key and Around the World TOOB Key.
Animals of Asia Activity
A simple activity would be to have a tray with the animals you choose and a map of Asia. You can download and print out a free map of Asia from Wikipedia Commons.
I used the tiger, camel, elephant, brown bear, and black panther from the Wild TOOB, the Arctic fox from the Arctic TOOB, the tapir from the Rainforest TOOB, a panda from the Pandas TOOB, and an orangutan from the Monkeys and Apes TOOB. The brown bear, tiger, camel, crocodile, rhino, black panther and elephant from the Wild TOOB could all be used if you prefer. You could add figurines for a peacock and Asian mountain animals if you wished. The rainforest animals wouldn't be essential, although I liked extending the rainforest animals activity from the Montessori Inspired Continent Activities with Animal Figures – South America.
The layout is on a Montessori Services work rug. A young preschooler could just learn the names of the animals and arrange them on the Asia map however he or she chooses. I would probably introduce the animals by naming each one as I placed them in their appropriate place on the map.
Young preschoolers could just place the animals without focusing on their exact location. Even if they aren't in the place where they would live in Asia, it's still a good hands-on activity for identifying the names of animals and the shape of Asia. For older preschoolers, you could mention facts as you place them, such as that pandas live in the mountains of China.
Counting Pandas with Ten Frames Activity
You could just get a panda figurine for the animals of Asia, but I like having the Pandas TOOB to include some fun math activities. (The Pandas TOOB would also be great for creating a sensory tub with a panda habitat.) I used the Free Ten Frame Cards from Teacher Blog Spot to prepare a counting activity for preschoolers with 10 of the pandas from the Pandas TOOB (all but the mother/baby pandas). The tray is an economy tray from Montessori Services.
I would probably have the child turn each of the cards upside down on the rug. The the child could draw a card and place the pandas on the ten frame while counting each one as it's placed on the card. Older children can add numerals to the ten frame or even create addition equations with the sum of 10.
Landmarks of Asia Activity
For this activity, I used a free political map of Asia from Global City Map. (Note: Part of Europe shows. If you've seen a free printable map of Asia without any part of Europe, please let me know!) I also used the World Landmarks TOOB and Around the World TOOB. I used the Great Wall of China and Buddha of Lantau from the World Landmarks TOOB and Taj Mahal from the Around the World TOOB.
If you have the Little Passports world map from the first package, that would work especially well as a map to place the landmarks.
Have you used Safari Ltd. TOOBS for Asia activities?


Montessori Monday Link-Up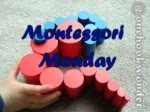 If you have some Montessori activity trays/lessons to share, please link up below. It's fine to link up a post from your archives – and you may link up anytime during the week! Your post may be any Montessori-inspired activity or idea. It doesn't need to be related to my Montessori Monday post.
Link up your exact post URL so that we can find your activity if we return to the linky at a later date (which I often do when I'm looking for activities for a roundup post). I publish the Montessori Monday post and linky at 6:00 a.m. EST each Monday and keep the linky open throughout the week.
Please place the Montessori Monday button (using the code from the right sidebar) in your post or put a link back to this post. Let's use Montessori Monday to gain inspiration/ideas and to encourage each other! If you would leave an encouraging comment on the post linked up ahead of you (along with any other posts you're drawn to), that would be awesome! Thanks for participating!
Notes:
For community discussions, please join us at the Living Montessori Now Facebook page, We Teach Montessori Group, and/or Google+ Montessori Community. The We Teach Montessori group has a Member Resources Sharing (for resources such as freebies and series) as well as a Linky Party for We Teach Montessori. We Teach Montessori has a linky just like the one here except that it's continuous where you may add your Montessori-inspired activities and ideas to the same linky. New links will go to the top of the linky. I'd love to see us build up a great collection of Montessori-inspired ideas there, too. After you link up here, why not hop over to the We Teach Montessori Group and link up there?! And don't forget the Saturday/Sunday Parent/Teacher Preparation Days share where you may share a kid-related activity of any kind at the Living Montessori Now Facebook page!
It's also Motivational Monday on Mondays now! I invite you to share something positive on the Bits of Positivity Facebook page (Bits of Positivity is my other blog) to help us all get a good start on the work/school week. You might share an inspirational or motivational quote, positive graphic, or post about finding balance or simplifying your life. Or you might share a post on organizing, an encouraging post, a post about making a difference in the world, or a positive parenting post. Just go ahead and share on the Bits of Positivity wall any time today! (Please "like" the Bits of Positivity Facebook page if you haven't already.) I'll be pinning a number of ideas to my regular Pinterest boards!
If you have a giveaway on your blog, please add it to my Family-Friendly Giveaway Linky Page! If you enjoy entering giveaways, you'll always find some great giveaways there.
Also, if you've ever been linked to in one of my roundup posts, please feel free to grab the "Featured on" badge.
'); // ]]>
Have you added the Montessori Monday button or a text link? Please be sure you've done one or the other so that others can find the link-up, too! Thank you!
If this is your first time visiting Living Montessori Now, welcome! If you haven't already, please join us on our Living Montessori Now Facebook page where you'll find a Free Printable of the Day and lots of inspiration and ideas for parenting and teaching! And please follow me on Pinterest (lots of Montessori-, holiday-, and theme-related boards), Twitter (blog posts by me and others along with the Parent/Teacher Daily and other interesting information), and Google+ (post updates and Montessori Community). You can find me on bloglovin' now, too. I'm also a Parenting Expert on Sulia. Thank you for following me there. And don't forget one of the best ways to follow me by signing up for my weekly newsletter in the right sidebar. You'll get two awesome freebies in the process!
Linked to Tuesday Tots, The Mommy Club Resources and Solutions at Milk and Cuddles and Crystal & Co., The Weekly Kid's Co-op, Ultimate Mom Resources, Hearts for Home Blog Hop, Learn & Link, TGIF Linky Party, Preschool Corner, Sharing Saturday, Saturday Show & Tell, Share It Saturday, Show-and-Share Saturday, The Sunday Showcase, Link & Learn, Afterschool Express