The giveaway is now closed, but be sure to read my post to learn more about KHT Montessori! You'll find the announcement of the giveaway winner at the bottom of the post right below the Rafflecopter form.

It's my 3rd blogiversary month, and I have another AMAZING giveaway for you … this one sponsored by KHT Montessori! KHT Montessori is giving away a full 12-month online certificate course (May 2013 – May 2014) and a set of all 12 core KHT Montessori Teachers' Manuals (a $315 value)!!! The giveaway is open worldwide and ends 10:00pm MST on Sunday, April 28.
I'm SUPER EXCITED to be able to give a very lucky person the chance to win Karen's Tyler's Montessori training course and 12 Montessori albums for teaching ages 2-6! I wrote before about Karen Tyler's Montessori Training Course and gave you a way to get her wonderful geography album for free.
In Karen's training course, not only do you receive 12 albums with over 5,000 pages of activities and presentations, but you also receive lectures and interactive online training led by Karen, a certified AMS teacher.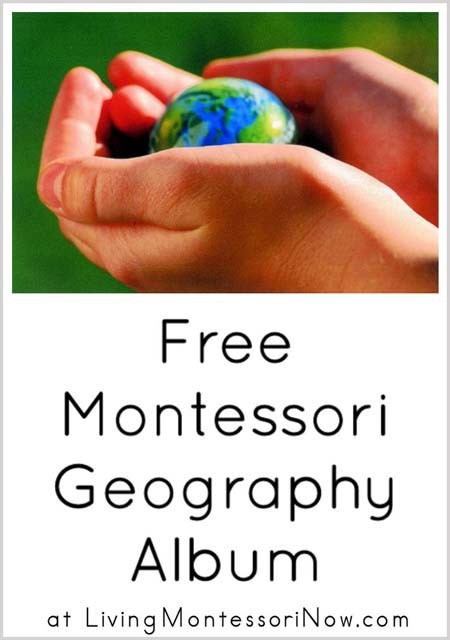 See my original post and learn how to get a free geography album from KHT Montessori.
See my update post about KHT Montessori Online Certificate Program.
I highly recommend her training! It's great for all sorts of people, including homeschoolers, Montessori teachers who want to refresh their training, and preschool teachers who'd like to add Montessori activities to their preschool classrooms. Karen also has all the details at KHT Montessori.
Now for the Giveaway:
What You Will Win: Karen Tyler's Complete Montessori Training Course that starts May 1 AND the 12 Montessori teacher training albums/manuals that are full of curriculum!!! (ARV $315)

Who is Eligible:
This giveaway is open to anyone 18 and older worldwide. The first entry is mandatory. You must leave a blog post comment telling why you want to win (and be sure to say you did that on the Rafflecopter form)! After you've completed your mandatory entry, there are lots of optional entries. You have many chances to win! (Note: For the extra entries, you may count ways of following that you already do. For example, if you previously "liked" Living Montessori Now on Facebook, you may still count that for your "like" Living Montessori Now on Facebook entry!)
It's easy to enter giveaways with Rafflecopter! Just follow the directions to enter.If you still have questions about the Rafflecopter form, here's a 52-second video with quick directions for entering through Rafflecopter. (Note: If Rafflecopter form loads slowly, please just wait for it to load. It'll appear right under the line with the smiley face. If this form doesn't work for you, you can sign up on the Rafflecopter form at the Living Montessori Now Facebook page. Just be sure to leave your blog comment here! Both Rafflecopter forms are the same, so it doesn't matter which one you sign up on.)

You must complete the Mandatory Entry to qualify for any additional entries. The giveaway closes 10:00pm MST on Sunday, April 28. Best of luck!

UPDATE:
It's Monday morning, April 29. I really appreciated all 307 comments and 4,252 entries! A winner has been selected using Random.org through Rafflecopter!
The winner of the $315 KHT Montessori Online Course with 12 Montessori Teachers' Manuals is Jhamelia M!
I'm so happy for Jhamelia, who had multiple entries! (Note: Jhamelia, you have 48 hours to respond to my email, or a new winner will be chosen.)
The comment for Jhamelia's mandatory entry (why she wanted to win the online training course) said:
"I'm a kindergarten teacher here in Vietnam and would really love to learn about the montessori curriculum and start implementing it in my class. I'm sure it would benefit not only me but my students most especially."
CONGRATULATIONS, Jhamelia!!! A HUGE THANK YOU to KHT Montessori for sponsoring this awesome giveaway – and thank you to everyone who entered!
And, always, thanks so much to all my blog sponsors!
Montessori Print Shop
Montessori Compass
Safari Ltd.
Total Yearbooks
Montessori at Home
Maestro Classics
Linked with Contest Girl and Free Sweepstakes and Contests