Are you a teacher, parent, or caregiver of children anywhere from 0-10, especially babies through kindergarteners? If you aren't familiar with Nancy Kopman, you're in for a treat! Nancy now has 5 albums, and my family and I are in love with each one! I just wish they would have been available when I was a Montessori teacher and then homeschooler!
Disclosure: Over the years, Nancy Kopman sent me copies of each of her CDs to review. My thoughts are honest and my own. This post also contains some affiliate links (at no cost to you).
I reviewed Nancy Kopman's first 3 CDs when my granddaughter Zoey was 1½ years old. We both fell in love with the CDs. Then I reviewed Nancy's 4th CD when Zoey was 3 years old. Nancy published a 5th album in 2019 when I had 3 grandchildren: a baby (Caleb at 10 months, my daughter, Christina's, son), a toddler (Sophia at 13 months, my son, Will's daughter), and a kindergartener (Zoey at 5 years, my son, Will's daughter). Now Nancy has published a 6th album, I Am A Tree, when Zoey is 8, Sophia is almost 4, and Caleb is 3½.
In case you're a teacher, Nancy's albums are used in many schools, including Montessori schools. It's not surprising because of the albums' calming nature and helpful concepts. They work very well with Montessori circle time/line time activities. I want to be sure you know about Children's Music … with a Purpose by Nancy Kopman.
How Much Does My Family Love Music By Nancy Kopman?
(My 2019 comments when I had two grandbabies visit): When my grandchildren are babies, I have music playing for them most of the time. I have a lullaby album for sleeping. The most popular music when they're awake is music by Nancy Kopman. I've found that my grandbabies love Nancy Kopman's music more than Raffi. And we love Raffi!
Nancy's sweet voice, folk-like quality, and positive music are very soothing to babies. And her action songs for babies are lots of fun, too!
Zoey has always loved Miss Nancy's music from the time she first heard it at age 1½. She's had fun with the melodies, action songs, and learning activities on each album. Now she also enjoys watching the babies' reactions to the music.
I typically have Nancy's music going through my head each day. My husband works from home, upstairs in his office. He hears the music enough to have it going through his head, too. And neither of us minds! It's lovely, fun music for adults to hear as well as kids!
New in 2021: I Am A Tree Album
Nancy has a new album: I Am A Tree! It has a lovely performance poem and great songs for babies, toddlers, and older children!
Here are a few examples:
You can learn more about her album and buy it at her Nancy Kopman website.
The album is also available on Amazon: I Am A Tree
Nancy Kopman's Senses Album – Review from 2019
Nancy's 5th album, Senses, (available on Amazon, iTunes, or wherever you get your music online) was published on January 2 of 2019. It has songs for children ages 0-10, including songs about character education ("Character Traits"), growth mindset ("It's a Mistake"), and inclusion ("A Welcome Song"). Those are three topics I love. And there are some super-fun action songs, such as "Horses" (with trotting, galloping, and jumping horses) and "Shake, Shake, Shake." (Note: you can listen to samples of each of the 15 songs on on Amazon or iTunes.)
The first song, "A Welcome Song," is perfect for classrooms and daycare centers, but it's also great in the home. It has clapping, which my baby and toddler grandchildren love to do along with the music, and it has a wonderful message of inclusion. I like giving the message that all ages are welcome in our home learning environment, and we're welcoming to all types of people.
This would be wonderful in many environments in conjunction with a peace/inclusion book, such as All Are Welcome.
You'll hear Nancy's music playing much of the time my grandchildren are visiting. You might see little ones spontaneously playing rhythm instruments that I keep in a basket on the shelf … or even an improvised instrument such as Caleb's pot-lid drum! At other times, Sophia or Caleb might stand and bob up and down, spontaneously dancing to the music!
Zoey enjoys helping Sophia and Caleb participate in the songs. Nancy's music is a great way to bring together large or small groups of children whether they're related or not!
You can learn more about the Senses album here.
Here's one of the songs for older children from the Senses album: "Character Traits" by Nancy Kopman
Nancy Kopman's First Four Albums

You can learn more about Nancy's first four albums in my post "Having Fun with Nancy Kopman's Music with Nancy."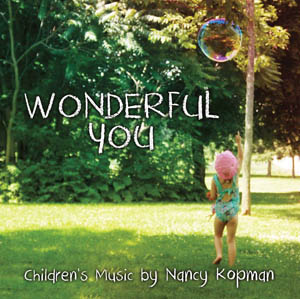 I love that Wonderful You (on Amazon or iTunes) even has songs for babies as well as for toddlers and preschoolers. "Stepping" is great for walking on the line, and "Wonderful You" is a sweet song promoting self-esteem.
I Know I'll Grow (on Amazon or iTunes) is great for toddlers and preschoolers. "Planets, Planets" is an especially fun educational song.
One of my favorite albums for preschoolers or Montessori preschool (primary) classes is The Seasons (on Amazon or iTunes). It has a number of songs that are perfect for circle time activities.
My other favorite album for preschools and Montessori classes is Nancy's 4th album, Shadow (on Amazon or iTunes).
See also "Montessori-Inspired Music Activities for Toddlers and Preschoolers."
Helpful Resources for Nancy Kopman's Music
You'll find all sorts of helpful resources on Nancy Kopman's website.
If you'd like ideas for actions, check out the Music With Nancy FB group. Nancy's Facebook Live videos are a great resource, and you and your child can just follow along while she leads the songs! Zoey is really hoping we can watch one of Nancy's live videos. She wants to "meet" my friend Nancy! So I'm hoping we'll be able to coordinate our schedule with one of Nancy's Facebook live sessions! (Of course, the Facebook live videos remain available to watch later on, too.)
Here's Nancy's YouTube channel with lots of free resources of her fabulous music: Music with Nancy.
I hope you and your children/students have fun with Nancy, too!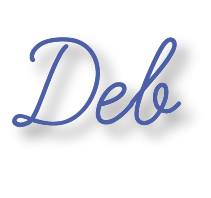 Learn more about my eBook Montessori at Home or School: How to. Teach Grace and Courtesy!
If this is your first time visiting Living Montessori Now, welcome! If you haven't already, please join us on our Living Montessori Now Facebook page where you'll find a Free Printable of the Day and lots of inspiration and ideas for parenting and teaching! And please follow me on Instagram, Pinterest (lots of Montessori-, holiday-, and theme-related boards), and YouTube. While you're here, please check out the Living Montessori Now shop.
And don't forget one of the best ways to follow me by signing up for my weekly newsletter. You'll receive some awesome freebies in the process!