I LOVE sharing musical activities with young children. Music was my top extracurricular activity when I was in elementary- and high school, and I've never lost my love of music. Even when I was a Montessori school director and no longer teaching full-time in my Montessori school, I still taught music twice a week … simply because I had too much fun with it to stop. It was also one of my favorite subjects to teach as a homeschooler.
There's SO MUCH you can do with music in Montessori education. I can't cover it all here, but I do want to share some of the main ways you can explore music with toddlers and preschoolers either in the classroom or at home. I won't go into detail about the Montessori bells since they aren't very practical for the home environment. I really loved having them in my school, but I wouldn't purchase them for a homeschool.
Disclosure: This post contains affiliate links (at no cost to you).
The Montessori Music Scope and Sequence, including the Montessori Bells
Although music is a cultural subject, it's sometimes included in Montessori trainings as part of the sensorial (auditory) curriculum:
Circle Time Activities with Nursery Rhymes and Traditional Preschool Songs
Even if you're trying to follow Montessori principles, I think it's great to introduce a wide variety of traditional nursery rhymes and preschool songs. I don't worry about whether or not they reflect reality. I think the sense of rhythm and the love of music young children gain is far more important than whether a specific song or rhyme is realistic.
This post lists some of my favorite CDs that work especially well for both babies and toddlers: Favorite CDs for Babies and Toddlers.
I have some new favorite CDs, too. Nancy Kopman (Music with Nancy) sent me copies of her 3 CDs to review. My granddaughter, Zoey, and I fell in love with them. They have a sweet folk-like feel to them, and the songs give positive messages to children or have helpful learning ideas. There are even some songs that work especially well for babies and toddlers.
Nancy's albums are used in many schools, including Montessori schools. I can see why because they're fun with a calming feel to them. They work very well with Montessori circle time/line time activities. They're available on iTunes.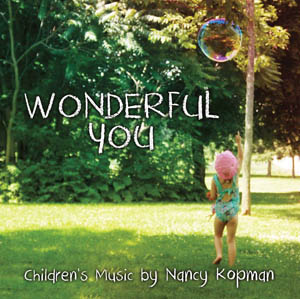 There are even some fun songs specifically for babies in Wonderful You. There are also songs for toddlers and preschoolers. "Stepping" is great for walking on the line, and "Wonderful You" is a sweet song promoting self-esteem.
Zoey's favorite song from I Know I'll Grow is "Hello, Hello." It focuses on body parts and has a very catchy melody. (Actually, all of Nancy's songs have catchy melodies.) "Planets, Planets" is an especially fun educational song.
In the photo, Zoey is doing one of the actions to "Hello, Hello."
I think all three albums are great. If I could only choose one of the albums for preschoolers or Montessori preschool (primary) classes though, The Seasons is the one I'd choose. It has a number of songs that are perfect for circle time activities. Here's a YouTube video of "Walk Around," one of the songs I like to use for moving on the line:
And I love "7 Continents, 5 Oceans" as an extension for Montessori continent work. Here's a YouTube video of that song:
Here's Nancy's YouTube channel so you can get a better idea of her lovely music: Music with Nancy.
Here are some more activities to fun songs by Music with Nancy: Having Fun with Nancy Kopman's Music with Nancy.
You'll also find a variety of music ideas for circle time in my post "Free Educational Songs for Circle Time" (and the related holiday and seasonal song posts linked to at the end of the post).
Introducing Classical Music to Young Children
I start introducing classical music to babies. I simply play classical CDs, similar to the Montessori tradition of having art masterpieces in a baby's room. For toddlers, I like to have classical music as background music, and I also like to introduce walking on the line to classical music. (Note: I use electrical tape to make my line. When I had a Montessori school, my line was in the shape of an ellipse because of the available space. Now my line is in the shape of a circle.)
For preschoolers, I introduce classical stories to music. My favorites are on Maestro Classics CDs and MP3s. A favorite starting point is Peter and the Wolf. I have Montessori-inspired music appreciation activity posts for most of the Maestro Classics albums. I use the Maestro Classics CDs with Zoey, too, although I simply play the complete musical compositions as background music until she's a bit older.

Preschoolers can easily learn about musical composers along with many classical music concepts.
You'll find more fun classical music activities in my post on "How to Have Fun with Classical Music for Toddlers and Preschoolers."
Be sure to check out Carolyn Lucento's Magical Movement Company for awesome Montessori musical activities of all kinds for young children. She's where I first learned about West Music (the company where I purchased the music for the above post)! She even has Musically Montessori ecourses.
Using Rhythm Instruments at Circle Time (or line time if your line is in the shape of an ellipse)
I still have a set of rhythm instruments from when I had a Montessori school. We often used them in our homeschool, and I now use them with my granddaughter. We use them to accompany all types of music.
Introducing Young Children to Musical Instruments
I like to begin by introducing real musical instruments whenever I can. I enjoy playing guitar to accompany kids' songs, so that's one of my first introductions I give to musical instruments. I've played soprano recorder for Zoey, and we have two authentic drums that Zoey uses along with her other drum for rhythm activities. Zoey also likes to use a xylophone.
Hands-on activities help preschoolers identify musical instruments. Preschoolers can learn to identify the sound of each instrument as well.
Walking on the Line in Time to Music (or Marching, Skipping, Jumping, etc., on the Line in Time to Music)
Sanford Jones had wonderful music for movement on the line back when I was a Montessori teacher. At the time, I used his book of piano music for moving on the line. Now, there's a CD that's perfect for classrooms or homes.
Dancing
My daughter danced a lot from the time she started walking. Zoey loves to dance, too, although her natural dance style is different from Christina's. For toddlers, I simply encourage spontaneous dancing to a variety of music. In the photo, Zoey is dancing to world music from the CD that came with the Little Passports Early Explorers Music package.
With older preschoolers, it's fun to teach traditional folk dances. My daughter loved starting ballet lessons as a preschooler, too.
Montessori-Inspired Music Units
For all my Montessori-inspired music activities, see my "Montessori-Inspired Music Unit Studies" post.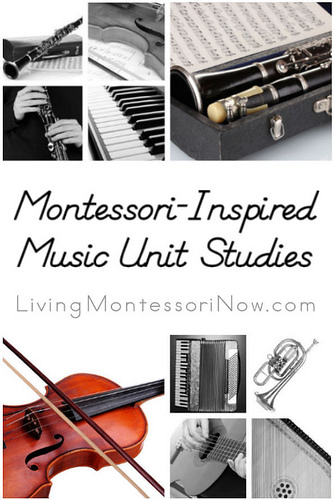 This post is part of the 12 Months of Montessori Learning series!
Amazing blogs involved in the 12 Months of Montessori Learning
Natural Beach Living ~ The Natural Homeschool ~ Living Montessori Now ~ Planting Peas
The Kavanaugh Report ~ Mama's Happy Hive ~ Study at Home Mama ~ Child Led Life
Every Star Is Different ~ Grace and Green Pastures ~ The Pinay Homeschooler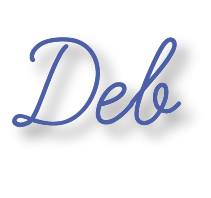 Learn more about my eBook Montessori at Home or School: How to. Teach Grace and Courtesy!
If this is your first time visiting Living Montessori Now, welcome! If you haven't already, please join us on our Living Montessori Now Facebook page where you'll find a Free Printable of the Day and lots of inspiration and ideas for parenting and teaching! And please follow me on Instagram, Pinterest (lots of Montessori-, holiday-, and theme-related boards), and YouTube. While you're here, please check out the Living Montessori Now shop.
And don't forget one of the best ways to follow me by signing up for my weekly newsletter. You'll receive some awesome freebies in the process!