Maria Montessori said, "Education is the best weapon for peace." As parents, educators, and/or caregivers, we need to to help make peace education a natural part of our children's lives. Today, I'm sharing some of my favorite peace books for kids.
Disclosure: This post contains affiliate links (at no cost to you).
Just choose books based on your child's age and what you think will engage your child's interest. I recommend checking out the "Look Inside the Book" feature on Amazon and reading reviews there. Another place to learn about a book is on YouTube. You can typically see the entire book there. If you live outside the U.S., be sure to check out Book Depository for great prices and free worldwide delivery.
Montessori-friendly books use photos or realistic illustrations. They don't have talking animals or a lot of fantasy. But many books that have fantasy and talking animals are wonderful books, and I love sharing them with children who understand the difference between fantasy and reality. I typically have a majority of Montessori-friendly books for a theme, but I include a variety of books that might not be Montessori-style books but that are simply lots of fun or are classic books that I consider an important part of cultural literacy. Many peace books are naturally Montessori friendly.
Favorite Peace Books for Kids
I have a wide variety of favorites, so just choose the peace books that will speak to your children or classroom. Next week, I'll publish a post at BitsofPositivity.com with my favorite mindfulness books.
Note: This is a LOT of books. Of course, you don't need them all. It really depends on your child's age and what specific part of a peace-themed unit you're studying. Many of these books work for a variety of themes, so they aren't just for a peace tray or unit. I've included books on religion, geography, and multiculturalism because they're all important in peace education.
Favorite Peace Books for Babies and Toddlers
As I've said before, If you're doing a unit study, you don't need to include babies and toddlers. They really won't care if their books fit with your current theme. But I do like having some peace books for babies and toddlers because it's never too early to begin education for peace. Having baby or toddler books about peace will also encourage your older sibling to read to your baby or toddler, which can help them both.
I typically keep the baby and toddler books for a unit in their own book basket for my grandbabies. Both 11-month-old Sophia and 8-month-old Caleb love this book basket! For our peace unit, I put two board books in the book basket: The Peace Book and Hats of Faith.
The Peace Book is recommended for ages 3-5, but I like the board book for babies and toddlers. It has a few things that you won't find in a Montessori-style book, such as the page that says, "Peace is giving shoes to someone who needs them," with an image of a centipede wearing shoes. The short, simple descriptions, though, make it fun for babies through preschoolers.
The first and last pages of Hats of Faith show why it's such an important book. The first page says: "Many religious people share the custom of covering their heads to show their love for God." The last page says: "Learning about each other makes it easy to be more understanding. Being understanding helps us spread love and peace."
Here's sweet Sophia at 11 months looking at The Peace Book. Sometimes, her 5-year-old sister, Zoey, shares books with Sophia and her 8-month-old cousin, Caleb. Sometimes, my daughter, Christina, or I read to the babies, and sometimes they just enjoy looking at the books. I love having the book basket available. It gets used a lot!
Favorite Peace Books with Peace-Themed Learning Activities
I have a post with free peace printables and Montessori-inspired peace activities.
Just click on each Amazon book image below to learn more about the book!
I have so many beautiful peace books for this unit!
What Does Peace Feel Like? is a collection of quotes from elementary-age children answering the questions of what peace looks like, feels like, tastes like, etc. It's a great way to inspire children to think deeply about what peace is. (Recommended for ages 4-8)
Peace Is an Offering is a lovely book about creating peace and being a peacemaker. It's recommended for ages 3-5 but includes deeper issues of helping a friend who's experienced loss. Because of that, you'll want to consider if it's age-appropriate for your unique child.
Peace uses lots of wonderful peace quotes along with intricate illustrations to talk about what is needed for there to be peace in the world. It's recommended for ages 4-8.
A Little Peace by Barbara Kerley is one of my very favorite peace books. It's a National Geographic children's book with amazing photographs and few words. At the back of the book, there's a map with the country and explanation of the activities in all the photos. The book is wonderful for toddlers on up. I often like to place a small globe (such as the Montessori continents globe) beside the book as an added geography activity.
This book basket has peace and world-themed books (along with a variety of books we use regularly). I think world-themed books are essential for a peace unit because knowledge and understanding of differences takes away fear and promotes acceptance and peace.
I'm in love with Amazing Peace: A Christmas Poem by Maya Angelou. It's recommended for ages 6 and up and is a beautiful, moving poem that brings up deep theological issues ending with hope and the promise of peace. Adults will appreciate it as much if not more than children.
Usborne See Inside World Religions is my favorite way to introduce a variety of religious differences to children.It has many lift-the-flap pictures to make it interesting. (Best for kindergarten and elementary-age children)
Sacred Places is another book to help children get a better understanding of religions around the world. It's also great for a geography study. The book is recommended for grades 1-6.
In my post "Promote Peace with Montessori Holidays Around the World Resources," I share Children Just Like Me: Celebrations! for introducing a variety of cultures. National Geographic books are some of my favorite nonfiction books, and I love the series of National Geographic Kids Holidays Around the World books. I have many of the books in the series and use them for a variety of holidays.
I also love This Is How We Do It: One Day in the Lives of Seven Kids from around the World. It helps children relate to the stories of children around the world … perfect for a peace study as well as a variety of geography activities. (The book is recommended for kindergarten – grade 3, although preschoolers could enjoy it, too.)
The Travel Book: Mind-Blowing Stuff on Every Country in the World (Lonely Planet Kids) is simply an amazing book to have available for any study of countries around the world.
My 5-year-old granddaughter, Zoey, loves the Maps book. It's a wonderful resource to have in any classroom or homeschool!
Montessori Peace Shelf
On the top shelf of my language and cultural area, I have a few more Montessori-friendly peace books.
Can You Say Peace? is recommended for ages 4-7, although 2-5 year olds would probably find it most interesting. It shows children around the world and tells how they say peace in their own language.
I love sing-a-long books, and Let There Be Peace on Earth: And Let It Begin with Me (Book & CD) is a beautiful song to be made into a book. The book is recommended for ages 6 and up, although I think it's wonderful for toddlers on up!
Everybody Says Shalom is a fabulous book! It's a celebration of the word "shalom" along with giving lots of information about Israel. I'm using it for both Hanukkah and Lent studies. The book is recommended for ages 3-7.
Peace Tray/Peace Shelf Resources
A Handful of Quiet can be used in a number of ways. It's technically a mindfulness book, but I often have a mindfulness book with our peace tray/shelf. The book is recommended for ages 4+.
Sometimes, I've included inspiration stones and drawstring pouch from Montessori Services with the book. Zoey loves that pouch and stones. Right now, I have a larger drawstring bag with larger polished rocks to fit the book's meditation themes of flower; mountain; calm, clear lake; and big blue sky. The book also has directions for making your own drawstring bag and finding special meditation stones.
Some of my other favorite books for our peace tray:
You can see more in my post at Bits of Positivity with "The Best Mindfulness Books for Kids."
Be sure to check out the peace resources and peace activities at Montessori Services for many wonderful products that are perfect for a peace tray, shelf, or table.
You'll find lots of ideas and resources in my post on how to prepare a Montessori peace tray.
Favorite Books with a Multicultural and Peace Theme
Whoever You Are is a simple introduction to the idea that people are different around the world, but we're the same in the most important ways. It's recommended for ages 4-7, although I think it's best for ages 2-5.
I Am Peace: A Book of Mindfulness is both a mindfulness and peace book. It shows how when we have peace within, we can share it with others. The book is recommended for ages 4-8.
Tree of Cranes is an interesting story about a Japanese child's first Christmas in the United States. It's a wonderful way to introduce cultural differences as well as the peace crane. (Recommended for ages 4-7)
For ages 8-12 or so, I recommend Sadako and the Thousand Paper Cranes.
The Colors of Us is one of Zoey's favorite books. This is a book that truly celebrates diversity. It's recommended for ages 4-8.
The Barefoot Book of Children is filled with images and information about children around the world. It again shows that we're more alike than different. My favorite lines are these: "Every life is a story. It's easier to understand someone when you know their story." The book is recommended for kindergarten through grade 3, although I think younger children, especially 3 and 4 year olds can enjoy the story and pictures without all the details at the end.
All the Colors We Are/Todos los colores de nuestra piel: The Story of How We Get Our Skin Color/La historia de por qué tenemos diferentes colores de piel celebrates the variety of skin colors. This book is rich in information and is written in both English and Spanish. It helps children understand why we have the color of skin that we do. It's recommended for ages 3-6.
Because my two granddaughters are part Black, at my Bits of Positivity blog, I review books written by Black authors for Multicultural Children's Book Day. You can read my Multicultural Children's Book Day reviews here.
Wonderful Peace Books for Classrooms
The peace rose is a lovely tool for conflict resolution. It's most commonly used in Montessori classrooms, although it's wonderful in homes with siblings as well. It's perfect for almost any situation where there could be conflict between children.
The book The Peace Rose is great for teaching children how to use the peace rose to resolve any disagreements. The book is recommended for children ages 2½+.
View this post on Instagram
I like to use a wooden peace rose, which works well with the book. I often like to add the Montessori Heart Mindful Breathing Board by MontessoriRestore on Etsy to the peace area.
The Peace Rose and Our Peaceful Classroom are available as a Classroom Peace Book Set (less expensively than on Amazon) from Montessori Services. They're a wonderful classroom set for ages 2½+.
All Are Welcome is a fabulous book of inclusion … ideal for peaceful classrooms. It's recommended for ages 4-8. I'd love to see classrooms around the world sharing this book with their students. I didn't originally own this, but I ended up getting it for my grandkids to emphasize the importance of schools and other places welcoming all. I also think it's important for families to emphasize their encouragement of inclusion and diversity. I just love the book!
This book is also perfect paired with the Montessori Heart Mindful Breathing Board by MontessoriRestore on Etsy.
You'll also find many anti-racism books in my favorite Black history books for kids post.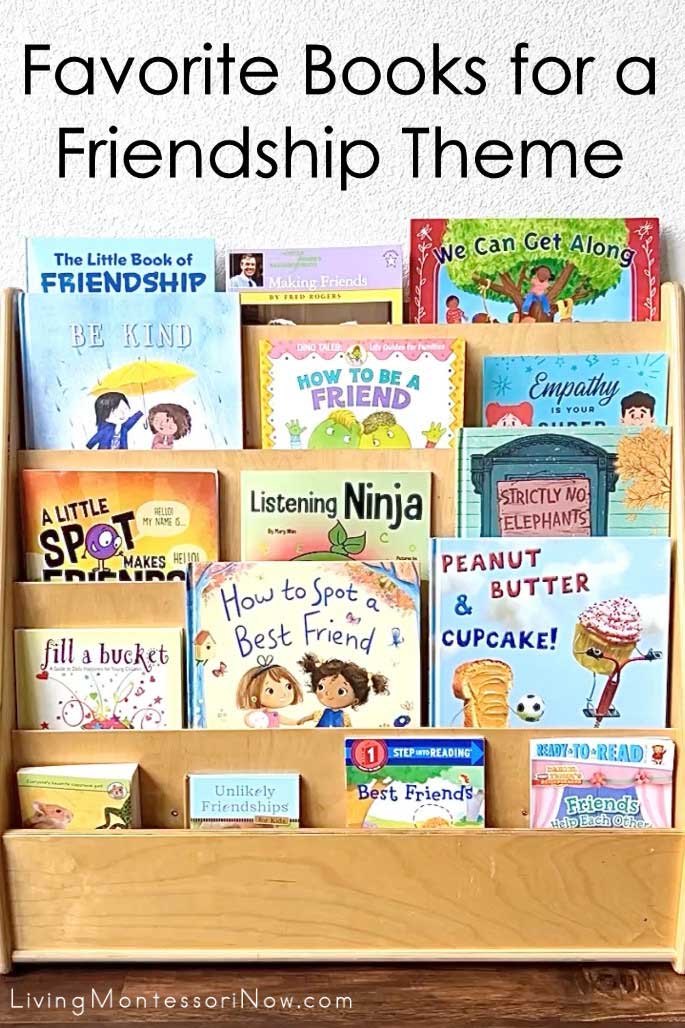 And you'll find many books that encourage peace in my favorite books for a friendship theme.
More Peace and Mindfulness Resources and Activities
I'm including mindfulness resources in our peace unit. They're helpful in peace education because peace within is a first step toward spreading peace. Again, next week at Bits of Positivity, I'll have a post with my favorite mindfulness books.
I hope you found some resources here that are perfect for your family and/or classroom.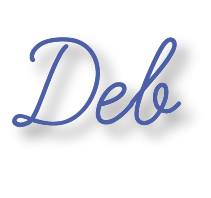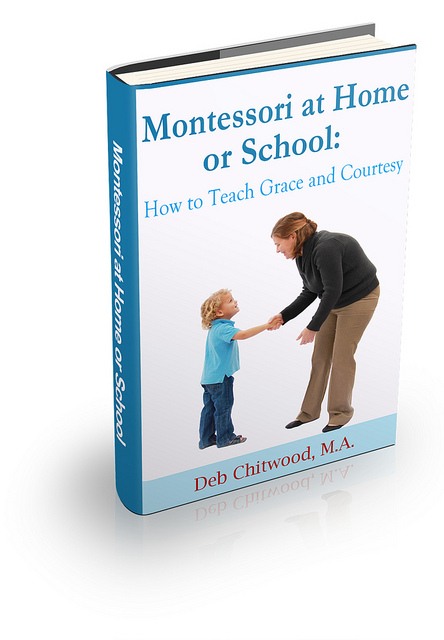 Learn more about my eBook Montessori at Home or School: How to. Teach Grace and Courtesy!
The Montessori at Home! eBook and Montessori at Home! eBook and Materials Bundle are AMAZING resources! You can learn more about them here. Buy them in the Living Montessori Now shop.
If this is your first time visiting Living Montessori Now, welcome! If you haven't already, please join us on our Living Montessori Now Facebook page where you'll find a Free Printable of the Day and lots of inspiration and ideas for parenting and teaching! And please follow me on Pinterest (lots of Montessori-, holiday-, and theme-related boards) and Twitter. You can find me on bloglovin', Instagram, and YouTube , too.
And don't forget one of the best ways to follow me by signing up for my weekly newsletter. You'll get some awesome freebies in the process!