I love the Montessori geometric solids at any time of year. Montessori geometric solids are beautiful sensorial materials and wonderful for the stereognostic sense (the process of feeling objects and recognizing them based on what is felt). This is a great time of year to place an extra focus on geometric solids with the coming of Easter and fun with ovoid-shaped Easter eggs!
Geometric solids aren't an easy material to make and are generally purchased by both preschools and homeschools. There are some inexpensive versions available. You'll find an interesting discussion about buying geometric solids at Homemade Homeschool.
Inexpensive Geometric Solids
Note: It's best if the geometric solids are all one color. (The traditional geometric solids are all blue for isolation of difficulty so the child doesn't confuse shape with color).
Here's a more thorough list of Montessori material suppliers along with comments from parents who purchased from various companies: Where to Buy Montessori Materials.
DIY Geometric Solids
There are tutorials for making at least some of the traditional geometric solids (cube, sphere, cone, cylinder, rectangular prism, triangular prism, ovoid, ellipsoid, triangular-based pyramid, and square-based pyramid) used in Montessori schools. Even if you've purchased geometric solids, following the DIY tutorials could be great extensions for children at more advanced levels.
Clay Geometric Solids from Adventures of a Rainbow Mama
Geometric Solids made of polystyrene from WeeWinkles
Paper Models of Polyhedra site
3D Shapes from The Pinay Homeschooler
3D Shapes (made from Play-Doh and Toothpicks) along with geometric solids activities from Rockabye Butterfly
Geometric Solids Presentations and Extensions
Geometric Solids from The Work Plan
Geometric Solids presentation and extensions from Montessori Primary Guide
"Teacher Discussion: Presenting Montessori Geometric Solids"
Geometric Solids and Exercises from Basic Montessori: Learning Activities for Under-Fives by David Gettman (on Google books)
Geometric Solids Materials from Montessori Print Shop (available for purchase)
Geometric Solids 3-Part Cards (free) from Maybe Montessori
Geometric Solids Materials from Montessori for Everyone (available for purchase)
Geometric Solids Matching Cards from Our Montessori Story
Geometric Solids for Baby and Geometric Solids Extension (photo) from Chasing Cheerios
Montessori Sensorial Work: Geometric Solids (presentation) from My Montessori House
Matching Real-Life Objects to the Geometric Solids from Montessori MOMents
New Life for our Geometric Solids – Thanks to Montessori Print Shop from To the Lesson!
Geometric Solids Objects from Inspired Montessori and Arts at Dundee Montessori
Geometric Solids and Geometric Solids with Photographs and Objects from Mi Escuelita Montessori
Geometric Solids with Mystery Bag from My Montessori Journey using Mystery Bag Tutorial from Montessori by Hand
Geometric Solids and Mystery Bags from Montessori Teachings
Geometric Solids (a variety of extensions) from Parenting in the Moment
Geometric Solids Extension (for older children) from Jojoebi Designs
There are a number of geometric solids extensions (along with LOTS of other Montessori activities) in John Bowman's Montessori at Home eBook (available for purchase).
Montessori Monday Link-Up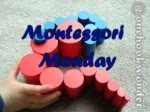 If you have some Montessori activity trays/lessons to share, please link up below. It's fine to link up a post from your archives – and you may link up anytime during the week! Please place the Montessori Monday button (using the code from the right sidebar) in your post or put a link back to this post.
Let's use Montessori Monday to gain inspiration/ideas and to encourage each other! If you would leave an encouraging comment on the post linked up ahead of you (along with any other posts you're drawn to), that would be awesome!
Thanks for participating! (Note: If you have a giveaway on your blog, please add it to my Family-Friendly Giveaway Linky Page! If you enjoy entering giveaways, you'll always find some great giveaways there! And be sure to check out my awesome iPad giveaway sponsored by Montessori Compass!)



Linked to AfterSchool Linky Party, The Mommy Club Resources and Solutions at Milk and Cuddles and Crystal & Co. , What's on the Tray Wednesday, Thrifty Thursday, The Weekly Kid's Co-op, Fun Stuff Fridays, Living Life Intentionally Linky Party, The Weekly Kid's Co-op, Preschool Corner, Show-and-Share Saturday, The Sunday Showcase at Mom to 2 Posh Lil Divas and Classified: Mom and Link & Learn