I published a post about inexpensive and DIY sandpaper letters, with many ideas that work for sandpaper numerals as well as letters. Here I'll give resources specifically for sandpaper numerals and sandpaper-numeral presentations and extensions.
Traditional sandpaper numerals are sandpaper numerals on green hardboard. There are many inexpensive options or DIY options that are great for homeschools.
Where to Purchase Inexpensive Sandpaper Letters
If you'd like to purchase sandpaper letters for home use, here are some inexpensive sources:
Alison's Montessori (I have Alison's Montessori sandpaper numerals and have a review of the Alison's Montessori sandpaper numerals.)
Here's a more thorough list of Montessori material suppliers along with comments from parents who purchased from various companies: Where to Buy Montessori Materials.
How to Make Your Own Sandpaper Numerals
There are patterns and directions for making your own sandpaper numerals (along with many other Montessori materials) in the book Teaching Montessori in the Home: Pre-School Years: The Pre-School Years
by Elizabeth G. Hainstock.
Peaceful Parenting made counting boards with sandpaper numerals.
2 Pequeños Traviesos has sandpaper numerals on laminated green cardstock.
L'écol'logis has sandpaper numerals on laminated cardstock.
2 Little Seeds has directions for making authentic-looking sandpaper numerals on birch wood.
FUNdamentals made sandpaper numerals on hardboard.
Sandpaper Numeral Alternatives
A number of parents make textured numerals of felt or velvet.
OurMontessoriHome.wordpress.com made felt numerals on foam boards.
Walk Beside Me made textured numerals with fabric and embroidery. (The blog is no longer available.)
Faolmor's Den has textured numerals made with glittery card.
Check out my inexpensive and DIY sandpaper letters post for other creative alternatives that work for sandpaper numerals as well as letters.
Numeral Templates
Livable Learning has free sandpaper numeral templates.
Sandpaper Numeral Presentations and Extensions
Montessori Primary Guide has sandpaper numbers presentation and video.
[youtube]http://www.youtube.com/watch?v=H80D65Dy-UM&feature=player_embedded[/youtube]
Leptir has detailed sandpaper numeral presentation and extensions.
Montessori MOMents makes rubbings of the sandpaper numerals for sandpaper number books.
Little Schoolhouse in the Suburbs has tactile card extensions using Touch and Trace Cards from Knowledge Tree and sandpaper numerals from Montessori Outlet.
Barefoot in Suburbia has various activities matching quantities of objects with sandpaper numerals. (Dinosaurs and Sandpaper Numerals photo at the top of this post)
How We Montessori uses sandpaper numerals with a sand tray.
Montessori Monday Link-Up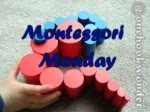 If you have some Montessori activity trays/lessons to share, please link up below. It's fine to link up a post from your archives – and you may link up anytime during the week! Please place the Montessori Monday button (using the code from the right sidebar) in your post or put a link back to this post.
Let's use Montessori Monday to gain inspiration/ideas and to encourage each other! If you would leave an encouraging comment on the post linked up ahead of you (along with any other posts you're drawn to), that would be awesome!
Thanks for participating! (Note: If you have a giveaway on your blog, please add it to my Family-Friendly Giveaway Linky Page! If you enjoy entering giveaways, you'll always find some great giveaways there … even Montessori- and heart project giveaways right now!)

Linked to AfterSchool Linky Party, Pinterest Tuesday, The Mommy Club Resources and Solutions at Milk and Cuddles and Crystal & Co. , What's on the Tray Wednesday, Thrifty Thursday, Living Life Intentionally Linky Party, Preschool Corner, Fun Stuff Fridays, Show-and-Share Saturday, Link & Learn, The Sunday Showcase at Mom to 2 Posh Lil Divas and Classified: Mom, Everyday Math Play, and Making Math Meaningful.