I'm often asked about the Montessori materials from various companies. To help you know more about Alison's Montessori and the company's products, I was given a number of Alison's Montessori materials to review. (I was never required to write a positive review for Alison's Montessori, and any opinions expressed are my own.)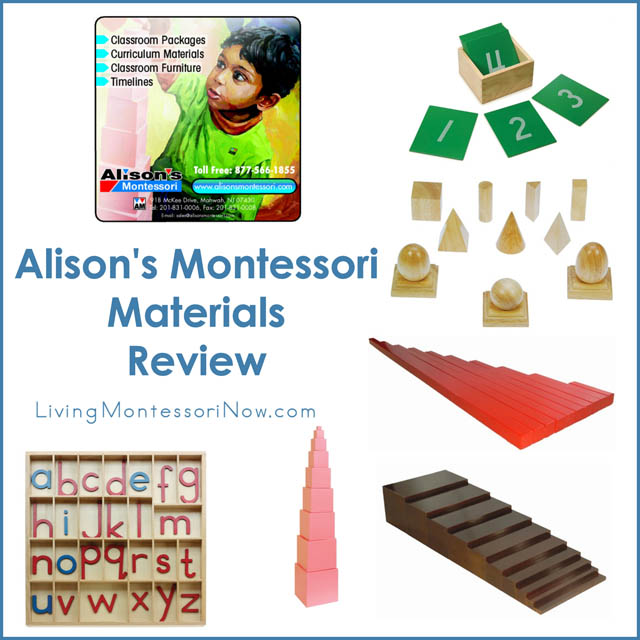 Review of Montessori Materials from Alison's Montessori
I was excited to be given the opportunity to review Alison's Montessori materials. I had heard good things about the quality of their materials but I had never seen them. I was a bit worried because my only hands-on experience with Montessori materials was with Neinhuis materials when I observed in Montessori schools, taught in Montessori schools, owned my own Montessori school, and then used the materials from my school in homeschooling my children. I was simply concerned that I was too spoiled and wouldn't be able to appreciate anything but the highest quality materials.

But I wanted to review materials that homeschoolers and schools on a strict budget could afford. Alison's Montessori has a premium line of materials that are made from Russian birch and German birch. The premium line materials are mostly handed sanded and hand cut … and meant to be flawless. The value line materials, which I'm reviewing, are solid rubber wood and are machine cut.
What was my overall impression? My materials arrived quickly and were packed very well. I was happily surprised and VERY pleased with the quality of the Alison's Montessori value-line materials. I chose a few different types of materials that I feel are important for conveying the beauty of Montessori … and those materials all conveyed that beauty. I'll tell a bit more about each of the materials below.
The pink tower, brown stair, and red rods are all materials that helped me fall in love with Montessori. They're beautiful to look at and touch, and I love the indirect preparation for mathematics. For homeschoolers who can find a way to buy these materials, I highly recommend them for the wonderful start they give young children and the wide variety of extensions that can be done with them.
Pink Tower
Here's the description of the pink tower from Alison's Montessori online catalog:
This set contains ten wooden cubes painted pink and graded in size from 1 cubic cm to 10 cubic cm.
These cubes develop visual discrimination of size in three dimensions.
Working with this material prepares the child to understand mathematical concepts in the decimal system, geometry, and volume.
The pink tower also comes with a download of pink tower control cards. I like to encourage as many extensions as possible with the sensorial materials, so I prefer to use both the centered control cards and cornered control cards. By printing out 2 copies and cutting one set as cornered cards, I was able to get both versions from the PDF file. The bottom photo shows the pink tower (except for the smallest two cubes) laid out on the cornered control cards.
Note: As my top photo shows, I have the pink tower laid horizontally on a shelf right now. I'll eventually stand it up near a shelf to save space.
Brown Stair
Here's a description of the brown stair from the Alison's Montessori online catalog:
These are ten hardwood prisms that are painted in brown lacquer. They are graded in width while the length remains constant. These cubes develop visual and muscle perception of dimension. The child will be able to understand different mathematical concepts by using this material.

The brown stair also came with a download of control cards. Again, I printed out two copies to make a centered set and a cornered set. The bottom photo shows the brown stair laid out on the cornered set except for the final two brown prisms.
Red Rods and Stand

I requested the red rods with the stand because I need the extra shelf space. I know that's the case for many families who use Montessori at home.
Here are the descriptions for the red rods and the stand for the red rods and number rods from the Alison's Montessori online catalog:
This product helps develop the child's muscular coordination and visual discrimination of differences in one dimension. It also indirectly prepares the child for later work in geometry though the general observation of differences in the rod lengths, faces, and total volumes. The child is also introduced to the concept of numbers and demonstrating the unit difference in length between the ten rods.
Ten red, wooden rods of equal thickness; they vary in length from ten centimeters to one meter, by ten centimeter increments.
This wooden stand is lightly lacquered to enhance the natural beauty of the wood. The inside of the stand is lined with a velvet-like material to prevent the rods from getting scratched. The stand can also be used with the number rods.
Both the red rods and the stand are wonderful. All the materials I received were lovely and invited touch. I think that's especially important for the sensorial materials. Unless you have the budget and space for a whole classroom, I don't recommend getting every Montessori material for home use.
I have a post on Practical Life Materials I Recommend Buying. I'll continue the series with more curriculum areas in the new year. Even though I recommend buying a certain number of sensorial materials, there are many Montessori materials that I recommend making yourself or substituting with another material for home use.
You'll notice that I have baby books and toys on the bottom shelf. Those are for my new granddaughter. As my granddaughter gets older, she'll have access to materials on higher shelves while new grandbabies will have materials on the bottom shelf.
Natural Geometric Solids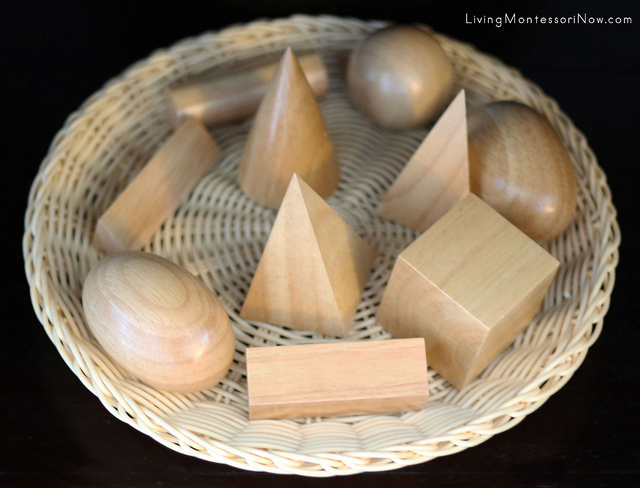 Even though I had the blue geometric solids as a Montessori teacher and school owner, the natural geometric solids are less expensive and work well for home use. I don't feel the bases are essential for homeschoolers. Because the bases come separately from the natural geometric solids, I only requested the geometric solids. I recommend adding a mystery bag and blindfold. I just placed my geometric solids on a picnic plate holder. With a blindfold and mystery bag, I would general place the geometric solids in a basket.
Here's the description for the natural geometric solids from Alison's Montessori online catalog:

This is a set of ten natural-colored solids.
The bases and planes are sold separately.
Sandpaper Numbers
I was happy with both the quality of the sandpaper numbers and the box.
Here's the description of the sandpaper numbers from Alison's Montessori online catalog:

Set of ten sandpaper numbers (0-9) on wooden boards to introduce written numbers.
Small Movable Alphabet
I really love the wooden movable alphabet. Alison's Montessori has a number of different styles available.
Here's the description of the small movable alphabets (red and blue) with box from Alison's Montessori online catalog:

This is a set of small wooden movable alphabet that come in a sturdy wooden box with lid. The set includes 5 of each red consonants and 10 of each blue vowel.
Smallest letter approx: 1.25″ H.
Largest letter approx: 2.75″ H.
Alison's Montessori Homepage
Be sure to check out the Alison's Montessori website with Montessori materials for infants and toddlers through upper elementary! You'll find a Value-Line E-Catalog, Premium E-Catalog, and other resources such as PDF files, books, arts and crafts, and enrichment materials. There's even a bargain basement!
Now for the Giveaway:
What You Will Win: 5 lucky winners from the U.S. will win a $100 Alison's Montessori gift certificate! Note: The gift certificates may not be used to purchase furniture.
Who is Eligible:
This giveaway is open to anyone 18 and older in the U.S. The first entry is mandatory. You must leave a blog post comment telling why you want to win (and be sure to click the green "ENTER" on the Rafflecopter form to let me know you left your blog post comment and to open up the optional entries)! After you've completed your mandatory entry, there are lots of optional entries. You have many chances to win! (Note: For the extra entries, you may count ways of following that you already do. For example, if you previously "liked" Living Montessori Now on Facebook, you may still count that for your "like" Living Montessori Now on Facebook entry!)
It's easy to enter giveaways with Rafflecopter! Just follow the directions to enter.If you still have questions about the Rafflecopter form, here's a 52-second video with quick directions for entering through Rafflecopter.

You must complete the Mandatory Entry to qualify for any additional entries. The giveaway closes 10:00pm MST on Monday, December 23. Best of luck!

(Note: If you have any problems with the Rafflecopter form, you can sign up on the Rafflecopter form at the Living Montessori Now Facebook page. Just be sure to leave your blog comment here! Both Rafflecopter forms are the same, so it doesn't matter which one you sign up on.)
a Rafflecopter giveaway

UPDATE:
It's Christmas Eve morning. I really appreciated the 2,689 entries! 5 winners have been selected using Random.org through Rafflecopter!
Here are the five winners and their mandatory entries. All 5 had multiple entries.
Jessica W. from Montessori Trails – Alison's Montessori $100 Gift Certificate

"I'd like to win because I have 3 families to whom I would love to give some materials. The one prize would help 3 families instead of just one ;)"
Ashley K. from One Little Mister – Alison's Montessori $100 Gift Certificate
"I volunteered in a montessori school once and it was such a great experience"
Kayla S. – Alison's Montessori $100 Gift Certificate
"My daughter just turned two and my husband and I are very excited to start gathering materials for our Montessori-inspired homeschool. $100 to Allison's Montessori site would help out so much!"
Sylvia M. from Living and Learning with Our New Normal – Alison's Montessori $100 Gift Certificate

"What a blessing these beautiful Montessori items would be for Bethany!"
Kristina B. – Alison's Montessori $100 Gift Certificate
"I think my boys would love the more hands on."
CONGRATULATIONS, Jessica, Ashley, Kayla, Sylvia, and Kristina!!! THANK YOU SO MUCH to Alison's Montessori for sponsoring such an awesome giveaway – and thank you to everyone who entered! Have a wonderful Christmas everyone!

On orders of $75 or more from the Alison's Montessori online store, my readers can save $10 by using coupon code LMN at checkout!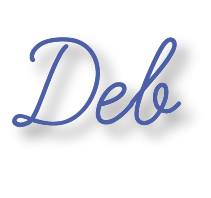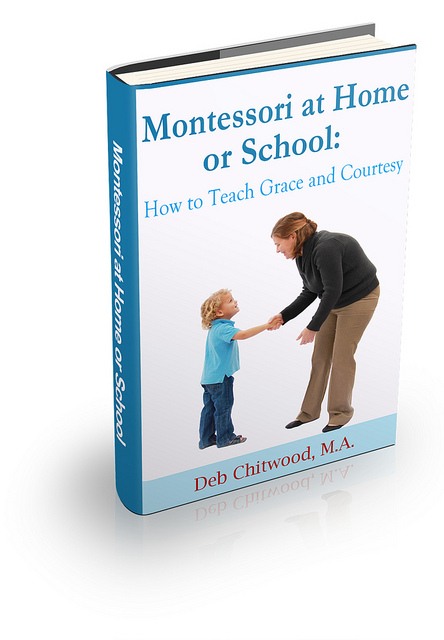 Learn more about my eBook Montessori at Home or School: How to. Teach Grace and Courtesy!
The Montessori at Home! eBook and Montessori at Home! eBook and Materials Bundle are AMAZING resources! You can learn more about them here. Buy them in the Living Montessori Now shop.
If this is your first time visiting Living Montessori Now, welcome! If you haven't already, please join us on our Living Montessori Now Facebook page where you'll find a Free Printable of the Day and lots of inspiration and ideas for parenting and teaching! And please follow me on Pinterest (lots of Montessori-, holiday-, and theme-related boards), Instagram, and YouTube. You can find me on bloglovin' and Twitter, too.
And don't forget one of the best ways to follow me by signing up for my weekly newsletter. You'll receive some awesome freebies in the process!

Giveaway linked with Contest Girl and Free Sweepstakes and Contests