Memorial Day is meant to honor American men and women who died in military service. It has also become a start-of-summer celebration for many. I think it's possible to have both a fun Memorial Day holiday celebration for children as well as help them learn about the holiday's true meaning.
You'll find a lot of resources for explaining Memorial Day to your child on my Kids' Patriotic Activities (U.S.) Pinterest board. You'll also find many free printables and activities that are easy to prepare quickly. You could even prepare a simple Montessori-inspired patriotic tray with red, white, and blue papers along with markers, scissors, glue, and optional materials such as stickers or a hole punch.
Here I'll share some Montessori-inspired Memorial Day printables and activities I've found around the blogosphere. If you live outside the United States, variations of these activities can be used for patriotic holidays in your own country.
Montessori-Inspired Patriotic Printables
4th of July Preschool and Kindergarten Free Printable Pack from Our Country Road
US Landmarks and Symbols — free 3-part Montessori cards from The Homeschool Den
American Symbols and Landmarks Memory Game from Living Life Intentionally
Symbols of America Free 3-Part Card Download from Mondorfment
Montessori-Inspired Patriotic Activities
Montessori-Inspired Patriotic Unit – my roundup post (Photo at the top of this post from Counting Coconuts)
Montessori-Inspired Fun with Golf Balls and Ping Pong Balls
Memorial Day Posts from Carrots Are Orange (Photo from Memorial Day Preschool Activities)
Montessori Curriculum Ideas for Memorial Day, Memorial Day – Peace Education in the Montessori Classroom, U.S. Memorial Day in the Montessori Classroom from North American Montessori Center
Kids' Patriotic Activities Pinterest Board
Along with Memorial Day history and explanations, you'll find activities for Memorial Day and any of the U.S. patriotic holidays on my Kids' Patriotic Activities Pinterest Board. There are activities of all types and for many different levels.
Have a wonderful Memorial Day! 🙂
Montessori Monday Link-Up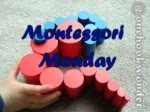 If you have some Montessori activity trays/lessons to share, please link up below. It's fine to link up a post from your archives – and you may link up anytime during the week! Your post may be any Montessori-inspired activity or idea. It doesn't need to be related to my Montessori Monday post. I publish the Montessori Monday post and linky at 6:00 a.m. EST each Monday and keep the linky open throughout the week.
Please place the Montessori Monday button (using the code from the right sidebar) in your post or put a link back to this post. Let's use Montessori Monday to gain inspiration/ideas and to encourage each other! If you would leave an encouraging comment on the post linked up ahead of you (along with any other posts you're drawn to), that would be awesome! Thanks for participating!
Note: If you have a giveaway on your blog, please add it to my Family-Friendly Giveaway Linky Page! If you enjoy entering giveaways, you'll always find some great giveaways there, including some Montessori giveaways! 🙂



Linked to Link & Learn.