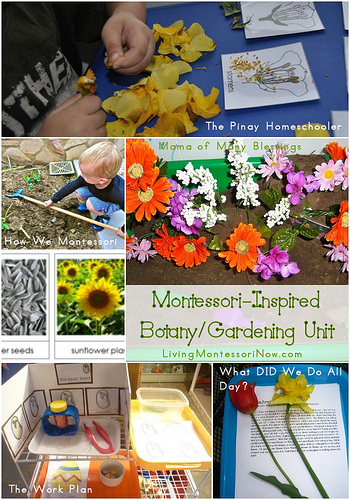 Spring and summer are great times to focus on gardening. I planted a flower garden with the children each spring when I had a Montessori school. The children always loved to see the flowers blooming when they returned to school at the end of the summer. With my own children, we didn't live where we could have a garden. But you can see what we did in this post: Experiencing Nature and Growing Plants Outdoors without a Garden.
There are LOTS of great Montessori-inspired printables and activities online for a gardening unit. There are too many to begin to cover them all in one post, but I'll share some wonderful ideas here. You could always do a few activities this year and save others for next year.
Montessori-Inspired Plant/Gardening Activities
Free Montessori Botany Materials for a Gardening Unit (my roundup post with lots of free printables)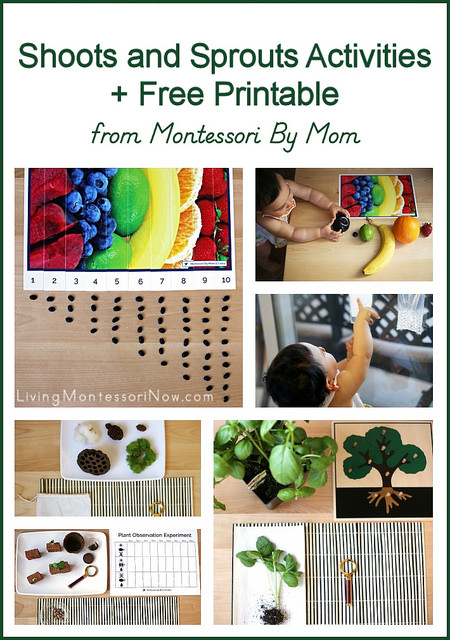 Shoots and Sprouts Activities + Free Printable from Montessori By Mom (new in 2015)
Montessori-Inspired Life Cycle Activities (includes life cycle of a bean plant)
Free Flower Printables and Montessori-Inspired Flower Math Activities
Exploring the Garden with Babies and Exploring Outdoors – Finding Smells from Rainy Day Mum
Our Garden (Gardening with a Toddler) from A Secure Base
Plant Posts from The Pinay Homeschooloer (Photo from Learning About Flowers)
Outdoor Kitchen and Garden from September
Spring Sensory Bin from Mama of Many Blessings
Botany – The Bean Seed from The Work Plan
Gardening the Montessori Way from Discovery Kidzone Montessori Adventures
Plant Posts from How We Montessori (Photo from Gardening)
Make Like a Montessori Mama: Part 2 – Plant Activities by Kylie from How We Montessori at Modern Parents/Messy Kids
Parts of a Plant (photo), Parts of a Bean, Our Garden, What Is a Biome?, Plant or Animal?, Plants, Plants ~ for Big Kids, and Seed Collecting from Discovery Days and Montessori Moments
Parts of a Plant with Egg Cartons from School Time Snippets
Creating a Montessori Garden Classroom from Montessori on a Budget
Plant Posts from Lesson Plans to Pots and Pans (Photo from Even More … from Seeds to Plants)
Botany 1 – Montessori Botany Cabinet Work and Botany 2 – Montessori Leaf Cabinet Work from Making Montessori Ours
Gardening Day from Montessori ici
Planting Our Garden from Our Natural Journey
Montessori Trays for Spring and More Garden-Themed Montessori Trays from LaPaz Home Learning
Montessori and Gardening from Montessori Writer
Botany Posts from Homeschool Mo
From the Montessori Garden – A Child's Flower Salad from Momalog
Gardening from Montesori Life (with Downloadable Documents)
Outdoor Botanical Exercises, Planting Day, and The Summer Session concludes at Juneau Montessori School from The Moveable Alphabet
Botany – Week 1, Botany – Week 2 (Photo), Botany – Week 3, Botany Week 4 – Pollination and seed dispersal, Botany Week 5 – Photosynthesis with buttons, and Botany Week 6 – Nitrogen Cycle and Trees from Homeschool Escapade
Dissecting a Flower from What DID We Do All Day?
Flower Activities from Our Country Road
Earth Day Montessori style: The school garden by Jocelyn Scotty at Examiner
Preparing an Outdoor Garden from We Don't Need No Education
Greensboro Montessori Gardening Program
Kennedy Montessori Garden for Peace (video)
Montessori Gardens Are Growing Young Entrepreneurs from Capital City Weekly
Plant Posts from Montessori Muddle
Botany/Gardening Unit Study Pinterest Board
I have botany/gardening activities of all kinds at my Botany/Gardening Unit Study Pinterest Board. I'll be adding to the board throughout the summer.
Flower, Plant & Garden Blog Hop
I'm one of the co-hosts of the Flower, Plant and Garden Blog Hop! Please link up your posts related to flowers, plants, gardens, veggies, etc. (Montessori or any type of kid-friendly post)! (You can still link up your Montessori-inspired lessons and activities here at Montessori Monday!) Be sure to visit the other gardening blog hop co-hosts, too.

Mom to 2 Posh Lil Divas
Kitchen Counter Chronicles
The Educators' Spin On It
Duck Duck Octopus
Living Montessori Now
At Home With Ali
Rainy Day Mum
Ready Set Read 2 Me
Crafty Mom's Share
Glittering Muffins
Mama's Little Muse


Linked to AfterSchool Linky Party, The Mommy Club Resources and Solutions at Milk and Cuddles and Crystal & Co. , The Weekly Kid's Co-op, Fun Stuff Fridays, Living Life Intentionally Linky Party, Preschool Corner, Saturday Show & Tell, Show-and-Share Saturday, The Sunday Showcase at Mom to 2 Posh Lil Divas and Classified: Mom,  Link & Learn, and Planting with Kids Blog Hop.