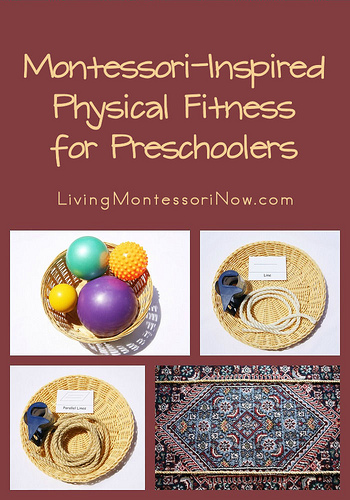 Even though Montessori education encourages movement in learning activities, it helps to have a systematic program for large-motor coordination. I'm excited about the Family Time Fitness program for homeschools, co-ops, schools, youth sports, and families in general. It's a perfect way for families to get fit together!
I would have loved to have a program like Family Time Fitness when I started homeschooling. Not only would it have given me a way to systematically add large-motor activities to our homeschooling, but it would have helped me identify my son's strengths and interests in sports much sooner. You can read more about that in my Family Time Fitness review at Bits of Positivity.
Disclosure: I was given a copy of the Family Time Fitness Core 1 Curriculum Program, which I used for my review at Bits of Positivity and to create activities for this post.

Creating a Physical Fitness Movement Shelf and Area in a Classroom or Homeschool
Montessori Works has a great idea for creating a movement shelf for children who need extra movement during the regular work cycle in a Montessori school. This would also work well  in a homeschool. Especially when there are older children, movement trays and/or baskets would be perfect for allowing 3-6 year olds a chance to repeat fitness activities that older children wouldn't need as much practice with.
The Family Time Fitness program is designed for ages 5-13, but many of the activities would work well for preschoolers. Today, I created a few Montessori-inspired activities using Family Time Fitness products for preschoolers. This is just a small sampling of activities. There are many more activities that can be created using Family Time Fitness products for preschoolers as well as older children. You could rotate physical fitness activities according to your child's or students' abilities and interests.
Each of the Family Time Fitness activities has a description of the activity and materials needed (typically inexpensive and easy-to-find fitness materials). There's also a link to a video demonstrating each activity. I'm sharing ideas for activities that could be placed on a shelf for preschoolers. It would be perfect if you have an outdoor classroom where your child or students can go indoors or outdoors freely and safely. Not many schools or homeschools have that option, however. If you don't have that option, preschoolers could take the fitness trays outdoors during recess or could do the activities indoors in a specified area of the classroom or home.
If you have a large rug in a certain area of your classroom or house, that would work well for physical fitness activities. Here are some examples of Montessori-inspired activities you could create from Family Time Fitness activities:
Tray for Line Jumps
This tray contains a rope, tape to hold the ends securely on a rug, and a geometry card showing a line from a free printable from Homemade Montessori. The card isn't essential, but it's a simple way to identify the tray and introduce a straight line to preschoolers.

I would just demonstrate whichever activities from the video are appropriate for your preschooler or preschool students.
Tray for Jump the River
This tray contains two ropes, tape to hold the ends securely on a rug, and a geometry card showing parallel lines from a free printable from Homemade Montessori. The photo below shows an example of how children could place the ropes to make parallel lines. I cut the pieces of rope so they're long enough for two children to do the exercise side by side if they choose.
Basket for Ball Exercises
For this activity, I simply placed different sizes of balls in a basket.
For this activity, I'd recommend just demonstrating the activities from the video that your child or students could work on successfully. They could experiment with balls of various types and sizes.
Note: I have a roundup post with many more ideas for Montessori-inspired movement activities.
Montessori Monday Link-Up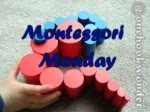 If you have some Montessori activity trays/lessons to share, please link up below. It's fine to link up a post from your archives – and you may link up anytime during the week! Your post may be any Montessori-inspired activity or idea. It doesn't need to be related to my Montessori Monday post.
Link up your exact post URL so that we can find your activity if we return to the linky at a later date (which I often do when I'm looking for activities for a roundup post). I publish the Montessori Monday post and linky at 6:00 a.m. EST each Monday and keep the linky open throughout the week.
Please place the Montessori Monday button (using the code from the right sidebar) in your post or put a link back to this post. Let's use Montessori Monday to gain inspiration/ideas and to encourage each other! If you would leave an encouraging comment on the post linked up ahead of you (along with any other posts you're drawn to), that would be awesome! Thanks for participating!
Notes:
For community discussions, please join us at the Living Montessori Now Facebook page, We Teach Montessori Group, and/or Google+ Montessori Community. The We Teach Montessori group has a Member Resources Sharing (for resources such as freebies and series) as well as a Linky Party for We Teach Montessori. We Teach Montessori has a linky just like the one here except that it's continuous where you may add your Montessori-inspired activities and ideas to the same linky. New links will go to the top of the linky. I'd love to see us build up a great collection of Montessori-inspired ideas there, too. After you link up here, why not hop over to the We Teach Montessori Group and link up there?! And don't forget the Saturday/Sunday Parent/Teacher Preparation Days share where you may share a kid-related activity of any kind at the Living Montessori Now Facebook page!
It's also Motivational Monday on Mondays now! I invite you to share something positive on the Bits of Positivity Facebook page (Bits of Positivity is my other blog) to help us all get a good start on the work/school week. You might share an inspirational or motivational quote, positive graphic, or post about finding balance or simplifying your life. Or you might share a post on organizing, an encouraging post, a post about making a difference in the world, or a positive parenting post. Just go ahead and share on the Bits of Positivity wall any time today! (Please "like" the Bits of Positivity Facebook page if you haven't already.) I'll be pinning a number of ideas to my regular Pinterest boards!
If you have a giveaway on your blog, please add it to my Family-Friendly Giveaway Linky Page! If you enjoy entering giveaways, you'll always find some great giveaways there.
Also, if you've ever been linked to in one of my roundup posts, please feel free to grab the "Featured on" badge.

Have you added the Montessori Monday button or a text link? Please be sure you've done one or the other so that others can find the link-up, too! Thank you!
If this is your first time visiting Living Montessori Now, welcome! If you haven't already, please join us on our Living Montessori Now Facebook page where you'll find a Free Printable of the Day and lots of inspiration and ideas for parenting and teaching! And please follow me on Pinterest (lots of Montessori-, holiday-, and theme-related boards),  Twitter (blog posts by me and others along with the Parent/Teacher Daily and other interesting information), and  Google+ (post updates and Montessori Community). You can find me on bloglovin' now, too. I'm also a Parenting Expert on Sulia. Thank you for following me there. And don't forget one of the best ways to follow me by signing up for my weekly newsletter in the right sidebar. You'll get two awesome freebies in the process!
Linked to Tuesday Tots, The Mommy Club Resources and Solutions at Milk and Cuddles and Crystal & Co., The Weekly Kid's Co-op, Ultimate Mom Resources, Hearts for Home Blog Hop, Learn & Link, TGIF Linky Party, Preschool Corner, Sharing Saturday, Saturday Show & Tell, Share It Saturday, Show-and-Share Saturday, The Sunday Showcase, Link & Learn, Afterschool Express