Spring is a great time for a pond unit. May is an especially good time for turtle activities since World Turtle Day is May 23. Summer is a great time for a turtle unit, too. Today, I want to share some Montessori-inspired turtle and tortoise printables and activities from around the blogosphere.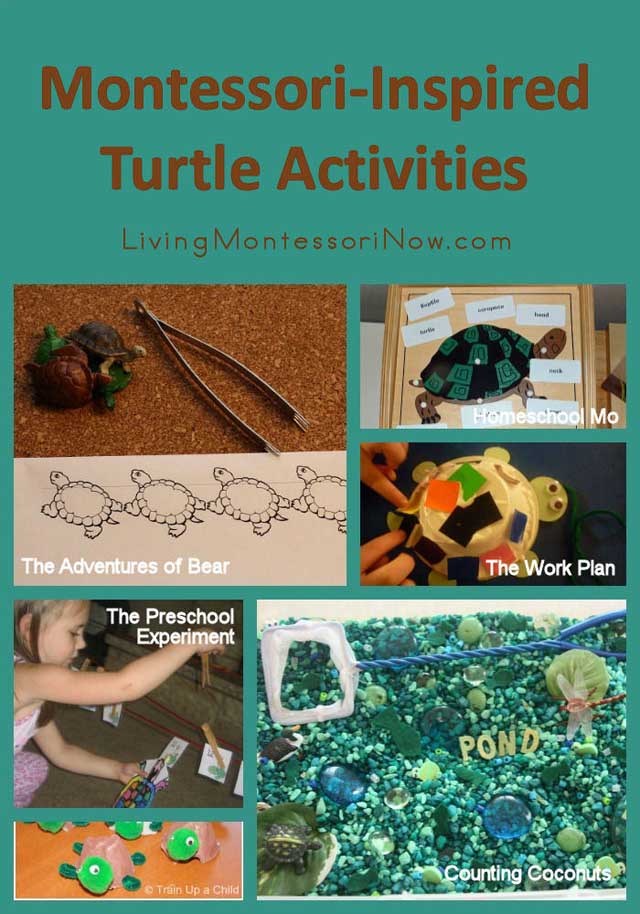 Note: This post contains Montessori Helper affiliate links at no cost to you.
Montessori-Inspired Turtle and Tortoise Printables
Free Turtle Cards from Montessori Materials
Free Life Cycle of a Sea Turtle by Montessori Motivation at Teachers Pay Teachers
Free Sea Turtle Species Three Part Cards (and Sea Turtle Mini Unit) from Carrots Are Orange
Free Turtle Puzzle (Anatomy Puzzle Outlines) from Montessori N' Such (turtle puzzle example at The Little List)
Free Snappy the Syllable Turtle Game (with art/practical life snapping turtle) from Relentlessly Fun, Deceptively Educational
Turtle Printables available for purchase from Montessori Print Shop
Free Turtle Printables and Montessori-Inspired Turtle Activities (my post with Montessori-Inspired Turtle Pack subscriber freebie)
Free Turtle Do-a-Dot Printable (Montessori-Inspired Instant Download) – my post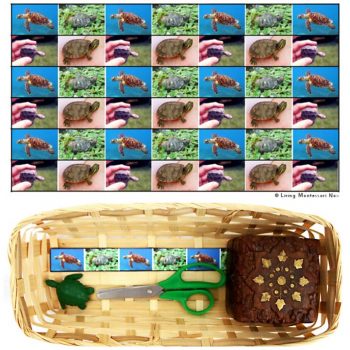 Free Turtle Cutting Strips (Montessori-Inspired Instant Download) – my post
Montessori-Inspired Turtle and Tortoise Activities
Montessori-Inspired Pond Unit (my roundup post, which contains some turtle activities)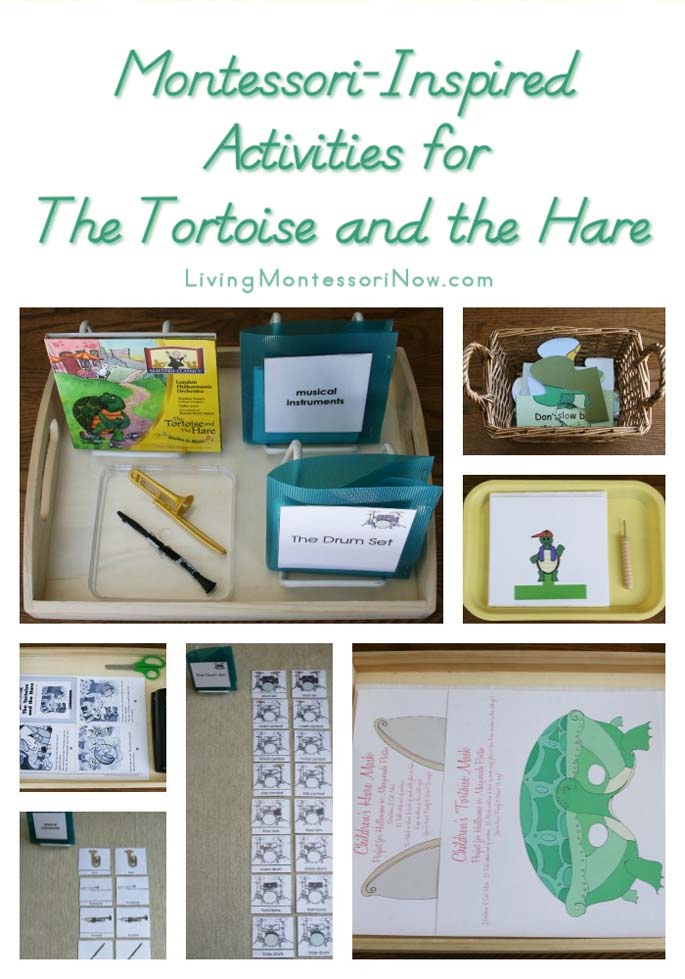 Montessori-Inspired Activities for the Tortoise and the Hare
Turtle Work from A Lakes Region Montessori
Pond Sensory Tub from Counting Coconuts
Turtle Sensory Table from PreKinders
Sea Turtle Scrubbing in Ocean Life Unit at Inspired Montessori and Arts at Dundee Montessori
Turtle Posts (Photo from Egg Carton Turtle Craft) from Train Up a Child
Playdough Pond, Egg Carton Turtles, and Foam Patterning Block Turtle from Sorting Sprinkles
Paper Bowl Turtle Art from Montessori Design
Collaging a Turtle Shell (Photo from The Work Plan)
Dot Art Buttons Turtle from Glittering Muffins
Turtle Art from Montessori Mom
DIY Native American Turtle Rattle from Montessori Tidbits
Apple and Grape Turtles from Our Little Monkeys
Montessori-Inspired Reptile Unit for Preschoolers from Homeschool Mo
Turtle from What DID We Do All Day?
Tortoise and T is for Turtle (photo) from The Adventures of Bear
Snapping Turtle Math from The Preschool Experiment
Froggy and Turtle Frenzy from School Time Snippets
A Montesori Approach to Turtle Geometry from TJLeone.com
Have fun with World Turtle Day! 🙂
Montessori Monday Link-Up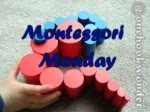 If you have some Montessori activity trays/lessons to share, please link up below. It's fine to link up a post from your archives – and you may link up anytime during the week! Your post may be any Montessori-inspired activity or idea. It doesn't need to be related to my Montessori Monday post.
Link up your exact post URL so that we can find your activity if we return to the linky at a later date (which I often do when I'm looking for activities for a roundup post). I publish the Montessori Monday post and linky each Monday and keep the linky open throughout the week.
Thanks for participating!
Notes:
For community discussions, please join us at the Living Montessori Now Facebook page.
If you have a giveaway on your blog, please add it to my Family-Friendly Giveaway Linky Page! If you enjoy entering giveaways, you'll always find some great giveaways there.
Also, if you've ever been linked to in one of my roundup posts, please feel free to grab the "Featured on" badge.
If this is your first time visiting Living Montessori Now, welcome! If you haven't already, please join us on our Living Montessori Now Facebook page where you'll find a Free Printable of the Day and lots of inspiration and ideas for parenting and teaching!
Linked to Tuesday Tots, Tactile Tuesday, The Mommy Club Resources and Solutions at Milk and Cuddles and Crystal & Co., The Weekly Kid's Co-op, Ultimate Mom Resources, Hearts for Home Blog Hop, Virtual Montessori Sharing Fair, Learn & Link, TGIF Linky Party, Preschool Corner, Sharing Saturday, Saturday Show & Tell, Share It Saturday, Show-and-Share Saturday, The Sunday Showcase, Link & Learn, and Afterschool Express