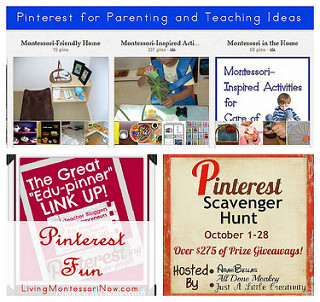 I have some Pinterest fun for Montessori Monday today!
Using Themes and Pinterest Activities to Follow Your Child's Interests and Choices
I know that many of you feel overwhelmed by the number of possible activities available online. Your child can help you with that! An important part of Montessori education is following your child's interests and giving your child choice whenever possible.
If you have a child who is often uninterested in educational activities, you might want to try having your child help you choose which activities to prepare. If you'd like to use a theme, you could check out this post: Should You Use Unit Studies? You'll find links to all my Montessori-inspired themes in it. You could also go to my Pinterest boards with activities of all kinds.
Either way, let your child help you choose activities and/or a theme he or she would like to do. I also have a post called "I Love Pinterest for Parenting and Teaching Ideas!" You can get ideas there of Pinterest boards I have available.
Giving your child a choice of activities you prepare will increase the chances of engaging your child's interest and natural love of learning. It's frustrating to prepare activities your child doesn't show interest in. Since you can easily design your activities around one child at home, why not do that in a way that will be helpful to both you and your child?!
Pinterest Pinner Link-Ups

I was a co-host for 3 Pinterest Link-Ups: Edu Pinners, ECE Pinners, and Kinder Pinners! If you're an educational pinner, ECE pinner, and/or kinder pinner, please add your Pinterest URL to the appropriate linky. And you'll find lots of pinners with great activities to choose from on the linkies.
The Pinterest link-ups were started by Debbie Clement at RainbowsWithinReach. Debbie and I will co-host a Montessori pinner link-up this Saturday, starting at 8:30am EST! Be sure to check here on Saturday to link up if you're a Montessori pinner and to follow lots of pinners of Montessori-inspired activities! UPDATE: Here's the Montessori Pinner Link-Up (which is still open).
Montessori Monday Link-Up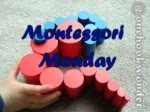 If you have some Montessori activity trays/lessons to share, please link up below. It's fine to link up a post from your archives – and you may link up anytime during the week! Your post may be any Montessori-inspired activity or idea. It doesn't need to be related to my Montessori Monday post.
Link up your exact post URL so that we can find your activity if we return to the linky at a later date (which I often do when I'm looking for activities for a roundup post). I publish the Montessori Monday post and linky at 6:00 a.m. EST each Monday and keep the linky open throughout the week.
Please place the Montessori Monday button (using the code from the right sidebar) in your post or put a link back to this post. Let's use Montessori Monday to gain inspiration/ideas and to encourage each other! If you would leave an encouraging comment on the post linked up ahead of you (along with any other posts you're drawn to), that would be awesome! Thanks for participating!
Notes: You'll find a Pinterest Pinning Party in our Living Montessori Now Community (featured on the welcome page). That's for any kid-related posts whether they're Montessori-inspired or not. Please feel free to add posts there as well! (If you join our Living Montessori Now Community, your blog feed (post excerpts) will show up on the Living Montessori Now Community Welcome Page if you add your blog link when you sign up. It's an easy way to get extra attention for your blog posts.)
If you have a giveaway on your blog, please add it to my Family-Friendly Giveaway Linky Page! If you enjoy entering giveaways, you'll always find some great giveaways there. Also, if you've ever been linked to in one of my roundup posts, please feel free to grab the "Featured on" badge.


If this is your first time visiting Living Montessori Now, welcome! If you haven't already, please join us on our Living Montessori Now Facebook page where you'll find a Free Printable of the Day and lots of inspiration and ideas for parenting and teaching!
Linked to Tuesday Tots, The Mommy Club Resources and Solutions at Milk and Cuddles and Crystal & Co. , Enchanted Thursdays Blog Hop, The Weekly Kid's Co-op, Living Life Intentionally Linky Party, Preschool Corner, Saturday Show & Tell, Show-and-Share Saturday, The Sunday Showcase, and Link & Learn.