If you have one or more of the traditional Montessori sensorial materials, you undoubtedly want to encourage the best possible use of the material. Extensions can create more interest as well as add a new level of difficulty for your child or students who need a more advanced activity.
Some of the most likely sensorial materials to be purchased are the Montessori size materials: the cylinder blocks, knobless cylinders, pink tower, brown stair, and red rods.
Some Examples of Sensorial Size Extensions:
The Montessori Learning Center of Dundee has lots of photos of extensions of pink tower, brown stair, and knobless cylinders from years of teaching in a Montessori school.
Our Country Road shows the pink tower used with pink tower cards from Montessori Print Shop.
Smiling Like Sunshine shows extensions with the pink tower and brown stair.
Leptir has posts with many photos and directions for the pink tower and brown stairs, red rods, knobbed and knobless cylinders and other sensorial extensions.
Lapappadolce has lots of pink tower and brown stair extensions along with free printables.
The Montessori MOMents photo shows a popular red rods extension. The blog is no longer available.
Förskoleburken has free knobless cylinder printables.
Montessori with Myra has a number of sensorial extensions.
Early Education with Antek and Kuba has inspiring pink tower and brown stair extensions.
Montessori Print Shop has a number of inexpensive sensorial materials and manual with extensions for sensorial activities.
Wikisori has a number of extensions.
Montessori Works has free sensorial extension cards.
My sensorial posts often have extensions of activities.

If you have John Bowman's eBook Montessori at Home: The Complete Guide to Doing Montessori Early Learning Activities at Home, you'll find lots of easy-to-prepare extensions for sensorial activities.
Montessori Monday Link-Up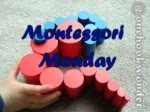 If you have some Montessori ideas/lessons to share, please link up below. Please also place the Montessori Monday button (using the code from the right sidebar) in your post or put a link back to this post.
Thanks for participating! (Note: If you have a giveaway on your blog, please add it to my Family-Friendly Giveaway Linky Page.) 🙂