I LOVE Montessori land and water forms! But there are a few problems when it comes to acquiring them for homeschools and even many schools … they're expensive, take up quite a bit of space, and aren't the easiest materials to make. Fortunately, there are some very simple – and fun – alternatives to traditional land and water forms. These are wonderful for summer or outdoors during any nice weather.
Montessori Land and Water Forms
Nataša from Leptir has great photos and descriptions of the Montessori land and water forms as used in a Montessori school. Her post is helpful regardless of what type of land and water forms you choose.
Easy DIY Land and Water Forms
Some of the easiest land and water forms to prepare are ones that only require containers, sand, water, optional blue food coloring for the water, and whatever objects you'd like to add.
Last year, I had a post with Land and Water Forms at the Beach, featuring a post (photo shown in the collage at the top of this post) from Chasing Cheerios.
You don't need to go to the beach, though. OurMontessoriHome.Wordpress.com has a similar type of activity that can be created using simple plastic containers with sand and water (photo shown in the collage at the top of this post).
Discovery Days and Montessori Moments also created a simple version of DIY landforms using rocks and blue water.
Teach Beside Me made playdough landforms.
Healthy Mama made playdough landforms with green playdough, paper plates, and blue paint.
All of the activities are most effective with some sort of land and water form cards to use as models. You'll find links to printables in an earlier roundup post of mine: Montessori-Inspired Fun with Land and Water Forms. You'll also find links to other tutorials for DIY land and water forms if you'd like to make more traditional models. Those are wonderful if you have the space and would enjoy preparing them.
In the same post, you'll find a recipe for land and water form snacks based on an activity I found online from Ashland Montessori School. It's a fun extension to use with land and water form cards.
For a homeschool (and many school situations), I really like the idea of using outdoor land and water forms. If you've been following my blog, you know that I love outdoor environments for learning, and this is a great activity for an outdoor classroom.
And for a thorough description of how to introduce land and water forms and activities to extend the study of land and water forms, sign up for my mailing list (in my blog's right sidebar) to receive the free American Montessori Society Geography Album by Karen Tyler. It's a 177-page album covering Montessori geography activities for ages 2½-6!
I'd love to hear about your activities with land and water forms!

Montessori Monday Link-Up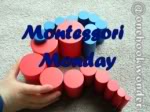 If you have some Montessori activity trays/lessons to share, please link up below. It's fine to link up a post from your archives – and you may link up anytime during the week! Your post may be any Montessori-inspired activity or idea. It doesn't need to be related to my Montessori Monday post. I publish the Montessori Monday post and linky at 6:00 a.m. EST each Monday and keep the linky open throughout the week.
Please place the Montessori Monday button (using the code from the right sidebar) in your post or put a link back to this post. Let's use Montessori Monday to gain inspiration/ideas and to encourage each other! If you would leave an encouraging comment on the post linked up ahead of you (along with any other posts you're drawn to), that would be awesome! Thanks for participating!
Note: If you have a giveaway on your blog, please add it to my Family-Friendly Giveaway Linky Page! If you enjoy entering giveaways, you'll always find some great giveaways there! Also, I'll have a new Montessori Services giveaway starting this Thursday!



Linked to The Mommy Club Resources and Solutions at Milk and Cuddles and Crystal & Co. , The Weekly Kid's Co-op, Living Life Intentionally Linky Party, Preschool Corner, Saturday Show & Tell, Show-and-Share Saturday, The Sunday Showcase, and Link & Learn.