I've been having fun with a Montessori By Mom toolbox again … this time the Land, Water, Air Toolbox. Montessori land, water, and air activities are important Montessori early geography activities. Following are land, water, air activities that work well at home for multiple ages.
Disclosure: I'm a Montessori By Mom affiliate. I was given the Land, Water, Air Toolbox for this review/activity post. This post contains affiliate links (at no cost to you).
Montessori By Mom
Montessori By Mom is a small business started by Nathan and Teresa Hadsall, two teachers who wanted to empower parents to teach their own children using Montessori principles and activities. Nathan and Teresa offer a subscription service, sending a box of themed Montessori materials and activities for 3-5 year olds each month. Everything you need for teaching your child with the materials is included in the monthly subscription. With each box, you'll get
Video instruction for many activities (The videos are wonderful! Parents with no Montessori experience can feel comfortable introducing the Montessori activities after watching the video instructions.)
Video instruction about basic Montessori principles and teaching techniques
All the materials needed
Extension activities with other materials from home
Access to an online forum where you can ask questions and connect with other parents
Montessori By Mom now has a Montessori By Mom store where you can buy single toolboxes, activity sets, single items and refills, and printables and videos.
There's also a Marketplace where parents and teachers can sell homemade or used Montessori-related products. You can post products free. Montessori By Mom just takes a 15% commission from each sale for providing credit card processing and the platform.
Land, Water, Air Toolbox and Activities
The Land, Water, Air Toolbox has a huge number of activities you can create with the materials.
Teresa and Nathan give many ideas for various ages and levels of difficulty. Each material can be used in multiple ways, and the extensions ensure that the activities can grow with your child. The instructional videos and online resources are wonderful … and it's so nice to have all the materials included. The Land, Water, Air Toolbox is available in the Montessori By Mom store.
The toolbox contains:
Turtle Puzzle
Air Book (Home Grown Books)
Bee Transfer Activity – With 3 types of tongs
Materials for Land, Water, Air demonstration
Cork Boat Armada – Enough material to build 4 boats
Water and Land formation sandpaper card kit
Beautiful Land, Water, Air poster and card set (36 durable, laminated cards)
Instructional Videos
Land, Water, Air Toolbox Guide
Land, Water, Air Activities Using the Montessori By Mom Materials
These are just a few of the activities you can prepare using the Land, Water, Air materials. There are additional ideas in the videos and online parent resources that are included with the toolbox. I'm impressed that there are so many different levels of activities included in the Land, Water, Air Toolbox. Most of the activities are for preschoolers, but a number of the activities work well for toddlers and a number of them would even work well for elementary-age children.
Land, Water, Air Classification

I love, love, love these activities! The land, water, and air bottles that come with the toolbox are lovely, and the poster and land/water/air cards are fabulous! These materials can be used with so many levels of children and can be used to teach a variety of concepts. You'll notice there's even information about the water cycle and types of clouds.
This activity isn't part of the Land, Water, Air Toolbox. I have lots of Safari Ltd. TOOBs, and I thought it would be a nice extension to add land, water, and air animals to the poster. (Note: Montessori By Mom sells Safari Ltd. TOOBs. There are even fun transportation TOOBs, such as the In the Sky TOOB that would also work well if you'd like to add 3-dimensional figures to the poster.)
Isn't this amazing?! The image cards that go with the poster have descriptions on the back of each card that older children can use to match up to the images on the back of the poster. They can correct their work by checking the image on the reverse side. Younger children can simply match the images.
Matching Land and Water Forms
I like the added feature of the Montessori By Mom land and water form cards. The land is sandpaper, giving the child a sensorial activity. There's even a suggestion of using the cards blindfolded. I also like having the poster image cards available for children to match as in the above photo. I think it's very helpful for children to see actual photos of land forms along with the land form cards.
Montessori Turtle Puzzle

There are so many extensions for the turtle puzzle that are given on the Montessori By Mom video and online resources. This specific activity isn't one of them. I just like to use Safari Ltd TOOBs to extend activities whenever I can. This uses a sea turtle from the Ocean TOOB (one of the Safari Ltd. TOOBs that Montessori By Mom sells) along with a turtle from the Pet TOOB. I think it's fun to show the parts of the animal on replicas as well as the puzzle for toddlers and preschoolers. You could even use a turtle stuffed animal to name the parts. Of course, later on, there are many labeling activities your child can do.
Montessori Bee Transfer Activities

The tray for this activity is from the Shells and Starfish Toolbox. The bee transferring activity is a very appealing fine-motor activity with a number of skill levels given. Strawberry huller, pom tongs, and bamboo tongs all come with the toolbox for increasing challenges.
Air Demonstrations or Experiments

The tray for this activity is from the Shells and Starfish Toolbox, although you could just do the air activities as demonstrations for younger children. Older children could use them as science experiments. The balloon rocket is especially fun for any age.
Cork Boat Activity

The Land, Water, Air Toolbox contains materials for making 4 types of cork boats. I assembled this version, which was the safest one for a toddler. I let my 15-month-old granddaughter, Zoey, explore it in a shoebox-size container with water and a bit of food coloring. She loved the simple activity!
Sink and Float Activity
Sink and float was one of the activities suggested on the Water, Land, Air extension activities download. I love sink and float activities and thought this would be a good time to introduce Zoey to the concept of sink and float.
I again used the shoebox-size container from the Dollar Tree, water with blue food coloring, the cork boat, cork, sponge, branch, rock, paper clip, metal spoon, and coin. I used the basket from the Helping Hands Toolbox to hold the objects. Some of the objects are too small for a toddler to safely play with, so this is an activity I didn't take my eyes off. When she was finished, I put the small objects away. Note: for a toddler, you can use only large enough objects to be safe (like we used for the outdoor sink and float activity in the video).
I used a presentation similar to the one in the video below. I didn't worry about sorting the objects at the end of the activity. For older children, you can find lots of ideas for sink and float activities in my sink and float roundup post.
Outdoor Sink and Float Activity for Toddlers
I'm SO EXCITED! Thanks to my daughter, Christina, we have a Living Montessori Now YouTube channel! Christina is the 1 1/2 year old in the Living Montessori Now logo who's working with the cylinder block! She's now 25 and ready to pass Montessori on to a new generation. I'm helping her learn more about teaching Montessori to her future kids. Right now, she's working with my granddaughter (her niece), Zoey.
In the video, she's showing an outdoor version of sinks and floats that works well with a toddler.

We'd love it if you'd subscribe to our Living Montessori Now YouTube channel! And we really appreciate it if you "like" the video. If you're logged into YouTube with a Google account, you can click the thumbs-up "like" right on the upper black bar of the video. Or, if you're on YouTube, you can click "like" there instead. Thanks so much!
Montessori By Mom Toolboxes + Toolbox Review and Activity Posts
(Update) Here are all the Montessori By Mom toolbox review and activity posts I've published here at Living Montessori Now: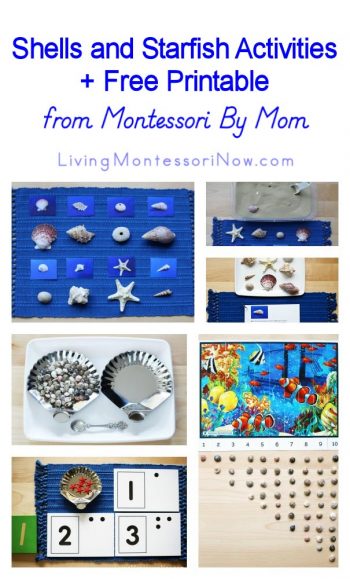 Shells and Starfish Activities + Free Printable from Montessori By Mom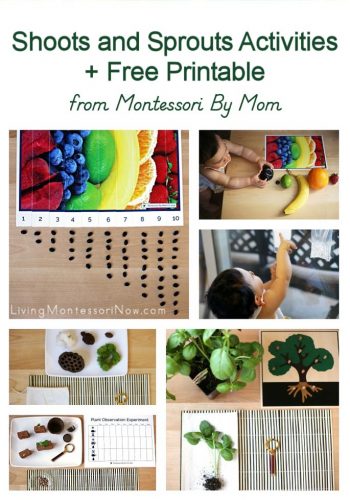 Shoots and Sprouts Activities + Free Printable from Montessori By Mom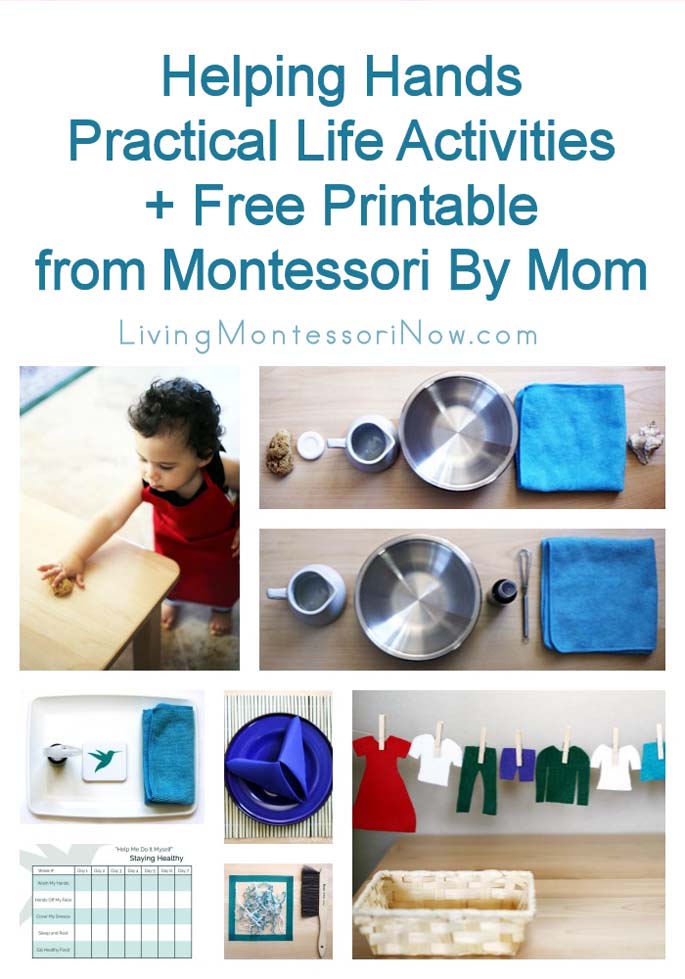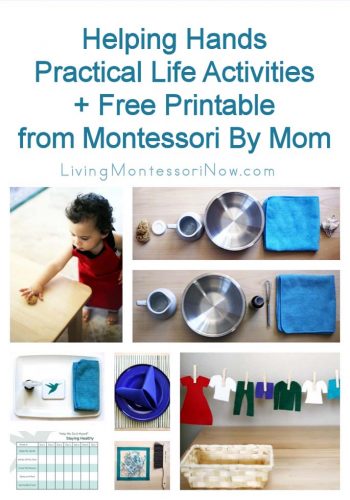 Practical Life Activities + Free Printable from Montessori By Mom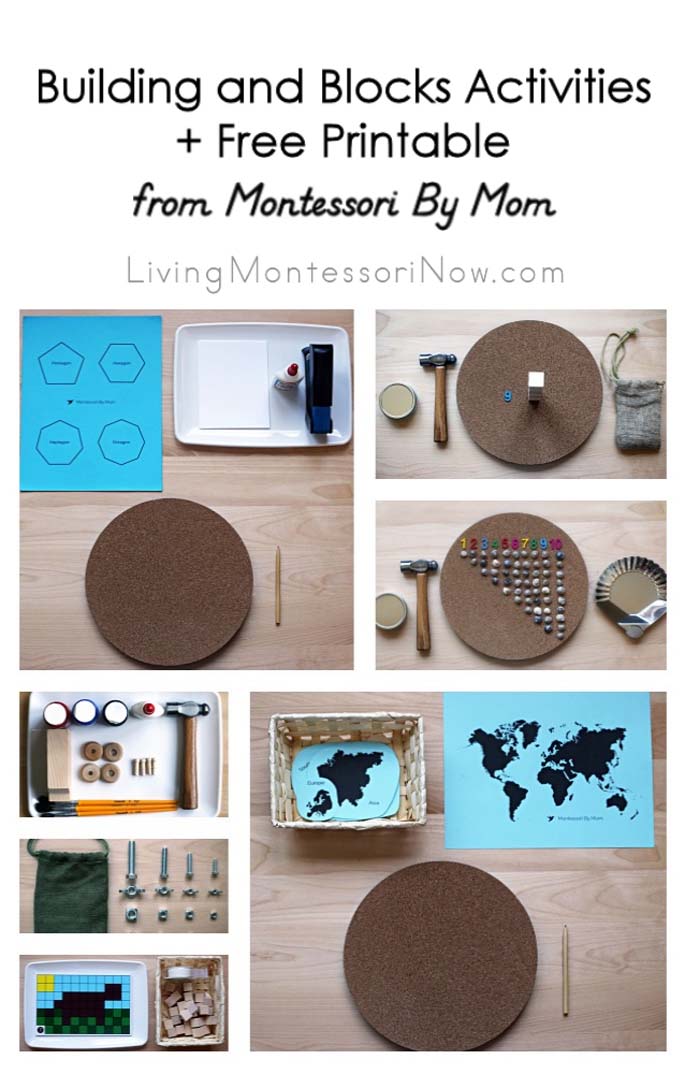 Building and Blocks Activities + Free Printable from Montessori By Mom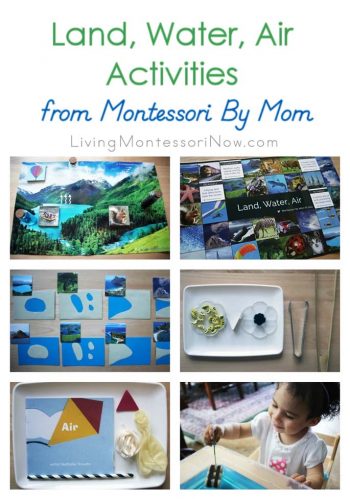 Land, Water, Air Activities from Montessori By Mom
Art Appreciation Activities from Montessori By Mom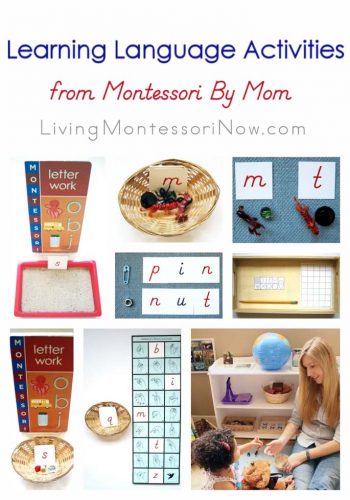 Learning Language Activities from Montessori By Mom
Making Music Activities from Montessori By Mom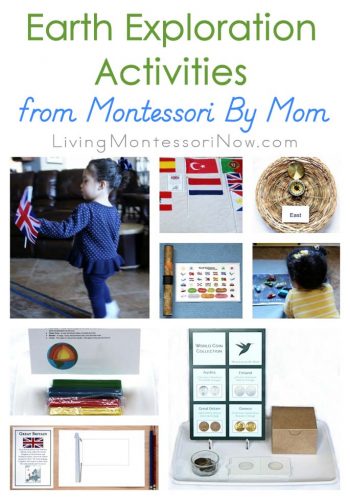 Earth Exploration Activities from Montessori By Mom
Montessori By Mom has a few other Toolboxes, too: Mad Scientist (for skills such as pouring, color mixing, volume, and measurement), Space Explorer Toolbox, Movement and Motion, Caves and Caverns, Journey to Japan, Dinosaur Discovery, Delicious Discoveries, and Kings, Queens, and Castles.
I'll be adding my review and activity posts to this post as I publish them. Montessori By Mom is actively working to restock several of their Toolboxes, so there should be more available every month.
MONTESSORI BY MOM SPECIAL OFFER FOR NEW SUBSCRIBERS!
I really love the Montessori By Mom materials and curriculum. I definitely recommend Montessori By Mom for parents looking for a simple and fun way to start using Montessori at home.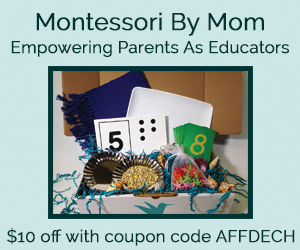 Montessori By Mom offers $10 off to new subscribers with the coupon code AFFDECH at checkout.
Montessori By Mom is based in the U.S., but there's even international shipping! Montessori By Mom also has a Montessori By Mom store where you can buy single toolboxes, activity sets, single items and refills, and printables and videos! You can connect with Nathan and Teresa on Facebook, Twitter, and YouTube (where you can see their public videos, including a Montessori By Mom subscription sample). They also have a blog with more helpful information. Montessori By Mom runs the Montessori By Mom Family (Facebook group), too, "as a way way to support anyone interested in providing children with a Montessori experience. We also want our customers and fans to be able to connect with us and each other!"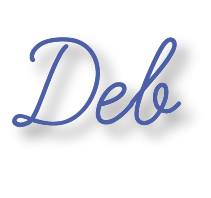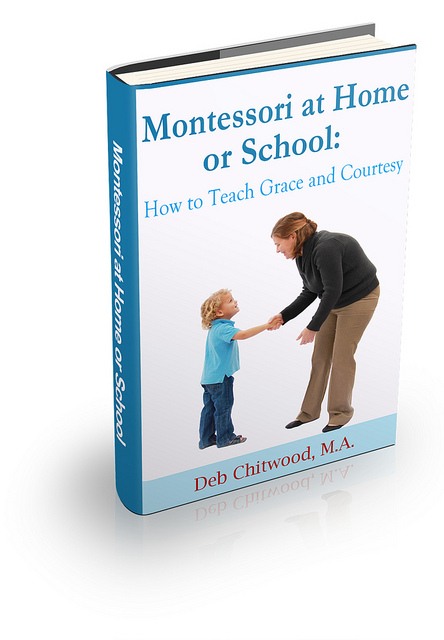 Learn more about my eBook Montessori at Home or School: How to. Teach Grace and Courtesy!
If this is your first time visiting Living Montessori Now, welcome! If you haven't already, please join us on our Living Montessori Now Facebook page where you'll find a Free Printable of the Day and lots of inspiration and ideas for parenting and teaching! And please follow me on Pinterest (lots of Montessori-, holiday-, and theme-related boards), Instagram, and YouTube. You can find me on bloglovin' and Twitter, too.
And don't forget one of the best ways to follow me by signing up for my weekly newsletter. You'll receive some awesome freebies in the process!