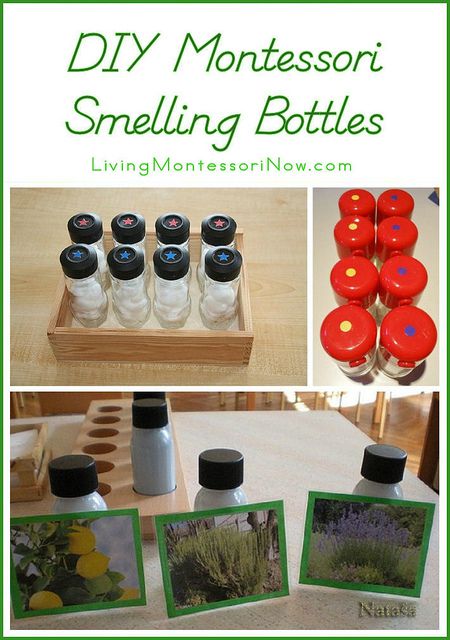 If you have a Montessori homeschool classroom or are planning to start one in the fall, you've probably been focusing on finding and/or making Montessori materials. A Montessori sensorial material you can make easily and inexpensively for preschoolers at home (or school if you're a preschool teacher) is a set of smelling bottles.
Counting Coconuts made an attractive set of smelling bottles using a spice bottles.
To the Lesson! has directions for making an attractive set from another type of spice bottles.
Homeschool Mo also used glass bottles and extracts. She tells about her experiences with them as well.
Carrots are Orange used glass bottles and extracts. She adds ideas for presentation.
Because some of the extracts used for the scents can be identified by sight, you will need a blindfold for the activity or could hide the cotton balls in muslin tea bags found in natural food stores (a suggestion in one of the comments at To the Lesson!).
September had easy-to-prepare DIY smelling bottles using baby food jars, colored construction paper to hide the jar contents, cotton flour sack cloth, and herbs. (The blog is no longer available.)
Montessori Primary Guide and Montessori World have directions you can use to present the smelling bottles.
Leptir has a wonderful extension of the smelling bottles by matching the bottles with pictures of the fruits and plants that are the source of the extracts/essential oils.
Mama's Happy Hive has Montessori-inspired scent bottles for babies and toddlers.
I have a post on "How to Make Your Own Montessori Materials" with resources for making lots of other Montessori materials.
Have fun – and let me know about your DIY Montessori projects! 🙂
Linked with Mommy Club Resources and Solutions and Every Day Sensory Play, Discover and Explore: Five Senses.