I'm thrilled to tell you about our latest printable pack! It's designed to help children develop a variety of positive character traits, including calmness and peacefulness. Because young children are typically drawn to animals, I used animals as the inspiration for the printable. The pack has animal-inspired mindfulness affirmation cards and booklet in both manuscript and cursive!
Disclosure: This post contains some affiliate links (at no cost to you).
The pictured kindness basket was made using a printable from the How to Be Kind Book, Posters, and Chart by PreKinders (included in the Social Emotional Bundle), the "I Am Kind" card in manuscript from my Animal-Inspired Mindfulness Affirmations printable, information from the article about kind animals, and a Beanie Baby rabbit.
Montessori-Inspired Printables at Living Montessori Now
My daughter, Chrissy (a former Montessori child), and I have partnered to bring you a series of Montessori-inspired printables. The printables are typically themed and use a number of Montessori principles (although you don't need to be a Montessori teacher or homeschooler to use them):
They use isolation of quality.
They use photographs or realistic images to emphasize reality.
They typically use traditional Montessori colors such as red for consonants and blue for vowels.
They emphasize lowercase letters, which are what we introduce letter sounds with in Montessori education. (Children tend to pick up the uppercase letters without being introduced if they're introduced to the lowercase letter sounds.)
They often feature themed printable versions of Montessori materials.
Animal-Inspired Mindfulness Affirmation Cards and Booklet in Manuscript and Cursive
This is a new product in our Living Montessori Now shop! These animal-inspired mindfulness affirmation cards and booklet are Montessori friendly and designed for preschoolers through early elementary. They can be used at any time of year to focus on mindfulness and positive affirmations inspired by animals. There are 21 different watercolor images created by a number of watercolor artists. Each card or booklet page includes an animal image with sentence in manuscript or cursive. The pack also includes manuscript and cursive sentence tracing cards or pages for a booklet. The animal-inspired mindfulness cards and booklet are $6.95.
Watercolor Artist Credits
Thank you to these watercolor artists for their animal art:
Watercolor cover background by CelebratelyGraphics.
Animal-Inspired Mindfulness Affirmations and Topics for Discussion with Your Children or Students
There are booklet pages or options for display cards (just use as many or few as you want).
I've indicated where the animal affirmations are based on similes. Otherwise, they're based on Google research on the strongest animals (such as the gorilla), friendliest animals (such as the dolphin), etc.
lion (I can be brave.) Based on the simile "as brave as a lion."

gorilla (I can be strong.)

dolphin (I can be friendly.)

lamb (I can be gentle.) – Based on the simile "as gentle as a lamb."

chameleon (I can be adaptable.)

owl (I can make wise choices) – based on the simile "as wise as an owl."

bee (I can work hard.) – Based on the simile "as busy as a bee."

donkey (I can be determined.) – based on the simile "as stubborn as a mule."

tiger (I can be confident.)

zebra (I am unique.)

butterfly (I am beautiful.) – based on the simile "as beautiful as a butterfly."

kitten (I am curious.) – based on the simile "as curious as a cat."

dog (I am reliable.) – based on the simile "as loyal as a dog."

emperor penguin (I am resilient.)

rabbit (I am kind.)

elephant (I am empathetic.)

chimpanzee (I am grateful.)

dove (I am peaceful.) – based on the dove as a peace symbol.

mouse (I can be quiet.) – based on the simile "as quiet as a mouse."

panda (I can be calm.)

koala (I can rest.)

– based on the simile "as sleepy as a koala."
Ideas for Using Animal-Inspired Mindfulness Affirmation Cards and Booklet
There are so many different ways you can use these printables. Here are just a few:
All my grandkids love Schleich animals! They're wonderful for babies through early elementary! I like to place one of the cards on a miniature easel with the matching Schleich animal and a related book.
You can place the "I can rest" koala card near a reading or nap area. I would frame it if I had a good place for it in our reading/rest area.
This has been a favorite activity of my 2½-year-old grandson, Caleb. He loves to take the booklet and basket of miniature animals (from a variety of Safari Ltd. TOOBs) to a table. Then he goes through the booklet, matching the animals while saying "I'm brave like a lion," etc. (Note: You don't need to have every animal in the printable. You can just print out the pages that match the animals you do have for this activity.)
For preschoolers on up, you can display a sand timer with the "I am peaceful" affirmation card for a simple peace/mindfulness area. Often, I'll include a 3-minute sand timer in my peace/mindfulness area. This beautiful 5-minute sand timer is actually part of a 30-minute and 5-minute timer set. It's fairly fragile, so I'd just suggest it for adults and children who can handle fragile materials well (and are ready for 5-minute meditations/breathing exercises). Because I have two toddler grandkids, the 5-minute timer is actually kept up high where only my 6½-year-old granddaughter, Zoey, can have access to it.
This photo shows Zoey meditating with our sand timer and the "I am peaceful" card. I love having peace books, such as I am Peace and Let There Be Peace on Earth, to go with the card. You can find recommendations of some wonderful peace and mindfulness books here.
Mindfulness coloring activities can be a fun extension, too. For example, while focusing on the chameleon "I can be adaptable" card, you and your child (or just your child) could color the free chameleon coloring pages for adults from Red Ted Art.
The Living Montessori Now Shop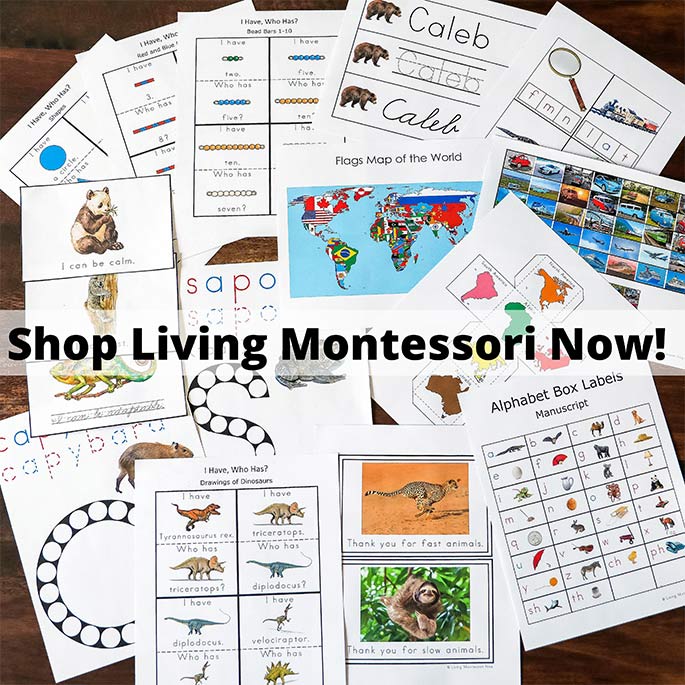 We have some wonderful products for you in our Living Montessori Now shop! Be sure to check them out while you're there. The prices are very reasonable, and you'll find lots of help for Montessori at home or in the classroom.
Free Printables at Living Montessori Now
See my Free Montessori Printables category for free Montessori-inspired instant downloads.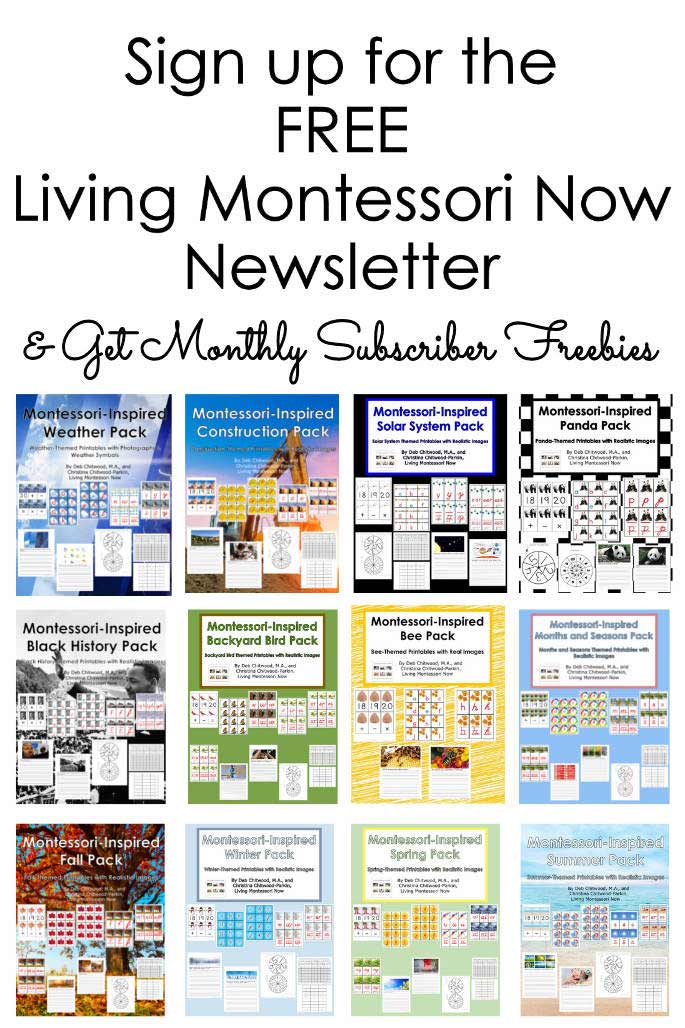 Don't miss our subscriber freebies (see list of available subscriber packs)! You'll get a monthly freebie with link and password if you subscribe to the Living Montessori Now weekly newsletter!
You'll also find more free printables through my free printables page.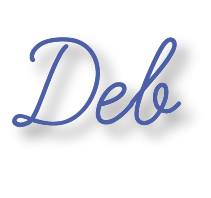 Learn more about my eBook Montessori at Home or School: How to. Teach Grace and Courtesy!
If this is your first time visiting Living Montessori Now, welcome! If you haven't already, please join us on our Living Montessori Now Facebook page where you'll find a Free Printable of the Day and lots of inspiration and ideas for parenting and teaching! And please follow me on Instagram, Pinterest (lots of Montessori-, holiday-, and theme-related boards), and YouTube. While you're here, please check out the Living Montessori Now shop.
And don't forget one of the best ways to follow me by signing up for my weekly newsletter. You'll receive some awesome freebies in the process!