Alligators are so much fun … from a distance! I have lots of new, fun alligator learning activities today that use free printables. I have links to the free printables used along with ideas for using the printables to prepare Montessori-inspired activities. You'll find a variety of activities for preschoolers through first graders.
Disclosure: This post contains affiliate links at no cost to you.
My post today extends some fun math activities from an earlier post ("Montessori-Inspired Greater Than Less Than Alligator Math") and adds some Montessori-inspired alligator language activities.
Greater Than Less Than Alligator Activity
For this activity, I used the Less Than, Greater Than Alligator Mouth Symbols by Montessori Mac at Teachers Pay Teachers. I used a large plastic tray and large hemmed work rug from Montessori Services. (Update: The free printable shown here is no longer free. I have a printable that is similar in our newsletter subscriber freebie Montessori-Inspired Alligator Pack that you can see here.)
My sandpaper numerals are from Alison's Montessori, although you can find sandpaper numerals on Amazon as well. If you prefer, you can make your own sandpaper numerals (See "DIY Sandpaper Numerals") or use another type of numeral for this activity. Amazon also has a variety of glass gems, which I used for this and often use for Montessori-inspired activities. I put out 17 glass gems, which is enough to solve any of the problems using the sandpaper numbers.
I have more of an explanation of how to present an activity like this in my "Montessori-Inspired Greater Than Less Than Alligator Math" post. If you use sandpaper numerals, the child can trace the numerals as well as focus on the matching quantity of glass gems and the greater than and less than symbols. The greater than and less than alligator symbols are clear enough that even a young child can understand the concept of greater than and less than.
Which Has More? Ask the Alligator Activity
Hungry, Hungry Alligator Greater Than Less Than Math Game
A is for Alligator Tray
I would demonstrate the activity by placing the printable on a rug and saying, "/a/ is for alligator." Then I would show how to use the sugar tong to place a few of the pom poms before returning the tray to the shelf for the child(ren) to use.
Alligator Chomp Syllable Sorting Activity

This uses the Alligator Chomp Syllable Sort by Jackie Lee at Teachers Pay Teachers and a Montessori Services basket (small willow basket, which is a great size for many card materials). Children could clap out the syllables in each word to place the pictures with words under the correct number of alligators.
Short-A Alligators Word-Family Sort
This activity uses the Word Family Sort – Short a (alligators) by hollybaker at Teachers Pay Teachers. This is obviously not a Montessori-type of printable, but it's a fun way to add interest to reading CVC words. I didn't use all the printables for this activity … only 3 word families and 4 alligator words for each word family.
Alligator Printables and Activities for Preschoolers-First Graders
Montessori-Inspired Alligator Unit with Free Printables and Activities
Free Alligator Printables and Montessori-Inspired Alligator Activities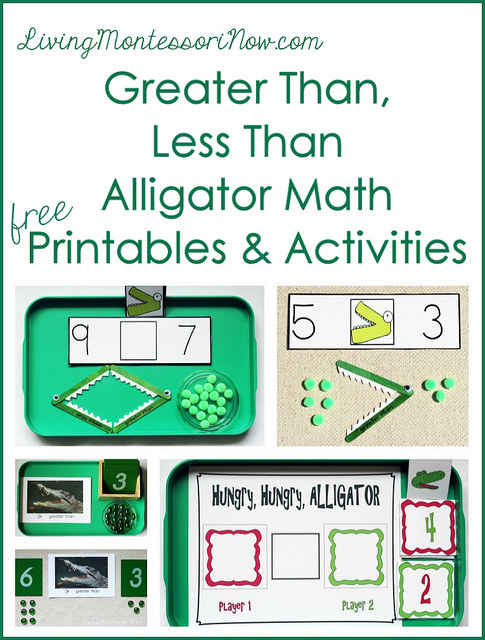 Greater Than, Less Than Alligator Math Printables and Activities
Check out my post and video with hands-on, greater than, less than alligator math using part of our subscriber freebie pack and another free printable!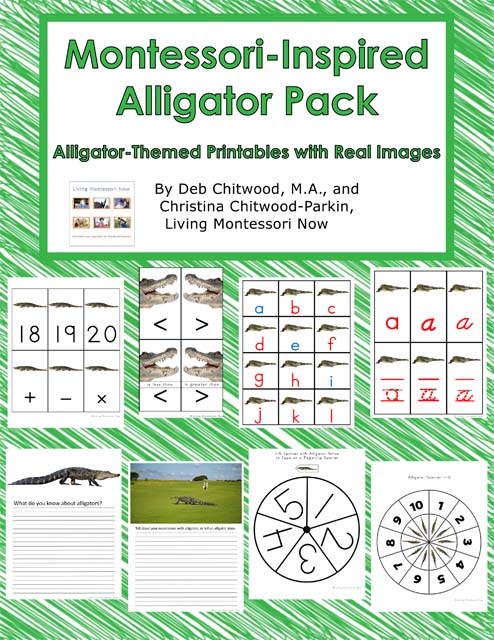 Montessori-Inspired Alligator Pack for DIY Cards and Counters, Number or Letter Matching, Number or Letter Basket, Bead Bar Work, Hands-on Math Operations, Greater Than/Less Than Work, Number or Letter Salt/Sand Writing Tray, Letter Tracing, DIY Movable Alphabet, and Creative Writing (subscriber freebie, so just sign up for my email to get the link and password – or check your inbox for the current password if you're already a subscriber).
More Free Alligator Printables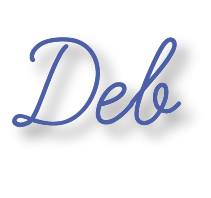 Learn more about my eBook Montessori at Home or School: How to. Teach Grace and Courtesy!
If this is your first time visiting Living Montessori Now, welcome! If you haven't already, please join us on our Living Montessori Now Facebook page where you'll find a Free Printable of the Day and lots of inspiration and ideas for parenting and teaching! And please follow me on Instagram, Pinterest (lots of Montessori-, holiday-, and theme-related boards), and YouTube. While you're here, please check out the Living Montessori Now shop.
And don't forget one of the best ways to follow me by signing up for my weekly newsletter. You'll receive some awesome freebies in the process!