If you're looking for activities for Chinese New Year or a study of China in general, consider the panda as an important part of your theme. The giant panda is the national animal of China. Panda activities are also great for a study of bears. Today, I'm sharing both panda activities and free panda printables, including my new Montessori-inspired panda pack (subscriber freebie)!
In addition to our new panda pack, I have a special instant download from The Montessori Company with a hand-painted panda culture card!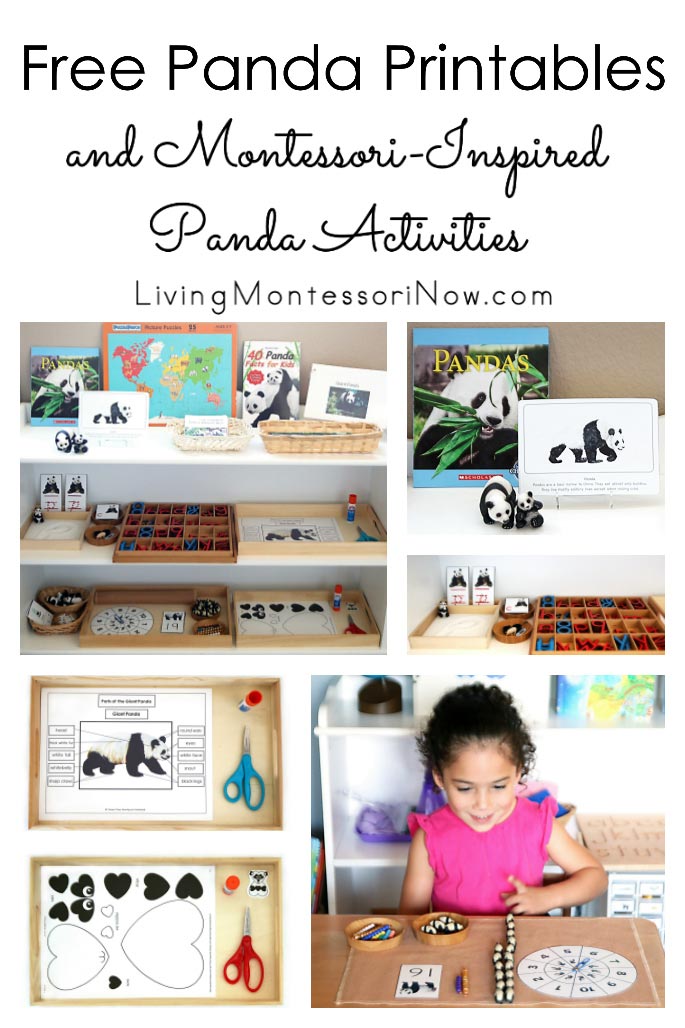 The links are for free panda printables for preschoolers through 1st graders. To keep my list manageable, I don't share coloring pages unless a page has a specific educational purpose related to pandas. To keep this post focused, I'm also not sharing Kung Fu Panda printables here unless they aren't identifiable as the Kung Fu Panda.
Free Printables + Materials Used in the Pictured Panda Activities for Preschoolers-First Graders
Disclosure: This post contains affiliate links (at no cost to you).
Montessori Shelves with Panda-Themed Activities
My shelves with panda-themed activities include a free panda culture card designed by The Montessori Company. You'll also find Montessori-inspired panda numbers, letters, spinners, and and more (part of my subscriber freebie pack, so just sign up for my email to get the link and password … or check the bottom of your latest newsletter if you're already a subscriber)
I always have related books available throughout a unit. On my top shelf, I have the Scholastic Pandas, 40 Panda Facts for Kids (no longer available through Amazon), and a homemade Giant Panda book using the free printable Giant Panda by A Special Day in College and Career Readiness at Teachers Pay Teachers. A free printable reader with more words is the Panda Bear Nonfiction Reader from Simply Kinder.
I have a number of other panda books in a book basket. I love the National Geographic animal books. There are a number of great National Geographic bear books. I have both Pandas and Mission Panda Rescue for this unit. I also have the National Geographic Red Pandas book. Even though red pandas belong to their own family, I think it's important to read about them since they share the name "panda" with the giant panda and also like to eat bamboo.
I have fictional panda books in our book basket, too. I even have two books for babies and toddlers. My 4-year-old granddaughter, Zoey, loves to share books with her month-old sister, Sophia, so these are especially fun for Zoey. Sophia loves having Zoey read to her, although I'm sure she doesn't care if her books fit with a theme! I have the adorable Little Panda Finger Puppet book and Bill Martin, Jr.,/Eric Carle's Panda Bear, Panda Bear, What Do You See? They aren't Montessori-style books, but they're favorites at my house.
Zoey, loves puzzles, so I have a giant world foam puzzle with 54 pieces in a large basket (not shown in my photos). That's great for using with Safari Ltd. or Schleich animals. When Zoey was younger, I used the puzzle that I have displayed for animal geography. I don't think it's available any longer. For home use, I don't use the traditional Montessori continent puzzle, which is a bit too large and impractical for my space. I do have a smaller version of it that I love, although it's not available on Amazon currently. I like to get world puzzles that are less expensive and can be changed according to the child's developmental level. On another shelf, I have the beautiful world map from Pin It! Maps that's perfect for animals of the continents as well as other geography activities.
You could mix your panda-themed activities among your shelves according to curriculum area. Or you could have a special panda-themed area something like the one pictured. My shelves this month have a mixture of skill levels. Many of the activities can be adapted for a variety of levels. If you're a homeschooler, just choose the activities that work for your child's interests and ability levels. If you don't have room for all the activities you'd like to do, simply rotate them.
Panda Culture Card (on Shelf Introducing the Panda Theme)
I'm happy to share with you this hand-painted panda culture card from The Montessori Company. You can use it on your shelves to introduce a panda unit or as part of a bear unit. I'm hosting the free printable as an instant download at Living Montessori Now. You can always access the free panda culture card here.
The description says: "Pandas are a bear native to China. They eat almost only bamboo. They live mostly solitary lives except when raising cubs."
I displayed the card with a Schleich giant panda, Schleich giant panda cub, and Pandas book.
Panda Same or Different Activity

Free Printable: Panda Same or Different Cards from Wise Owl Factory
This activity just uses the printable and a Montessori Services basket. It's simply a fun way to discuss panda photos and visual differences.
Free Printable: Panda Skip Counting Puzzles from Wise Owl Factory
There are a number of different skip counting puzzles in this printable. I used two puzzles, counting by 2s and counting by 10s, to make it more challenging. That way, Zoey has to sort out the two puzzles before putting them together. For a younger child, just use one puzzle in your basket, pencil box (often a good size for these types of puzzles), or other container.
P is for Panda Salt Tray and Movable Alphabet Work

Free Printables: Panda Letters for Letter P Salt Tray (part of my subscriber freebie pack, so just sign up for my email to get the link and password … or check the bottom of your latest newsletter if you're already a subscriber)
For the salt tray, I used the wooden tray from the Melissa & Doug Lace and Trace Shapes. You can use whatever tray or container work best for you, though. I added a Safari Ltd. panda and cub from the Pandas TOOB for interest.
For the movable alphabet work, I used the panda movable alphabet cards from our subscriber freebie pack for matching or spelling along with a traditional small wooden movable alphabet. I also used Montessori Services language objects pin, pin, peg, pan, and pot as objects for spelling with the movable alphabet. For children working on their phonetic sounds, they the /p/ objects could be used in an object basket.
If you would like help with introducing phonetic sounds, introducing objects with sounds, or beginning phonics in general, check out my DIY Beginning Montessori Phonics with Preschoolers.
Parts of a Giant Panda Activity

Free Printable: Label the Parts of a Giant Panda by Green Tree Montessori School at Teachers Pay Teachers
This can be a cut-and-paste activity or word tracing and writing activity. The control page is shown in the photo. I'm using the cut-and-paste page on a Multicraft tray.
Heart Panda Paper Craft
Free Printable: Heart Panda Paper Craft from DLTK's Crafts for Kids
I typically encourage process art activities, although it's fun to have a more structured craft sometimes for holidays or as an activity for following directions. As a child, I always loved making heart animals for Valentine's Day, so I couldn't resist this heart panda paper craft. It can be a simple cut-and-paste activity. Older kids can learn to cut out the hearts and create a panda without a printable. For young children who have difficulty cutting, you could have an activity simply for pasting. The results wouldn't need to look like the model!
Free Printable: Adding with Pandas from China Printable Pack at Every Star Is Different
This is a fun hands-on addition activity. It uses the Safari Ltd. Pandas TOOB. (Mine had 11 pandas when I got it a few years ago, but now there are 9 in the TOOB. Use whichever cards work best with your TOOB.) I also used Montessori Services baskets, whatever size of clothespin you prefer (I like small clothespins, such as 1″ clothespins for interest and extra fine-motor work), and a small container for the clothespins. I use a small dot to mark the back of the correct number on each card. Then the child can turn the card over to check his or her answer.
Matching Teen Numerals with Miniature Pandas and Bead Bars

Free Printable: Panda Numbers (part of my subscriber freebie pack, so just sign up for my email to get the link and password … or check the bottom of your latest newsletter if you're already a subscriber)
This activity uses a piece of felt for a table mat (I used the Montessori Services felt table mat) and bead bars from the decanomial box in a Multicraft tray and a condiment cup (what I used here) or Montessori Services basket. (My bead bars, which I love, are from Alison's Montessori. You can get bead bars on Amazon, although I haven't personally used materials from those companies.) I also added 20 Safari Ltd. Good Luck Mini Pandas. Update: Most places are out of stock of the Good Luck Mini Pandas now, but you could use bead bars for 1-9 or 1-10 and Safari Ltd. Pandas TOOB (depending on how many pandas are in your TOOB or if you have a tenth panda from another TOOB).
For the activity, you could start with a column of 10 bears and then spin the spinner to find the units. Zoey loves the Safari Ltd. Good Luck Minis, and she enjoyed lining them up and counting them before adding the bead bars. In my Montessori-inspired bear activities, I had another way to do the activity if you don't use the spinner.
Free Panda Printables for Preschoolers-First Graders
Montessori-Inspired Panda Pack for DIY Cards and Counters, Number or Letter Matching, Number or Letter Basket, Bead Bar Work, Hands-on Math Operations, Number or Letter Salt/Sand Writing Tray, Letter Tracing, DIY Movable Alphabet, and Creative Writing (subscriber freebie, so just sign up for my email to get the link and password – or check your inbox if you're already a subscriber)
Pandas and Ten Frames Counting Activity using Free Ten Frame Cards from Teacher Blog Spot to prepare a counting activity for preschoolers with 10 of the pandas from the Pandas TOOB (all but the mother/baby pandas). This is in my "Montessori-Inspired Continent Activities with Animal Figures and Landmarks – Asia" post.
FREE Panda Do-a-Dot Printable (Montessori-Inspired Instant Download)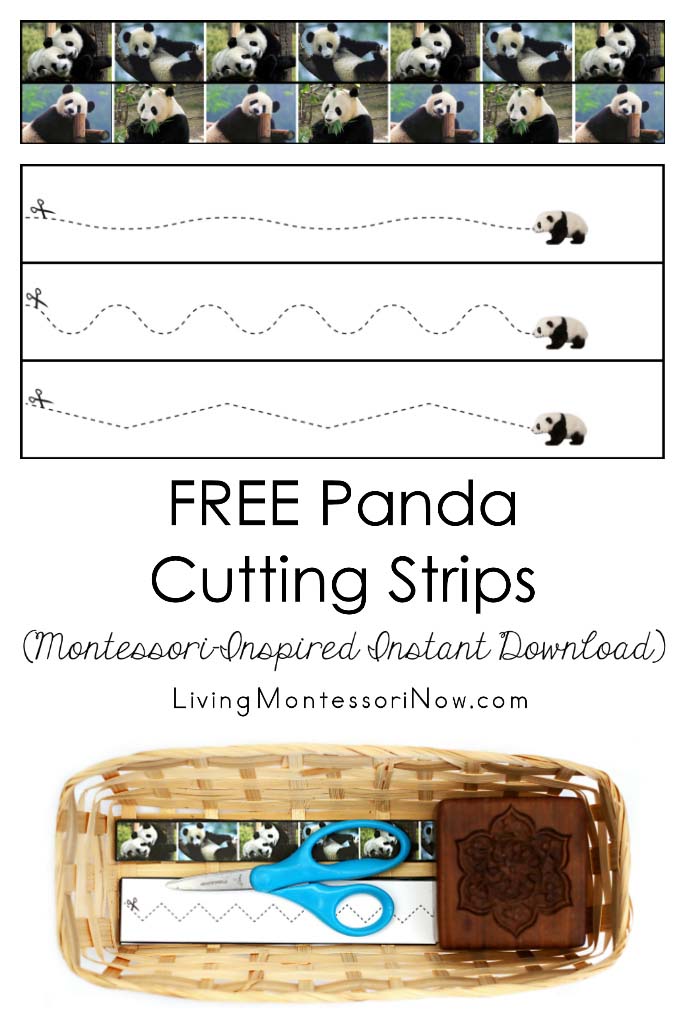 FREE Panda Cutting Strips (Montessori-Inspired Instant Download)
More Bear Posts
Free Bear Printables and Montessori-Inspired Bear Activities
Here's a fun geography activity combining themes from my winter sports unit and this panda unit. It uses the Asia map from Pin It! Maps (no longer available), the China (panda) and South Korea (2018 Winter Olympics) country and flag pins, a panda from the Safari Ltd. Pandas TOOB, National Geographic Pandas book, and 2018 Winter Games book. This could easily be adapted for a general panda/China/Asia theme.
HELPFUL ANIMAL CLASSIFICATION POSTS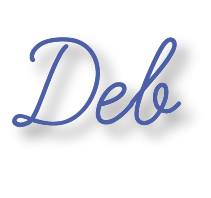 Learn more about my eBook Montessori at Home or School: How to. Teach Grace and Courtesy!
If this is your first time visiting Living Montessori Now, welcome! If you haven't already, please join us on our Living Montessori Now Facebook page where you'll find a Free Printable of the Day and lots of inspiration and ideas for parenting and teaching! And please follow me on Instagram, Pinterest (lots of Montessori-, holiday-, and theme-related boards), and YouTube. While you're here, please check out the Living Montessori Now shop.
And don't forget one of the best ways to follow me by signing up for my weekly newsletter. You'll receive some awesome freebies in the process!