Although a high-quality Montessori grammar farm is beautiful, it can cost around $400. Homeschools and even most Montessori schools have to come up with an alternative. I already published a Montessori Grammar Farm post with lots of great DIY Montessori grammar farm ideas.
Today, I'm going to share an inexpensive, DIY Montessori grammar farm that's simple to prepare.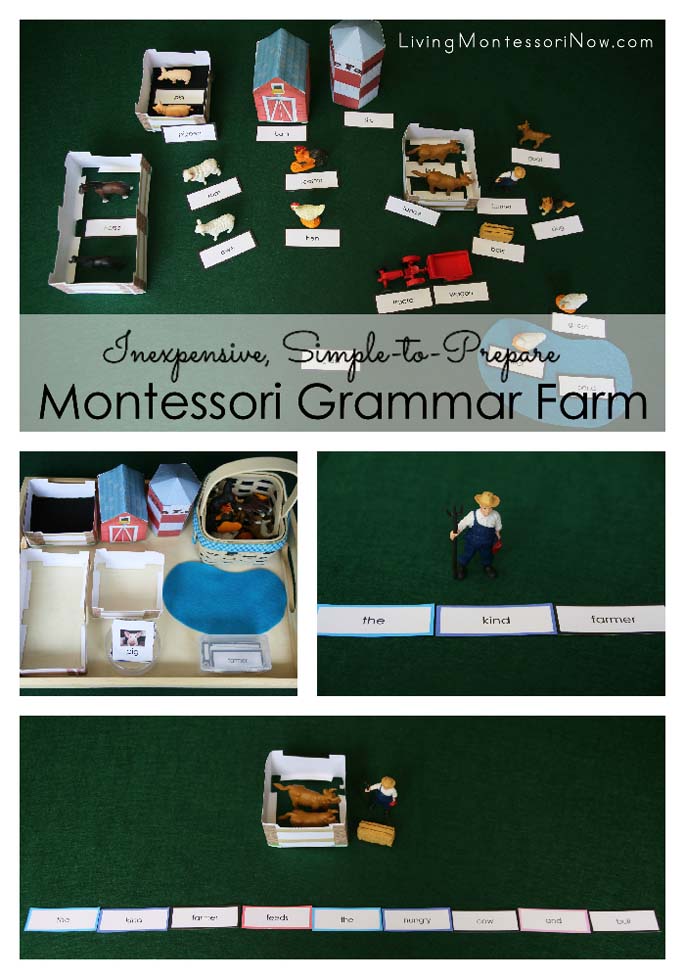 Disclosure: I was given the Safari Ltd. Farm TOOB and Safari Ltd. Down on the Farm TOOB that I used in this post for my Safari Ltd. Farm TOOB Review and Giveaway. I was given the Farm Game Labels (in color) by my sponsor Montessori Print Shop. Note: You can see all the Montessori Print Shop grammar materials here. All opinions are honest and my own. This post contains affiliate links at no cost to you.

Inexpensive, DIY Montessori Grammar Farm
This version of the Montessori grammar farm is especially good for homeschoolers with older children. Many advanced preschoolers through children in early elementary could easily cut apart and assemble the paper-craft farm that's available as a barnyard scene paper craft. Update: The printable farm I used is no longer available. Make It Your Own has a free printable for a paper farm.
Often, children in early elementary will be more comfortable working with a paper-craft farm they created rather than working with a farm that's designed for preschoolers, regardless of how nice it is. This could also be a good version for grandparents or families with very limited space who have children who could handle a paper-craft farm well.
For preschoolers, I would demonstrate how to handle the paper structures carefully. The paper structures aren't extremely fragile, but it always helps for preschoolers to be given a demonstration on how to gently handle materials. Of course, if you're the parent of a toddler, you might want to invest in a nice wooden farm set (or another type) like one of the DIY Grammar Farms in my previous Montessori Grammar Farm post.
Preparing the DIY Grammar Farm
For this version of a Montessori grammar farm, I used the Safari Ltd. Farm TOOB and Safari Ltd. Down on the Farm TOOB. I love Safari Ltd. TOOBS for the realistic detailing on each of the figures, but you could use other miniature farm animals and whichever figures you prefer for your farm. Safari Ltd. also has a Farm Babies TOOB, which you might like to add as well. I have a review (and free TOOB keys) for the farm TOOBS.
Otherwise, I just used a yard of thick felt ($3.97 at Walmart) and the Montessori Print Shop Farm Game Labels (in color) ($3.50). Even if Montessori Print Shop weren't my sponsor, I would have chosen those for the labels. There are 334 labels:
12 articles (5 the, 4 a, 3 an)

112 nouns

68 adjectives

88 verbs

3 conjunctions

16 prepositions

4 pronouns

18 adverbs

13 interjections
I appreciate that the labels have borders to match the Montessori grammar materials. Even though I didn't need all the labels, I was able to find labels for all my figures, and it was very easy to prepare professional-looking labels simply by printing, laminating, and cutting out each label. With a paper cutter, it's very simple, although cutting with a scissors also works well. Some of the extra labels could be used to create other grammar activities, too.
The barnyard paper craft just needed to be printed on cardstock, cut out, and glued together. I was amazed at how simple it was to put together. I put together each piece in about 5 minutes. The most difficult part was gluing each piece (holding it in place for a few seconds). You might need to hold the glued areas for your child if you aren't preparing the farm, but otherwise everything is doable for a child with adequate cutting and folding skills.

This would be easy enough for 5-8 year olds to prepare on their own. What could be easier for you to prepare than that?! If you have a homeschool with multiple ages, your older child might enjoy preparing a farm for the younger children and then reviewing the parts of speech with it.
Using the Grammar Farm with Multiple Ages
To the Lesson! has free initial grammar farm labels with pictures that are small and could fit well on the Montessori grammar farm for young children: More Reflections – The Farm (and a Little Bonus). There aren't labels for each animal I used, but there are a good number in the set. They would provide a nice way for younger preschoolers to be involved in using the grammar farm.
You could either leave the grammar farm set up on a table, or, with this grammar farm, you could put it on a tray except for the felt (which could be rolled up and stored with your Montessori rugs). I put both the cards for younger children and the noun labels on this tray.
I love the grammar farm for hands-on work with parts of speech. I show the noun labels on the basic grammar farm layout.
For children who are ready, you could introduce the other parts of speech.
Even as an adult, I think it's lots of fun to create sentences with the grammar farm. There are lots of possibilities in the labels from Montessori Print Shop.
I'd love to hear about your experiences preparing and working with the Montessori grammar farm!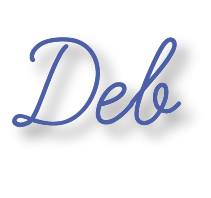 Learn more about my eBook Montessori at Home or School: How to. Teach Grace and Courtesy!
If this is your first time visiting Living Montessori Now, welcome! If you haven't already, please join us on our Living Montessori Now Facebook page where you'll find a Free Printable of the Day and lots of inspiration and ideas for parenting and teaching! And please follow me on Instagram, Pinterest (lots of Montessori-, holiday-, and theme-related boards), and YouTube. While you're here, please check out the Living Montessori Now shop.
And don't forget one of the best ways to follow me by signing up for my weekly newsletter. You'll receive some awesome freebies in the process!