Spring is a great time to focus on farm animals and activities. The Montessori grammar farm is a fun, hands-on way to use a farm theme to introduce grammar to preschoolers. The photo from Counting Coconuts shows a lovely example of a grammar farm. Counting Coconuts gives ideas and links for creating your own grammar farm along with a link for directions on presenting the grammar farm to your child or students.
More Examples of Grammar Farms
The Montessori Grammar Farm from A Bit of This and a Bit of That…
Grammar: The Farm from The Learning Ark
The Grammar Farm (variation for younger children using plastic farm animals and picture cards) from The Work Plan
UPDATES: What DID We Do All Day has an amazing example of a grammar farm with noun work.
Making Montessori Ours also has an amazing example of a Montessori grammar farm with links to many resources.
Five Hazelnuts has lots of helpful links for putting together your own grammar farm.
A Bohemian Education has links to many resources for creating an inexpensive grammar farm.
To the Lesson! has a new grammar farm area and free initial farm labels.
At eHow Family, Carole Ellis has posts on How to Make a Montessori Phonetic Farm Lesson Set, How to Use the Montessori Phonetic Farm to Teach Verbs, and How to Use the Montessori Farm Lesson to Teach Adjective Use.
Enchanted Schoolroom made a grammar farm with Legos.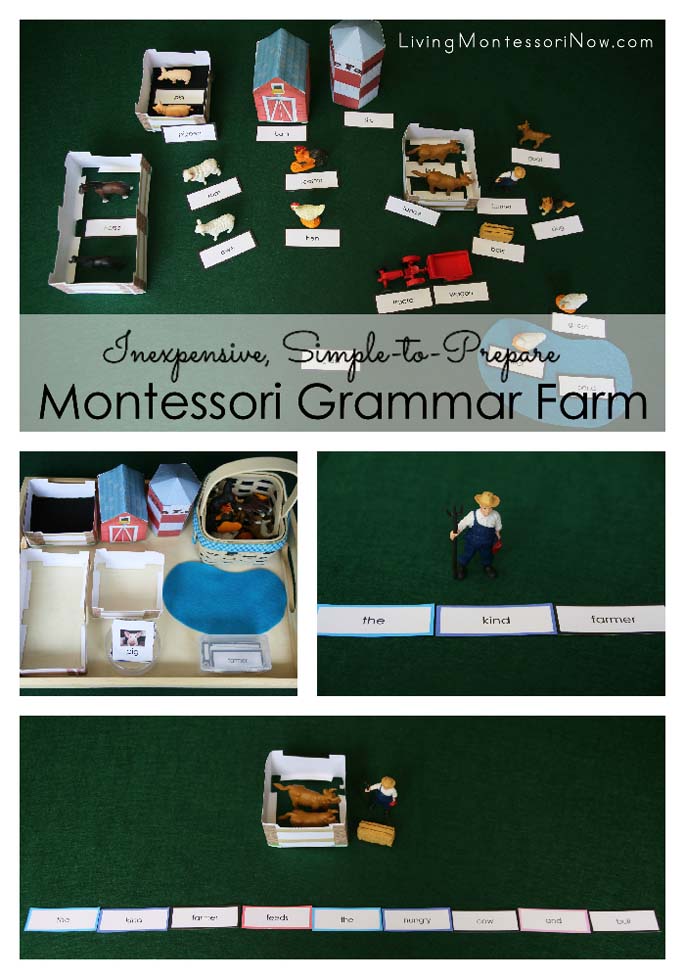 I have a post with an Inexpensive, Simple-to-Prepare Montessori Grammar Farm using a free printable paper-craft farm.
Grammar Farm Labels
Grammar Farm List from Walk Beside Me
Farm Game Labels downloadable file from Montessori Print Shop are only $3.49 and would be the simplest way to prepare the labels.
More on Montessori Grammar, including Montessori Grammar for the Elementary Level
Grammar Symbol Chart from Homemade Montessori
Total Reading Links from Info Montessori
Grammar Series from Montessori for Everyone
More on Farm Themes
I have a roundup post: Montessori-Inspired Farm Unit.