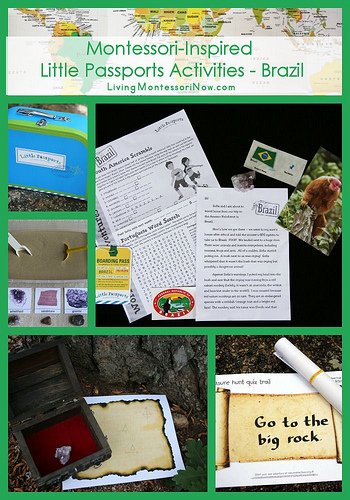 I'm having fun as an Ambassador for award-winning Little Passports! I'm an affiliate for Little Passports and, as an ambassador, I received a year's subscription to the World Edition of Little Passports. Once a month, I'm sharing some Montessori-inspired activities featuring Little Passports. Of course, all opinions are my own.
I already wrote about the first package in my "Montessori-Inspired Little Passports Global Adventure" post. The first package contained the Little Passports suitcase, passport, and world map used each month (along with a letter from Sam and Sofia, activity sheet, stickers, and a boarding pass with access to online games and activities).
Today, I'm writing about the second package, which focuses on the country of Brazil, and giving ideas for using it in a Montessori-inspired curriculum. The Little Passports materials could work especially well for summer learning, afterschooling, or in a Montessori homeschool with children of multiple ages. (The World Edition is a monthly subscription recommended for ages 5-10. A total of 24 different adventures are available in the series. I'm sharing activities that would allow preschoolers to join in the adventures as well.)
Contents of the Little Passports Brazil Package: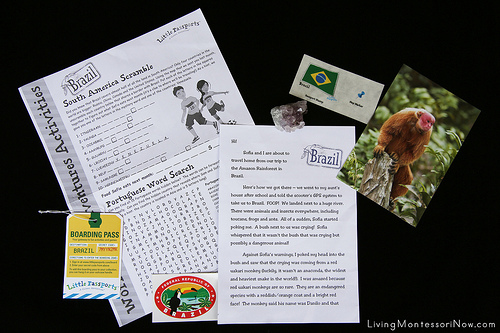 Each monthly kit includes:
A letter from Sam and Sophia, your child's travel companions. This adds interest to a world study for a wide range of ages.
Souvenirs themed around the chosen country. This month's souvenir is an amethyst.
An activity sheet for the country. This will generally be best for 5-10 year olds.
A picture from the country. This month's picture is of a uakari monkey and is discussed in Sam and Sophia's monthly letter. (I'll have South America animal activities in my post tomorrow.)

Picture of a Uakari Monkey

Picture of a Uakari Monkey

Picture of a Uakari Monkey

A passport stamp.
A map marker.
A sticker for the suitcase.
A "boarding pass" for access to online content about the country. This month's boarding pass has trivia questions about Brazil, an interactive soccer game, and a map activity with a tour of Brazil (which includes a printable photo album). The online activities are recommended for ages 5-10, although the map activity and photo album could work well for younger children, too.

This month's boarding pass to Brazil had fun trivia questions about Brazil as well as an interactive soccer game. – See more at: http://www.peaceloveorganicmom.com/2013/05/traveling-to-brazil-with-little.html#sthash.NohmOxUG.dpuf
Following are some suggestions on how you can make Little Passports Montessori-inspired and have it work for multiple ages at home.
If you sign up for a subscription, you could do activities related to the month's package and then focus on the continent box for the continent of the next package's country. I recommend focusing on the continent for the next country you'll be receiving when your children are finished with the focus of their present package (maybe two weeks with the package's country and then start focusing on the continent for the next country.) I'll have a post tomorrow with some Montessori-inspired activities for a South America continent box.
Map Work

You could have done any sort of continent map work in connection with the first package, which has a global focus. It's best if your children have a chance to work with South America continent box materials before the Brazil package arrives. I have a post with Montessori-Inspired Continent Activities with Animal Figures – South America that would work well with South America continent box activities during the two weeks before and after the study of Brazil.
Map Unfolding and Folding and Country Matching Activity
I showed this activity last time as a preview to the first country. Younger children could work on this again when the Brazil package arrives. Map unfolding and folding would be a great Montessori-inspired practical life activity. I'd recommend showing your child how to carefully unfold and fold the world map that comes with the first package. (Note: If you feel that would be too difficult for your child, you could always laminate the map and put it up on the wall.)
There's an activity for older children on the activity sheet to determine the country featured in the next month's package. After an older child determines the next country, you could put out an activity tray with the world map and a matching country. (Note: Japan is the second country on the world tour, so I would trace Japan on the map and cut out the country piece from a foam sheet. Your child could place the matching foam piece on the world map, maybe using Velcro if your map is laminated and hung up. Then you could focus on the Asia continent box until the Japan package arrives in a month.)
Rock and Mineral Excavation Sensory Tub
This activity isn't part of Little Passports but would work well for a number of ages along with the Little Passports activities. I used the amethyst from the Brazil package and rocks from my yard. In this example, I used sandstone and granite, since they're easily identifiable for young children. I printed out the free Rocks and Minerals Classified Cards from Little Schoolhouse in the Suburbs.
Your child digs up the amethyst along with the backyard rocks, brushes them off, studies them with the magnifying glass, and matches them to the cards. You could gradually add more types of rocks when your child is ready. Of course, this activity would also work well with a rock-and-mineral unit study.
Amethyst Treasure Hunt for Non-Readers and Readers
Treasure Hunt for Non-Readers
For this activity, I used a "treasure chest" I've had for 40 years. You can use a shoe box or whatever you have available, though. I printed out a free Blank Treasure Map from Creating Comics w/ Tim Van De Vall. You can make your "treasure map" as simple or as elaborate as you wish. I'm "drawing challenged," so I don't have a choice … simple it is! The amethyst from Brazil will be found at the end of the treasure hunt.
Treasure Hunt for Readers
For this treasure hunt, you'll prepare clues and place them around your house or yard before the treasure hunt. You'll give your child the first clue, which will lead him or her to the second clue and so on until your child finds the treasure … the amethyst from Brazil. For this activity, I printed out the free Treasure Hunt Templates from Woodland Trust Nature Detectives.
More about Little Passports
You can sign up for 3 months ($13.95/month with a one-time payment of $41.85), 6 months ($13.95/month with a one-time payment of $83.70), 12 months ($10.95/month with a one-time payment of $131.40), or monthly ($11.95/month, billed monthly and can be cancelled any time).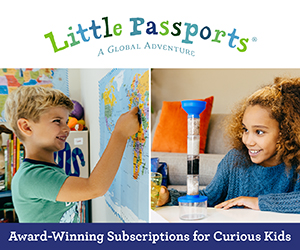 The USA Edition for 7-12 year olds has the same payment plans and prices as the World Edition. For the first month, the USA Edition subscription starts with the Discovery Kit which comes in a custom Sam and Sofia USA Portfolio and includes:
An introductory letter from Sam and Sofia
USA Field Guide
USA Scratch Book
USA Wall Map
Disposable Camera and Photo Scavenger Hunt
Every month after the first month, your child will visit 2 new states and receive:
A 32-page activity-packed journal covering 2 states
Stickers
Pop-out Models
Postcards
Access to more information and activities online
You can find out more and subscribe at Little Passports
.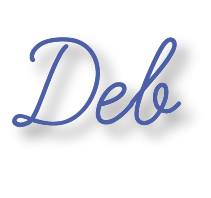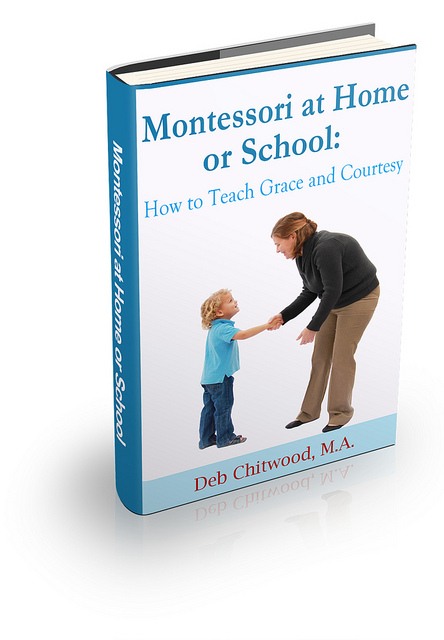 Learn more about my eBook Montessori at Home or School: How to. Teach Grace and Courtesy!
The Montessori at Home! eBook and Montessori at Home! eBook and Materials Bundle are AMAZING resources! You can learn more about them here. Buy them in the Living Montessori Now shop.
If this is your first time visiting Living Montessori Now, welcome! If you haven't already, please join us on our Living Montessori Now Facebook page where you'll find a Free Printable of the Day and lots of inspiration and ideas for parenting and teaching! And please follow me on Pinterest (lots of Montessori-, holiday-, and theme-related boards), Instagram, and YouTube. You can find me on bloglovin' and Twitter, too.
And don't forget one of the best ways to follow me by signing up for my weekly newsletter. You'll receive some awesome freebies in the process!