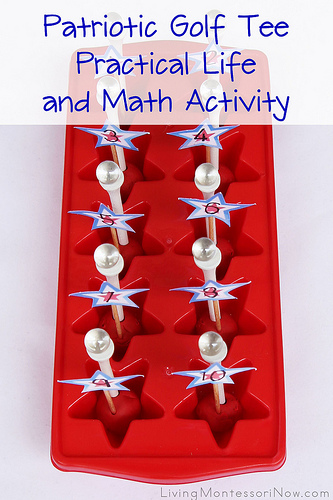 Today's activity is a quick change that adds interest to the patriotic practical life and math activity in last week's post. If you're new to Montessori, you might feel overwhelmed at the thought of creating practical life activities. Fortunately, many practical life activities take little time to prepare and can be easily changed to add interest after a week or two.
Both activities work well for any U.S. patriotic holiday. If you live in another country, you could just add the numerals from a different printable or print numerals on colored sticker dots and attach to the toothpicks. By the way, Happy Canada Day to our Canadian friends! 🙂
This activity can be used as a simple practical life activity, or it can include a math activity for children who are ready. It can also be used to help children learn to follow a sequence of steps.
Disclosure: This post contains Montessori Services affiliate links (at no cost to you).
Preparing the Patriotic Practical Life and Math Activity
For last week's activity, I used a large plastic tray from Montessori Services, quick sticks from Montessori Services for transferring the modeling clay balls, some little bowls from Target and the grocery store, flag toothpicks from Dollar Tree, star ice cube tray from Dollar Tree, and non-hardening modeling clay. A sugar tong or another sort of tweezers could be used instead of the quick sticks if you prefer. For the stars, I used the free printable 4th of July pack from Our Country Road. I printed the numerals with a marker, but you could use stick-on numerals if you want your activity to look especially professional.
For today's activity, I just added golf tees and clear crystal marbles from a hobby store (Michaels). You could use water beads (either clear or dyed red or blue) or another type of marble. I changed the bowls a little, since I found some longer bowls at the grocer store that fit the golf tees and toothpick stars better. If I would have had those bowls last week, I would only have had to exchange the golf tees and marbles for the flags. Still, it only took me five minutes or so to change the activity.
Variations for Different Ages and Skill Levels
This activity can just have the bowl of modeling-clay balls, a bowl of golf tees, and a bowl of marbles for younger preschoolers. The transferring can be done by hand, which still helps with fine-motor coordination. The child can be shown to put a ball in the center of each star and then place a golf tee in each ball. After that he or she would place the marble on the golf tee either with the quick sticks or tweezers or by hand. If you're doing the activity with the child, you could count for or with the child, saying a number as each golf tee is inserted into the clay and counting from 1-10 again when each marble is placed on its corresponding golf tee. When the child is finished, he or she rolls the balls to remove the golf-tee holes and returns the balls, golf tees, and marbles to their bowls before returning the tray to the shelf.
A child who can identify numerals and count well could place the correctly numbered star in front of the corresponding golf tee. When the child is finished with the activity, he or she puts the materials back into the bowls and returns the tray to the shelf. (Note: this isn't a simple practical life activity. It takes good fine-motor coordination to place each marble on a golf tee, especially using a tool like the quick sticks or tweezers. If your child isn't ready for this advanced of an activity, just wait until the future … maybe the next patriotic holiday).
Montessori Monday Link-Up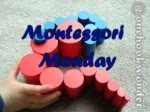 If you have some Montessori activity trays/lessons to share, please link up below. It's fine to link up a post from your archives – and you may link up anytime during the week! Your post may be any Montessori-inspired activity or idea. It doesn't need to be related to my Montessori Monday post.
Link up your exact post URL so that we can find your activity if we return to the linky at a later date (which I often do when I'm looking for activities for a roundup post). I publish the Montessori Monday post and linky at 6:00 a.m. EST each Monday and keep the linky open throughout the week.
Please place the Montessori Monday button (using the code from the right sidebar) in your post or put a link back to this post. Let's use Montessori Monday to gain inspiration/ideas and to encourage each other! If you would leave an encouraging comment on the post linked up ahead of you (along with any other posts you're drawn to), that would be awesome! Thanks for participating!
Notes:
For community discussions, please join us at the Living Montessori Now Facebook page, We Teach Montessori Group, and/or Google+ Montessori Community. The We Teach Montessori group has a Member Resources Sharing (for resources such as freebies and series) as well as a Linky Party for We Teach Montessori. We Teach Montessori has a linky just like the one here except that it's continuous where you may add your Montessori-inspired activities and ideas to the same linky. New links will go to the top of the linky. I'd love to see us build up a great collection of Montessori-inspired ideas there, too. After you link up here, why not hop over to the We Teach Montessori Group and link up there?! And don't forget the Saturday/Sunday Parent/Teacher Preparation Days share where you may share a kid-related activity of any kind at the Living Montessori Now Facebook page!
If you have a giveaway on your blog, please add it to my Family-Friendly Giveaway Linky Page! If you enjoy entering giveaways, you'll always find some great giveaways there.
If you haven't seen it already, be sure to check out my special news and latest awesome giveaway (sponsored by Ellie and hosted by my daughter and me): 2 Ellie Activewear Pieces – Size S or M! Giveaway ends 10:00pm MST 7/5, US.
Also, if you've ever been linked to in one of my roundup posts, please feel free to grab the "Featured on" badge.
'); // ]]>
Have you added the Montessori Monday button or a text link? Please be sure you've done one or the other so that others can find the link-up, too! Thank you!
If this is your first time visiting Living Montessori Now, welcome! If you haven't already, please join us on our Living Montessori Now Facebook page where you'll find a Free Printable of the Day and lots of inspiration and ideas for parenting and teaching! And please follow me on Pinterest (lots of Montessori-, holiday-, and theme-related boards), Twitter (blog posts by me and others along with the Parent/Teacher Daily and other interesting information), and Google+ (post updates and Montessori Community). You can find me on bloglovin' now, too. I'm also a Parenting Expert on Sulia. Thank you for following me there. And don't forget one of the best ways to follow me by signing up for my weekly newsletter in the right sidebar. You'll get two awesome freebies in the process!
Linked to Tuesday Tots, The Mommy Club Resources and Solutions at Milk and Cuddles and Crystal & Co., The Weekly Kid's Co-op, Ultimate Mom Resources, Hearts for Home Blog Hop, Learn & Link, TGIF Linky Party, Preschool Corner, Sharing Saturday, Saturday Show & Tell, Share It Saturday, Show-and-Share Saturday, The Sunday Showcase, Link & Learn, Afterschool Express, Mommy Archive, and Discover and Explore 4th of July.