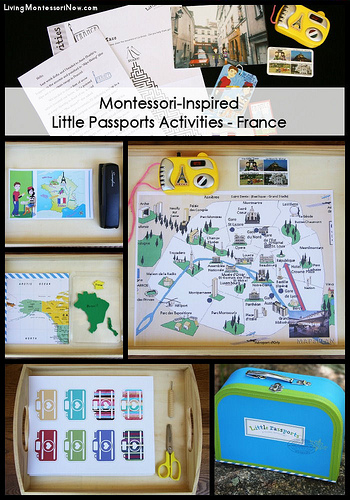 I received my fourth Little Passports package! Today, I'm sharing some fun Montessori-inspired activities about France!
Disclosure: I'm an affiliate for Little Passports and, as an ambassador, I received a year's subscription to the World Edition of Little Passports. Once a month, I'm sharing some Montessori-inspired activities featuring Little Passports. This post contains affiliate links at no cost to you. Of course, all opinions are my own.
Here are my previous Montessori-inspired Little Passports posts:
Montessori-Inspired Little Passports Global Adventure (which contained the Little Passports suitcase, passport, and world map used each month along with a letter from Sam and Sofia, activity sheet, stickers, and a boarding pass with access to online games and activities)

The Little Passports materials could work especially well for summer learning, afterschooling, or in a Montessori homeschool with children of multiple ages. The World Edition is a monthly subscription recommended for ages 5-10. A total of 24 different adventures are available in the series. I'm sharing activities that would allow preschoolers to join in the adventures as well.
Contents of the Little Passports France Package:
Each monthly kit includes:
A letter from Sam and Sophia, your child's travel companions. This adds interest to a world study for a wide range of ages.
Souvenirs themed around the chosen country. This month's souvenir is a camera with a viewer similar to a View Master.
An activity sheet for the country. This will generally be best for 5-10 year olds.
A picture from the country. This month's picture is of Sam and Sophia in France.

Picture of a Uakari Monkey

Picture of a Uakari Monkey

Picture of a Uakari Monkey

A passport stamp.
A map marker.
A sticker for the suitcase.
A "boarding pass" for access to online content about the country. This month's boarding pass has a France concentration game that could work well for a number of ages, France trivia game, and a map activity with a tour of France (which includes a printable photo album). The online activities are recommended for ages 5-10, although younger child could easily be included in the France concentration game and photo album activities.

This month's boarding pass to Brazil had fun trivia questions about Brazil as well as an interactive soccer game. – See more at: http://www.peaceloveorganicmom.com/2013/05/traveling-to-brazil-with-little.html#sthash.NohmOxUG.dpuf
Following are some suggestions on how you can make Little Passports Montessori-inspired and have it work for multiple ages at home.
Map Work

The first package had a global focus, so you could have done any sort of continent map work in connection with the first package. After that, it's best if your children have a chance to work with related Montessori continent box materials before the country package arrives (possibly for the two weeks preceding your work with the specific country).
Map Unfolding and Folding and Country Matching Activity
I would include this activity for each country. Map unfolding and folding makes a great Montessori-inspired practical life activity. I'd recommend showing your child how to carefully unfold and fold the world map that comes with the first package. If you feel that would be too difficult for your child, you could always laminate the map and put it up on the wall.
For the France package, I traced France on the map and cut out the country piece from a foam sheet. Your child could place the matching foam piece on the world map, maybe using Velcro if your map is laminated and hung up. I included Brazil and Japan on the tray to reinforce the work done previously with Little Passports.
France Photo Booklet Activity

I especially appreciate the country tour and photo pages in the online "Boarding Zone" each month. I would definitely print out the pages for each Little Passports country as a way to reinforce what's learned about each country. You could use a purchased photo album to make a long-lasting book of your world tour. Or you could print out the photos on typing paper and let your child put together a simple photo booklet for each country. Your child could assemble the book with a stapler as shown or any type of fastener appropriate for your child's age and fine-motor skills.
Camera Punching or Cutting Activity

This activity doesn't use materials from the Little Passports activity, but it extends the camera theme. This uses two free printables from U Printables: Smash Cameras Freebie and Smash Free Printables – More Cameras. I created a multi-level activity that could be used as a punching activity for a younger child and a cutting activity for a child with more-advanced cutting skills.
I used the Montessori Services puncher materials, which I especially like for their safety compared with push pins. There are 10 different kinds of cameras on the two pages of printables. These could be used to create hands-on math activities to fit with the camera theme.
Paris Map and Camera Activity
This activity uses the camera and photo card from the Little Passports package along with a free printable Paris Tourist Attractions Map from Map a Plan. Your child could look at the photos in the camera and then find the Eiffel Tower on the map.
Extensions using Safari Ltd. Landmarks
I highly recommend having the Safari Ltd. World Landmarks TOOB and Around the World TOOB if you're doing a world study. The TOOBS are a great addition to Little Passports Global Adventures.
Thanks to Kateva from Safari Ltd. for the educational keys for the TOOBS! These are very useful not only for simple matching activities, but also as a way for you to keep your TOOBS organized and for older children to use as keys for research. If you click on each link, you can save and print out the educational key for each TOOB. Here are the keys for the landmarks: World Landmarks TOOB Key and Around the World TOOB Key. For France I used two replicas (the Eiffel Tower and the Arch of Triumph) from the Around the World TOOB.
For the top photo, I used the Paris landmarks on the Little Passports world map. In the second photo, I used the Paris landmarks on the free printable Paris map from Map a Plan.
You can make your study of France as simple or as elaborate as you wish.
More about Little Passports
The posts in this subscription are from the World Edition for ages 6-10.
For the first month, your child will receive the introductory World Edition Kit, which includes our signature blue suitcase, passport, and wall-sized world map. In addition, they'll receive a country-themed activity booklet, stickers, collectible souvenir, fact-filled letter from pen pals Sam and Sofia, and an original Brazil-themed chapter book.
Each month after that, your child will receive a new package that explores a different country. The packages include letters from Sam and Sofia, along with souvenirs or hands-on activities, country-themed books, stickers, activity booklets, collectible country coins, plus access to online photos, printable activities, and more!
You can sign up for 6 months, 12 months, or monthly.
There are subscription boxes for a variety of ages. But also check out the Shop All and Gift Guide at the top of Little Passports! There are some great individual products you can purchase for gifts as well!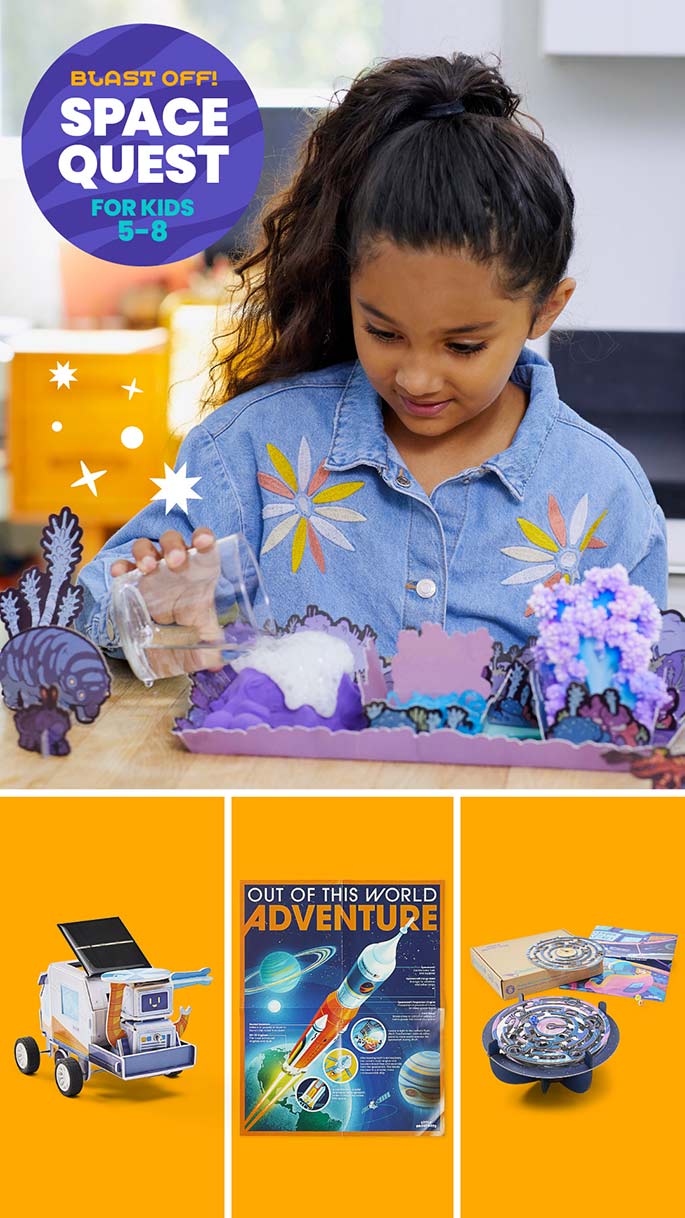 Check out the new Space Quest subscription for ages 5-8!
See everything at Little Passports here.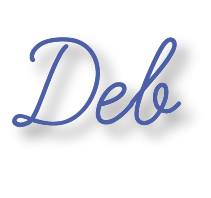 Learn more about my eBook Montessori at Home or School: How to. Teach Grace and Courtesy!
If this is your first time visiting Living Montessori Now, welcome! If you haven't already, please join us on our Living Montessori Now Facebook page where you'll find a Free Printable of the Day and lots of inspiration and ideas for parenting and teaching! And please follow me on Instagram, Pinterest (lots of Montessori-, holiday-, and theme-related boards), and YouTube. While you're here, please check out the Living Montessori Now shop.
And don't forget one of the best ways to follow me by signing up for my weekly newsletter. You'll receive some awesome freebies in the process!