I've often been asked which Montessori materials I recommend homeschoolers buy. I've been somewhat hesitant to give my opinion since each homeschool is unique. I'm going to do a series of my recommendations for various curriculum areas, but don't worry about making variations according to your child's needs and interests and your family's budget.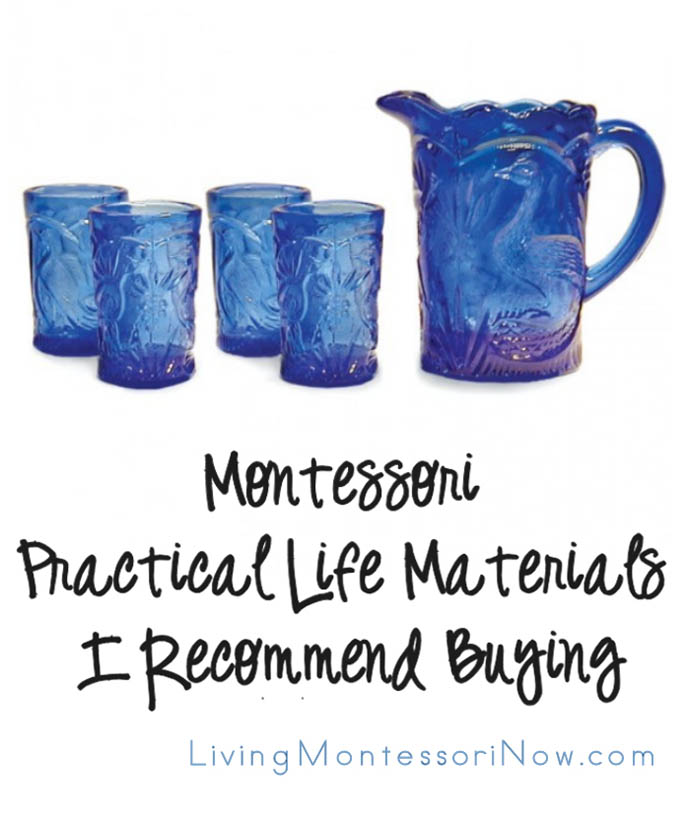 Disclosure: This post contains affiliate links at no cost to you.
Montessori Services Blue Glass Pouring Set
For more information on practical life activities in general, you'll find lots of resources in my practical life activities post.
Practical Life Material Recommendations
Practical life materials are easy to prepare even if you're not crafty. You will need some basic materials from the beginning. Once you have those, you'll rarely need to purchase practical life materials. The best recommendation I can make for practical life materials in general is Montessori Services. Montessori Services specializes in practical life materials and carries everything you might need to have a complete practical life area.
You'll need various sizes of
Many materials for practical life activities might be found at places like thrift shops or garage sales. I even have some trays that I found on sale at the grocery store. They scratch easily, though, and aren't as durable or useful in size as the Montessori Services trays. I used primarily Montessori Services trays when I had a Montessori school. I kept those trays for our homeschool. The trays still looked good at the end of our homeschooling.
Trays, baskets, boxes, and bowls are important for practical life activities and activities in every curriculum area. The nice thing is that once you have a good selection, you can use them over and over and over. You don't need to start with a large assortment, though. These suggestions are for materials you can add to as you see which materials would be most useful for your child(ren).
Other important practical life materials are
The items your child spoons, tongs, and pours are easy to find at a hobby store, grocery store, and/or on Amazon.
You'll also need
You don't need to have every possible transferring tool … just a good variety. Depending on your budget and comfort with preparing your own practical life activities, you can even order prepared practical life sets from Montessori Services.
This post has some examples of prepared Montessori Services practical life activities:
Montessori Services Practical Life Activities
The Versatility of Practical Life Materials
My Cat in the Hat Practical Life Activities are examples of themed activities using traditional Montessori practical life materials.
My Montessori Inspired Transferring Activities for February post also shows examples of themed practical life activities.
I often combine practical life activities with other curriculum areas, such as in the blood cell sort-transfer using Montessori Services quick sticks.
Many practical life materials can be easily rotated to add extra interest and new skills, such as in my Montessori-Inspired Water Pouring and Water-Bead Pouring.
This Montessori-inspired dinosaur addition activity in my monthly post at PreK + K Sharing has an added practical life component.
Preparing Montessori practical life activities can be fun and a great way to express your own creativity. Don't be afraid to experiment. For more information on where to buy Montessori materials in every curriculum area, check out my post on where to buy Montessori materials.
Montessori Monday Link-Up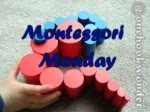 If you have some Montessori activity trays/lessons to share, please link up below. It's fine to link up a post from your archives – and you may link up anytime during the week! Your post may be any Montessori-inspired activity or idea. It doesn't need to be related to my Montessori Monday post.
Link up your exact post URL so that we can find your activity if we return to the linky at a later date (which I often do when I'm looking for activities for a roundup post). I publish the Montessori Monday post and linky at 6:00 a.m. EST each Monday and keep the linky open throughout the week.
Please place the Montessori Monday button (using the code from the right sidebar) in your post or put a link back to this post. Let's use Montessori Monday to gain inspiration/ideas and to encourage each other! If you would leave an encouraging comment on the post linked up ahead of you (along with any other posts you're drawn to), that would be awesome! Thanks for participating!
Notes:
For community discussions, please join us at the Living Montessori Now Facebook page, We Teach Montessori Group, and/or Google+ Montessori Community. The We Teach Montessori group has a Member Resources Sharing (for resources such as freebies and series) as well as a Linky Party for We Teach Montessori. We Teach Montessori has a linky just like the one here except that it's continuous where you may add your Montessori-inspired activities and ideas to the same linky. New links will go to the top of the linky. I'd love to see us build up a great collection of Montessori-inspired ideas there, too. After you link up here, why not hop over to the We Teach Montessori Group and link up there?! And don't forget the Saturday/Sunday Parent/Teacher Preparation Days share where you may share a kid-related activity of any kind at the Living Montessori Now Facebook page!
It's also Motivational Monday on Mondays now! I invite you to share something positive on the Bits of Positivity Facebook page (Bits of Positivity is my other blog) to help us all get a good start on the work/school week. You might share an inspirational or motivational quote, positive graphic, or post about finding balance or simplifying your life. Or you might share a post on organizing, an encouraging post, a post about making a difference in the world, or a positive parenting post. Just go ahead and share on the Bits of Positivity wall any time today! (Please "like" the Bits of Positivity Facebook page if you haven't already.) I'll be pinning a number of ideas to my regular Pinterest boards.
If you have a giveaway on your blog, please add it to my Family-Friendly Giveaway Linky Page! If you enjoy entering giveaways, you'll always find some great giveaways there.
Also, if you've ever been linked to in one of my roundup posts, please feel free to grab the "Featured on" badge.
'); // ]]>
Have you added the Montessori Monday button or a text link? Please be sure you've done one or the other so that others can find the link-up, too! Thank you!
If this is your first time visiting Living Montessori Now, welcome! If you haven't already, please join us on our Living Montessori Now Facebook page where you'll find a Free Printable of the Day and lots of inspiration and ideas for parenting and teaching! And please follow me on Pinterest (lots of Montessori-, holiday-, and theme-related boards), Twitter (blog posts by me and others along with the Parent/Teacher Daily and other interesting information), and Google+ (post updates and Montessori Community). You can find me on bloglovin' now, too. I'm also a Parenting Expert on Sulia. Thank you for following me there. And don't forget one of the best ways to follow me by signing up for my weekly newsletter in the right sidebar. You'll get two awesome freebies in the process!
Linked to Tuesday Tots, The Mommy Club Resources and Solutions at Milk and Cuddles and Crystal & Co., The Weekly Kid's Co-op, Hearts for Home Blog Hop, Learn & Link, TGIF Linky Party, Preschool Corner, Sharing Saturday, Saturday Show & Tell, Share It Saturday, Show-and-Share Saturday, The Sunday Showcase, Link & Learn, Afterschool Express