My activity today is an extension of the Montessori continent box. If you'd like to do a unit study of a specific state or the entire United States, a state box, basket, or tray would work well to highlight each state you study.
My Montessori-inspired state box is my activity for both Montessori Monday (Montessori Monday link-up is at the end of the post) and Booking Across the USA. I'm not a native Coloradan, but my family moved to Colorado in 1996. I've loved living in Colorado ever since!
Disclosure: This post contains affiliate links (at no cost to you).
Montessori-Inspired Colorado State Box
For my state box, I used a beautiful wooden Nienhuis box that I couldn't bear to sell from my Montessori school that I owned in the 1980s. The box worked well over the years of homeschooling for hands-on materials I wanted to highlight (such as materials for my Montessori-based Lenten tray/box). I just placed the box on the shelf without the lid for special activities I wanted to focus on, such as a study of a particular state.
I always include books in any unit study. The book I'm featuring for my Colorado state box is C Is for Centennial: A Colorado Alphabet
by Louise Doak Whitney (illustrated by Helle Urban). What I especially like about the book is that it can be used for any age. For preschoolers, there's a short verse for each letter of the alphabet.
For older readers, you'll find additional text for each letter with lots of information about Colorado. I enjoyed reading the book and learned many interesting facts. I can't give any first-hand experience about using the book with my kids, though. It wasn't published until a few months after my son graduated from homeschool high school! 😉
The state box is an activity you can personalize for your unique family or classroom. My family was able to visit many states because of figure skating competitions, and I always saved souvenirs from each trip we took. Some of our Colorado souvenirs were from trips before we moved here and others from mini-vacations and field trips while we lived in Colorado.
I included Colorado postcards, brochures, maps, souvenir spoons, and Christmas ornaments. A small photo album would have been a nice addition, too.
We had a 3 -D puzzle of the United States from the 1990s that we loved. I included the Colorado state piece along with the Rocky Mountains and ski pieces that fit into the state piece. I looked online, and, unfortunately, I can't find either the company or the puzzle map. Melissa & Doug has a nice U.S.A. map wooden puzzle, though. You could always add the state map piece from your favorite puzzle map for each state you study.
Booking Across the USA
Special thanks to Jodie from Growing Book by Book for organizing Booking Across the USA. Also, thanks to Erika from The Honey Bunch and Misty from Think, Wonder & Teach for working on creating a button. And thanks to Carolyn from Wise Owl Factory for creating the lovely table of flag links to each blogger.
Learn more about Booking across the USA and its associated giveaways at Growing Book by Book.
Check out the participating blogs below for a fun tour/unit study of the United States!
All 50 States for Booking Across the USA Blog Hop A book review and crafts, activities, or freebies are included in each post. All the posts were live on February 25, 2013.

Booking Across the USA Host: Growing Book by Book

AlabamaAlabama Blog Post by Everyday Snapshots Blog
AlaskaAlaska Blog Post by Little Wonders' Days Blog
Arkansas Arkansas Blog Post by Country Fun Book Files
ArizonaArizona Blog Post by Simply Kinder

CaliforniaCalifornia Blog Post by Juggling with Kids

California Blog Post by The Outlaw Mom

ColoradoColorado blog Post by Learners in Bloom

ConnecticutConnecticut Blog Post By Teacher Park Blog
DelawareDelaware Blog Post by Mama Miss
FloridaFlorida Blog Post by the Teaching Stars Blog
GeorgiaGeorgia Blog Post by Fabulously First Blog
HawaiiHawaii Blog Post by Teaching with Style

IllinoisIllinois State Post by Growing Book by Book
IndianaIndiana State Post by Teach Pre-School Blog
IowaIowa Blog Post by Surviving a Teacher Salary Blog
KansasKansas Blog Post by KCEdventures
KentuckyKentucky Blog Post by Chicken Babies
LouisianaLouisiana Blog Post by Your Child's Next Book and Project Blog
MaineMaine Blog Post by Country Fun
MarylandMaryland Blog Post by Picture Books and Piourettes
MassachusettsMassachusetts Blog Post by Mama Smiles Blog
Michigan Michigan Blog Post by Play Dr. Mom
MinnesotaMinnesota Post by the Wise Owl Factory Book a Day Blog

MississippiMississippi Blog Post by Hey Mommy, Chocolate Milk

MissouriMissouri Blog Post by Ready, Set, Read Blog
MontanaMontana Blog Post by The Honey Bunch
Nebraska

Nebraska Blog Post by The Good Long Road

Nevada

Nevada Blog Post by Boy Oh Boy Oh Boy Crafts Blog

New Hampshire

New Hampshire Blog Post by Elementary Matters

New Jersey

New Jersey Blog Post by The Pleasantest Thing

New Mexico

New Mexico Blog Post by The Enchanted Homeschooling Mom Blog

New York

New York Blog Post by What Do We Do All Day Blog

North CarolinaNorth Carolina Post by the Realistic Teacher Blog
North DakotaNorth Dakota Post by ND Health Works
Ohio

Ohio Blog Post by the Smart Chick Teacher Blog

Oklahoma

Oklahoma Blog Post by Herding Kats in Kindergarten

Oregon

Oregon State Post by Journey of a Substitute Teacher Blog

Pennsylvania

Pennsylvania Blog Post by the Land of Once Upon a Time

Rhode Island

Rhode Island Blog Post by Smiling in Second

South Carolina

South Carolina Blog Post by Cookies and Kiddos

South DakotaSouth Dakota Blog Post by Wise Owl Factory Book a Day
Tennessee

Tennessee Blog Post by No Monkey Business

Texas

Texas Blog Post by Curls and a Smile

Texas Blog Post by Kid World Citizen

Utah

Utah Blog Post by Teach Beside Me Blog

Vermont

Vermont Blog Post by Vermont Moms Blog

Virginia

Virginia Blog Post by Once Upon a Story Blog

Virginia Post by the Freckled Homeschooler Blog

Washington

Washington Blog Post by Home Learning Journey

West Virginia

West Virginia Blog Post by Great Peace Academy Blog

West Virginia Blog Post by Mamas Like Me

Wisconsin

Wisconsin Blog Post by Reading Confetti

Wyoming

Wyoming Blog Post by No Twiddle Twaddle

USA

USA Blog Post by the Corner on Character Blog
Montessori Monday Link-Up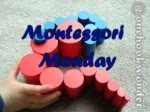 If you have some Montessori activity trays/lessons to share, please link up below. It's fine to link up a post from your archives – and you may link up anytime during the week! Your post may be any Montessori-inspired activity or idea. It doesn't need to be related to my Montessori Monday post.
Link up your exact post URL so that we can find your activity if we return to the linky at a later date (which I often do when I'm looking for activities for a roundup post). I publish the Montessori Monday post and linky at 6:00 a.m. EST each Monday and keep the linky open throughout the week.
Please place the Montessori Monday button (using the code from the right sidebar) in your post or put a link back to this post. Let's use Montessori Monday to gain inspiration/ideas and to encourage each other! If you would leave an encouraging comment on the post linked up ahead of you (along with any other posts you're drawn to), that would be awesome! Thanks for participating!
Notes:
You'll find a Pinterest Pinning Party in our Living Montessori Now Community (featured on the welcome page). That's for any kid-related posts whether they're Montessori-inspired or not. Please feel free to add posts there as well! (If you join our Living Montessori Now Community, your blog feed (post excerpts) will show up on the Living Montessori Now Community Welcome Page if you add your blog link when you sign up. It's an easy way to get extra attention for your blog posts.)
If you have a giveaway on your blog, please add it to my Family-Friendly Giveaway Linky Page! If you enjoy entering giveaways, you'll always find some great giveaways there.
Also, if you've ever been linked to in one of my roundup posts, please feel free to grab the "Featured on" badge.

Have you added the Montessori Monday button or a text link? Please be sure you've done one or the other so that others can find the link-up, too! Thank you!
This post contains affiliate links (at no cost to you).
If this is your first time visiting Living Montessori Now, welcome! If you haven't already, please join us on our Living Montessori Now Facebook page where you'll find a Free Printable of the Day and lots of inspiration and ideas for parenting and teaching!
Linked to Tuesday Tots, Tactile Tuesday, The Mommy Club Resources and Solutions at Milk and Cuddles and Crystal & Co., The Weekly Kid's Co-op, Hearts for Home Blog Hop, Learn & Link, Living Life Intentionally Linky Party, Preschool Corner, Sharing Saturday, Saturday Show & Tell, Share It Saturday, Show-and-Share Saturday, The Sunday Showcase, Link & Learn, Afterschool Express, and The Children's Bookshelf.