Community helpers activities can be used at numerous times throughout the year. They often help children feel safe and secure.
One of the times a community helpers unit can be especially helpful is when children have experienced a tragedy or seen a tragedy or natural disaster in the news.
I published this post on Patriot Day. Patriot Day and National Day of Service and Remembrance is a U.S. observance on September 11 each year. It's meant to honor the heroes and remember those who were injured or killed in the September 11, 2001 terrorist attacks.
For children who are old enough to want more information about 9/11, you can find ideas on how to talk with them about 9/11 in my post "Talking with Children about 9/11 – Ideas and Activities."
I also have a post about talking with children about any tragedy in my post "Talking with Children about Tragedy."
For younger children who might be exposed to a tragedy or news of a tragedy, it's especially helpful to focus on community helpers. I love this quote by Mr. Rogers:
"When I was a boy and I would see scary things in the news, my mother would say to me, 'Look for the helpers. You will always find people who are helping.' To this day, especially in times of 'disaster,' I remember my mother's words, and I am always comforted by realizing that there are still so many helpers – so many caring people in this world." — Mister Rogers
The Washington Post has an article with more information about Mister Rogers' quote, which was widely publicized after the Newtown shootings: "Mister Rogers and Newtown: quote and image goes viral."
Mister Rogers on looking for the helpers:
There are tons of community helper activities you can do in observance of 9/11. Today, I want to focus on community helpers activity trays and sensory tubs that include fire fighters, police officers, and/or medical workers.
Community Helpers Activity Trays and Sensory Bins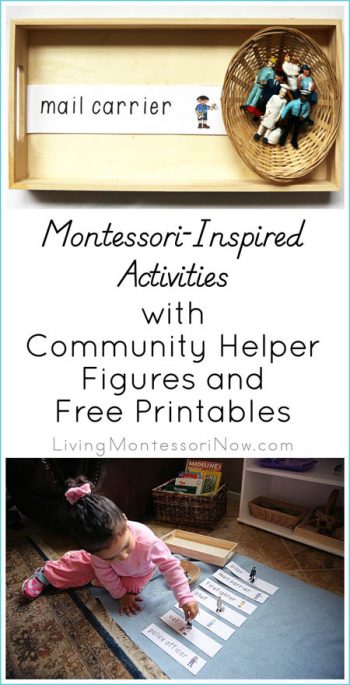 Montessori-Inspired Activities with Community Helper Figures and Free Printables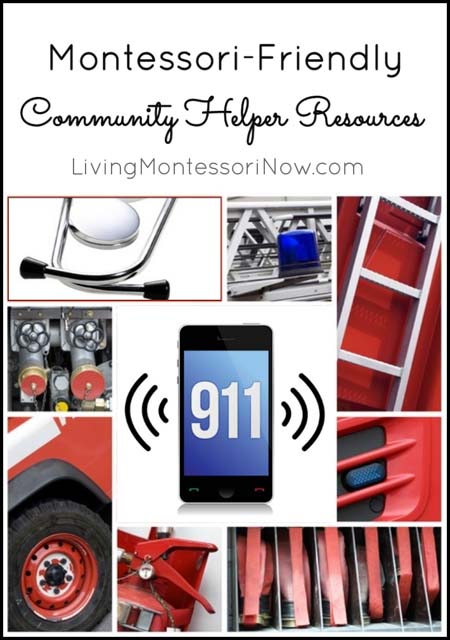 Montessori-Friendly Community Helper Resources
Community Workers Trays from The Linton Academy
Community Workers from Just Montessori
Community Helpers Sensory Tub from Totally Tots
Firefighter Activity Trays and Sensory Bins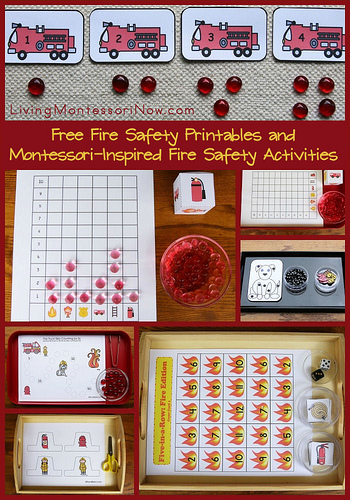 Free Fire Safety Printables and Montessori-Inspired Fire Safety Activities
Fire Sensory Bin from The Good Long Road (blog is no longer available)
Fire Fighter Sensory Box (from an Etsy Shop, but you could assemble a similar sensory tub using fire fighter items you have available)
Fire Fighter Sensory Tub (only available as an image on Pinterest, but again, you could assemble a similar sensory tub)
Fire Safety Sensory Bin from Finding the Teachable Moments
Police Officer Activity Trays and Sensory Bins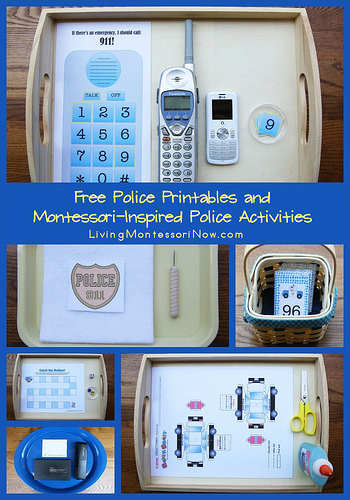 Free Police Printables and Montessori-Inspired Police Activities
Medical Worker Activity Trays and Sensory Bins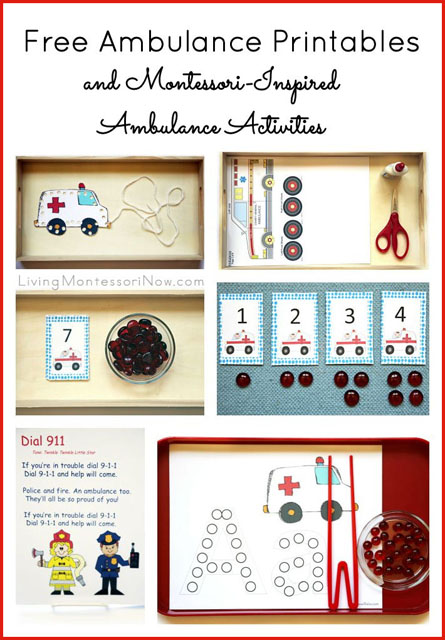 Free Ambulance Printables and Montessori-Inspired Ambulance Activities
Doctor's Office in a Box from Chasing Cheerios
Medical Supply Activity Box from Teach Preschool
Ambulance Theme Sand and Water Table from Preschool Plan It
Book Ambulance (a unique twist on an ambulance theme that teaches children to respect and care for books) from Growing Book by Book
Community Helpers Unit Study Pinterest Board
I have a Community Helpers Unit Study Pinterest Board with community helpers activities of all kinds. I'll be adding to the Pinterest Board and to this post as I find new community helpers activities online.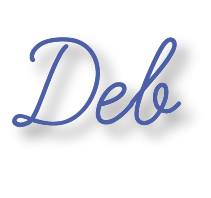 Learn more about my eBook Montessori at Home or School: How to. Teach Grace and Courtesy!
If this is your first time visiting Living Montessori Now, welcome! If you haven't already, please join us on our Living Montessori Now Facebook page where you'll find a Free Printable of the Day and lots of inspiration and ideas for parenting and teaching! And please follow me on Instagram, Pinterest (lots of Montessori-, holiday-, and theme-related boards), and YouTube. While you're here, please check out the Living Montessori Now shop.
And don't forget one of the best ways to follow me by signing up for my weekly newsletter. You'll receive some awesome freebies in the process!