I LOVE sensory tubs. That said, sensory tubs weren't created by Maria Montessori, and they aren't considered Montessori materials. Still, they are very Montessori compatible and can incorporate many Montessori techniques.
Sensorial activities are an important part of Montessori education as are practical life activities. Sensory tubs are a a great way to encourage unstructured sensory exploration. When activities such as pouring, tweezing, or tonging (or decorating a miniature Christmas tree) are included, both practical life and sensorial exploration can be part of a sensory tub.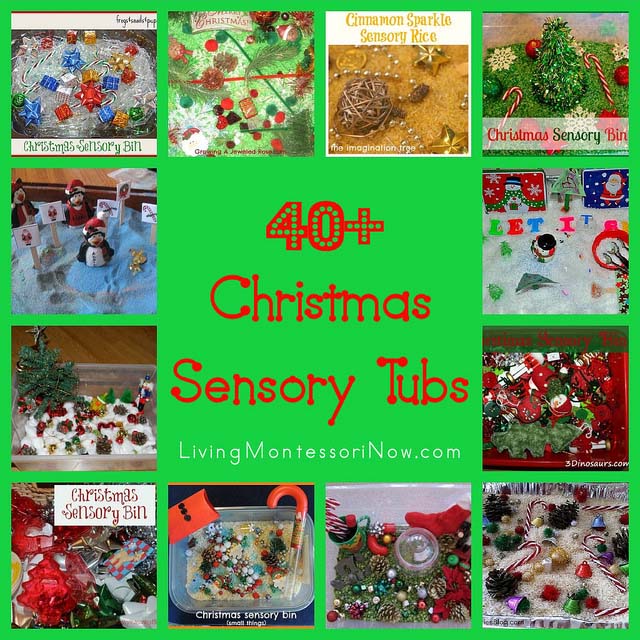 Today, I want to share 40+ wonderful and varied ideas from around the blogosphere for Christmas sensory tubs.
Christmas Sensory Tubs
Montessori-Inspired Nativity Activities (my roundup post with links to Nativity sensory tubs)
Christmas Sensory Tub and Golden Cinnamon Sensory Tub (photo) from The Imagination Tree
Christmas Sensory Bin from 3 Dinosaurs
Christmas Sensory Bin (Small Things) from Glittering Muffins
Christmas Sensory Bin and Candy Cane Sensory Bin from Growing a Jeweled Rose
Christmas Sensory Bin from Love, Play, Learn
Christmas Sensory Bin from Blog Me Mom
Christmas Sensory Tub by Ness from One Perfect Day at Kids Activities Blog
Christmas Sensory Bin from Frogs & Snails & Puppy Dog Tails
Christmas Treasure Bin from My Nearest and Dearest
Christmas Sensory Bin from The Pleasantest Thing
"Shivery Snow" Super Sensory Scented Cold Christmas "Snow" Tub from Learn with Play at Home
Christmas Sensory Bin from The Good Long Road
Iceland Sensory Tub and Christmas Sensory Play from We Can Do All Things
Christmas Sensory Box (photo) and December Sensory Bin from Olives and Pickles
December Sensory Bin from Jada Roo Can Do
Simple Snowman Sensory Bin (my post)
Holiday Bell Sensory Bin with Scavenger Hunt (my post)
Christmas Sensory Bin from H is for Homeschooling
Holiday Scented Sensory Cloud Dough Tub from Momma's Fun World
Jingle Bells Sensory Tub from Trial & Error Mama
Winter Themed Toddler Sensory Bin from The Kavanaugh Report
Christmas Sensory Bin and Ways to Extend Learning from Fantastic Fun & Learning
Christmas Sensory Tub 2010 and Christmas Sensory Tub 2011 from Nurturing Naters
Candy Cane Scented Sensory Bin from Simple Little Home
Christmas Peppermint Sensory Bin from Stir the Wonder
Christmas Ornament Sensory Bin, Christmas Sensory Bin, and Christmas Cutting Sensory Bin (photo) from Mama of Many Blessings
Christmas Sensory Tub from Our Cup of Tea
December Sensory Tub (2009) and December Sensory Tub (2010) from Counting Coconuts
Christmas Sensory Tub from Teaching Mama
Christmas Rice from Asperkids
Peppermint Scented Oatmeal Christmas Sensory Play from Train Up a Child
December Christmas Sensory Box from Too Blessed to Be Stressed
Christmas Sensory Bin from Sugar Aunts
Christmas Sensory Bin for Babies from Play Create Explore
Thrifty Christmas Sensory Box Play from Mama to 4 Blessings
A December Sensory Box from Praying for Parker
Christmas Sensory Tub from No Time for Flash Cards
Christmas Sensory Bin from Home Montessori with Fantasy
Christmas Sensory Bin from Gift of Curiosity
 Thanks to everyone for the wonderful sensory tub ideas!
Montessori Monday Link-Up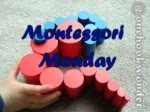 If you have some Montessori activity trays/lessons to share, please link up below. It's fine to link up a post from your archives – and you may link up anytime during the week! Your post may be any Montessori-inspired activity or idea. It doesn't need to be related to my Montessori Monday post.
Link up your exact post URL so that we can find your activity if we return to the linky at a later date (which I often do when I'm looking for activities for a roundup post). I publish the Montessori Monday post and linky at 6:00 a.m. EST each Monday and keep the linky open throughout the week.
Please place the Montessori Monday button (using the code from the right sidebar) in your post or put a link back to this post. Let's use Montessori Monday to gain inspiration/ideas and to encourage each other! If you would leave an encouraging comment on the post linked up ahead of you (along with any other posts you're drawn to), that would be awesome! Thanks for participating!
Notes:
Our thoughts and prayers continue to be with the victims of the Connecticut shooting. If you're wondering how to help your child cope with the tragedy, I have lots of resources here: Talking with Children about Tragedy.
If you're looking for ways you can show you care, you may join us in a Day of Silence tomorrow. You'll find details on the Day of Silence and where to make donations here: Day of Silence.
There's also a beautiful movement on Twitter: Inspired to act: #26Acts of Kindness to honor those lost in Newtown, Conn.
You'll find a Pinterest Pinning Party in our Living Montessori Now Community (featured on the welcome page). That's for any kid-related posts whether they're Montessori-inspired or not. Please feel free to add posts there as well! (If you join our Living Montessori Now Community, your blog feed (post excerpts) will show up on the Living Montessori Now Community Welcome Page if you add your blog link when you sign up. It's an easy way to get extra attention for your blog posts.)
If you have a giveaway on your blog, please add it to my Family-Friendly Giveaway Linky Page! If you enjoy entering giveaways, you'll always find some great giveaways there. There are lots of great pre-Christmas giveaways right now!
Also, if you've ever been linked to in one of my roundup posts, please feel free to grab the "Featured on" badge.

Please check that you've added the Montessori Monday button or linked back so that others can find the link-up, too! Thanks so much! 🙂
If this is your first time visiting Living Montessori Now, welcome! If you haven't already, please join us on our Living Montessori Now Facebook page where you'll find a Free Printable of the Day and lots of inspiration and ideas for parenting and teaching!

Linked to Tuesday Tots, Tactile Tuesday, Do Your Thing Link Party, The Mommy Club Resources and Solutions at Milk and Cuddles and Crystal & Co. , Enchanted Thursdays Blog Hop, The Weekly Kid's Co-op, Living Life Intentionally Linky Party, Preschool Corner, Sharing Saturday, Saturday Show & Tell, Share It Saturday, Show-and-Share Saturday, The Sunday Showcase, Link & Learn, Afterschool Express, December Holiday Blog Hop at PreK + K Sharing, and Montessori Moms Holiday Hop.