Sensory bins aren't a traditional Montessori activity, but they can be great additions to Montessori homeschools and many types of preschools. If you're looking for a simple sensory bin to prepare (and one that isn't too messy during the holidays), check this out! I added some Montessori-inspired activities to this holiday bell sensory bin for a variety of hands-on learning activities.
Disclosure: This post contains affiliate links (at no cost to you).
Holiday Bell Sensory Bin with Scavenger Hunt –

YouTube Video
My 3-year-old granddaughter, Zoey loves her sensory bins! She had so much fun with her Ten Apples Up On Top sensory bin and table (she called it her snack bin) that I left that out until now. Here's her reaction to the new sensory bin!
Holiday Bell Sensory Bin (and DIY Sensory Table)
I already had my DIY sensory table, so it was easy to make a holiday bell sensory bin.
Materials Used for Holiday Bell Sensory Bin
Feel free to adapt your sensory bin for your family. These are just the materials I used. Note: For toddlers who still mouth objects, simply use large bells for your sensory bin and skip the transferring activities.
Holiday Bell Spooning and Pouring

Spooning small bells is a great fine-motor activity.
And pouring bells is both fun and great for coordination.
Fine Motor Activity with Quick Sticks and Making Music with Jingle Bells
I had placed a red plastic dipping bowl in the sensory bin as a bell container. Zoey had the idea of bouncing the jingle bells in the bowl to make music.
Holiday Bell Scavenger Hunt, Fine-Motor Work, and Counting Work
Zoey had fun finding the bells in the scavenger hunt.
I like to add at least one special hands-on learning activity using a printable to each sensory bin I prepare. I used the Free Printable: Number Card from Playdough Numbers and Counters Cards. It was the same one I used in my earlier Montessori-inspired playdough math activity for fall. Here I just used ¾" bells instead of playdough balls.
You can choose a number of ¾" bells to hide (or a younger child can add any bells to the card). For Zoey, I asked her to find the biggest bells. I had exactly nine ¾" bells in the sensory bin. Change the number card and number of bells as often as you and your child prefer.
Zoey was proud to find all the bells!
Adding Magnets to the Holiday Bell Sensory Bin with Scavenger Hunt

For now, I wanted to focus on spooning and transferring activities. Next week, I'll be changing up the sensory bin by adding magnets for Zoey to use in the scavenger hunt!
If you sign up for my weekly newsletter, you'll have access to free bell printables that can be used for a variety of Montessori-inspired activities.
Zoey always works with her sensory bins for long periods of time. I'm sure she'll have lots of fun with this sensory bin throughout the holiday season!
More Bell Posts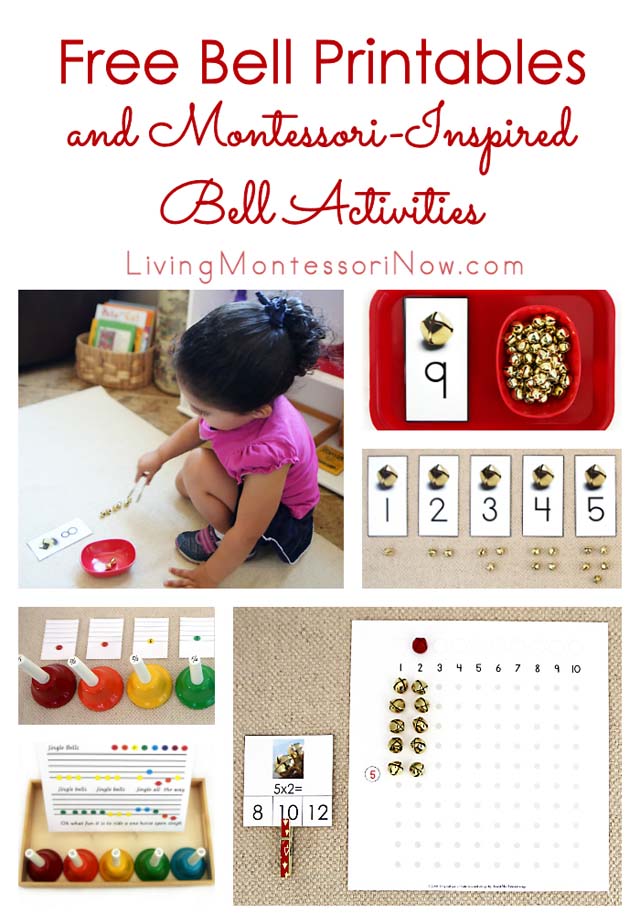 Free Bell Printables and Montessori-Inspired Bell Activities
Holiday Bell Sensory Bin with Scavenger Hunt
Free Christmas Bell Cutting Strips (Montessori-Inspired Instant Download)
Free Bell Do-a-Dot Printable (Montessori-Inspired Instant Download)
More Christmas Resources
Amazon Affiliate: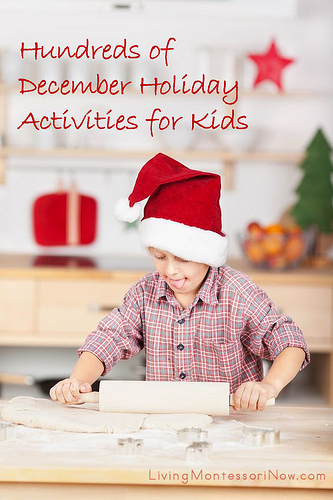 Hundreds of December Holiday Activities for Kids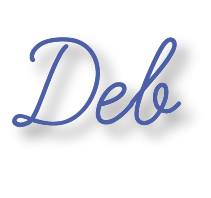 Learn more about my eBook Montessori at Home or School: How to. Teach Grace and Courtesy!
If this is your first time visiting Living Montessori Now, welcome! If you haven't already, please join us on our Living Montessori Now Facebook page where you'll find a Free Printable of the Day and lots of inspiration and ideas for parenting and teaching! And please follow me on Instagram, Pinterest (lots of Montessori-, holiday-, and theme-related boards), and YouTube. While you're here, please check out the Living Montessori Now shop.
And don't forget one of the best ways to follow me by signing up for my weekly newsletter. You'll receive some awesome freebies in the process!