In Montessori education, practical life (daily living) activities are some of the most important activities. Not only do they help children develop order, concentration, coordination, and independence, but they help children learn to contribute to their families and communities. Today, I'll be sharing some age-appropriate chores in lists and free printables from around the blogosphere.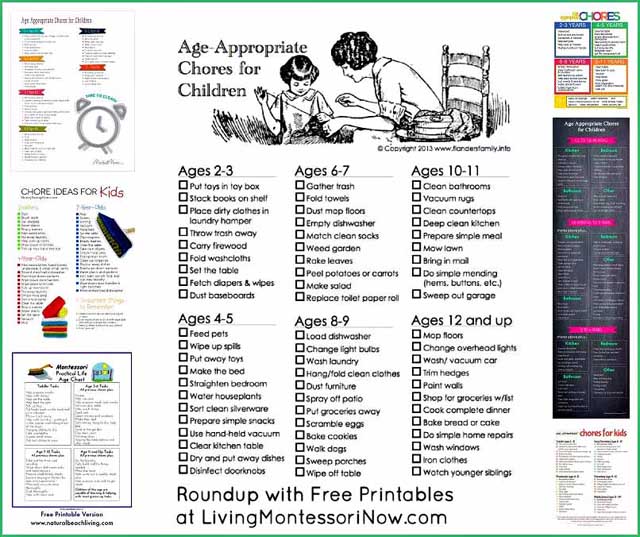 Older babies and young toddlers can start learning care-of-the-environment activities. Cleaning activities are fun at that age and the perfect time for children to start contributing to the family chores, even if the result is much less than perfect.
In Montessori, we don't recommend using rewards or punishments. (Read "A Montessori Approach to Praise" for more information.) If you demonstrate how to do chores and make them a regular part of your child's life from an early age, ideally your child will do chores as a natural part of contributing to the family. My now-adult children did, and it was wonderful.
Age-Appropriate Chores for Children (with Free Printables)
Here are some great ideas for age-appropriate chores. Each link has a free printable download available. You'll notice there are definitely some variations among chore lists. As in everything, it's most important that you find the chores that are age appropriate for your unique children.
And, of course, your children aren't expected to do every chore on a list. Just find what works for your family.
Age-Appropriate Chores for Children (the chore chart that's been all over Facebook and Pinterest) from The Flanders Family Website. This free printable is available in English, Spanish, and Italian.
Age-Appropriate Chores for Kids from The Happy Housewife
Age Appropriate Chores for Young Children from Your Modern Family
Age-Appropriate Chores for Children (Image from The Modest Mom)Age Appropriate Chores for Children from The Modest Mom Blog
Age Appropriate Chores for Children (12 months-4 years) from The Montessori Notebook
Age Appropriate Chores/Skills from Cranial Hiccups
Why Our Kids Should Do Age Appropriate Chores from Sports Mom Survival Guide
Age-Appropriate Chores for Kids from Bitz & Giggles
Montessori Practical Life Age Chart from Natural Beach Living
Chore Ideas for Kids from Money Saving Mom
Why Our Children Have Chores + An Age Appropriate Chores Guideline from Simply Kierste
Housekeeping How-To from Learning with Charlotte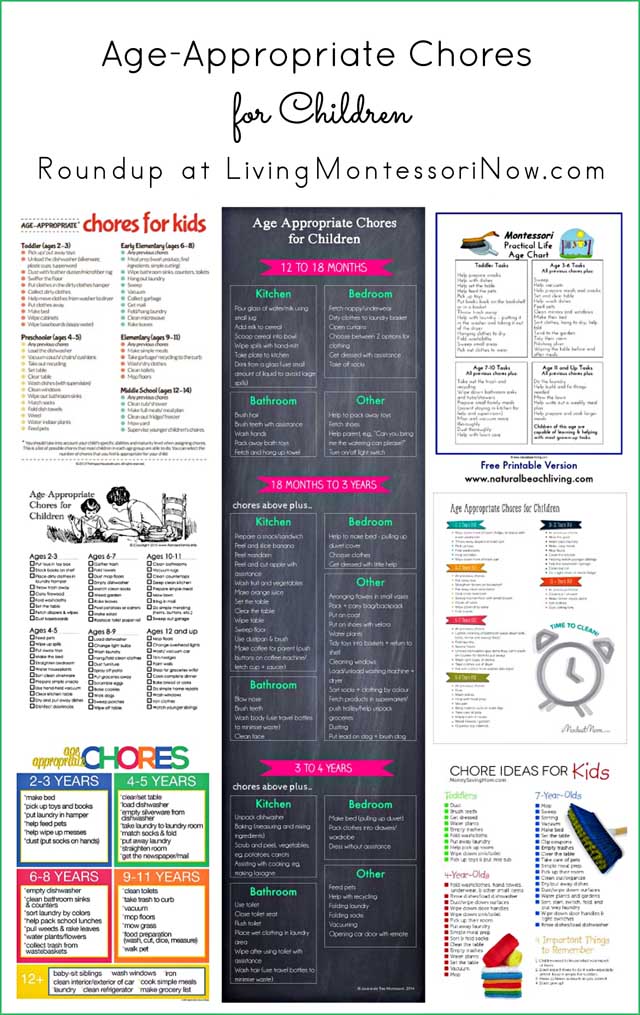 Montessori Monday Link-Up