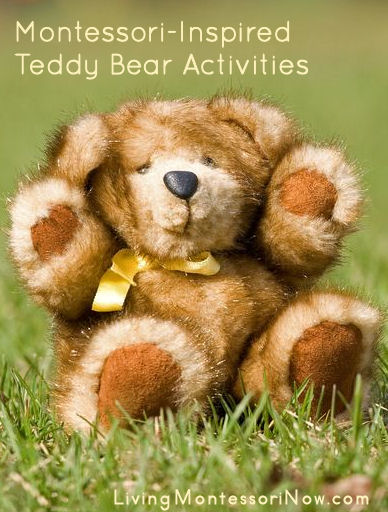 July 10 is Teddy Bear Picnic Day! It's a great time to add some summer learning fun with Teddy bear activities. And it's a great time to reinforce mealtime grace and courtesy lessons! Teddy Bear Day is September 9, which gives another fun time to celebrate with some Teddy bear activities. On top of that, the second Wednesday in October is Take Your Teddy Bear to Work & School Day.
If you want to celebrate Teddy Bear Picnic Day tomorrow, here's an article with some helpful information on the history of teddy bears and Teddy Bear Picnic Day: About Teddy Bear Picnics by Yuurei Serai at eHow Home.
Here are some Montessori-inspired ideas for teddy bear activities:
Montessori-Inspired Teddy Bear Picnics/Meals
I have a post with a YouTube video and resources on how to have a healthy and courteous teddy bear picnic.
You'll find teddy bear picnic songs along with other fun teddy bear songs in my free teddy bear songs and rhymes for circle time.
Grace and Courtesy – Table Manners from Counting Coconuts (also featured in my roundup post Grace and Courtesy Games at Home or School)
Teddy Bear Picnic 2012 from Songbirds Montessori School
Teddy Bear Tea Party as part of Mother's Day Tea Preparations from Montessori Mama
Montessori-Inspired Teddy Bear Activities
Early Learning with Teddy Bear Counters from We Can Do All Things
Montessori Activity: Bathing Baby Teddy-Bear from Family FECS
"Sewing" Clothes onto the Teddy Bear from Barefoot in Suburbia
Teddy Bear Bread from Chasing Cheerios
Bear posts, including teddy bear counters and teddy bear grammar from The Adventures of Bear (Photo from Corduroy Inspired Montessori Grammar Work)
Tonging Marbles onto Suction Cup Teddy Bear from My Montessori Journey
I'd love to hear about any teddy bear learning activities you've done with your child and/or students! 🙂

Montessori Monday Link-Up