When my 2-year-old granddaughter, Zoey. and I were working with pouring activities for our Montessori Services review and giveaway, Zoey spent a lot of time cleaning up her tray and squeezing out her sponge. She thought that was an awesome activity! So, I decided it was time to put out a Montessori squeezing a sponge activity for her.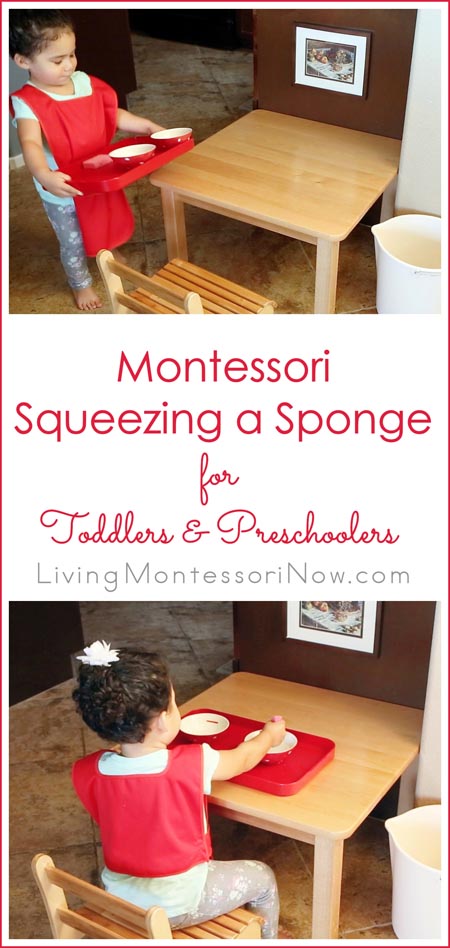 Disclosure: This post contains affiliate links (at no cost to you).
Montessori Squeezing a Sponge Activity for Toddlers and Preschoolers – YouTube Video
My daughter, Christina, and Zoey (Christina's niece), had lots of fun with this activity. I love how focused Zoey is on moving slowly and carefully with the tray and bowl!
Montessori Squeezing a Sponge Activity for Toddlers and Preschoolers – Setup
One thing I've learned about Montessori education (from being familiar with a number of training programs and working with teachers from a variety of training programs) is that there isn't one right way to do a Montessori activity. There are a number of ways to set up a Montessori squeezing a sponge activity, and there are a number of ways to present it.
I used a Montessori Services large plastic tray, Montessori Services ceramic polka-dot bowls, a sponge from the Montessori Services pouring water activity, and a sliver of red electrical tape to mark the water line. For the activity, Zoey wore a Montessori Services apron. Our water recycling bucket is also from Montessori Services. It was part of the Montessori Services cloth washing activity we reviewed previously.
For Zoey, I decided to use breakable ceramic bowls since she's been carrying trays for a long time. If she were younger, I'd use stainless steel bowls or even plastic bowls while she gained the coordination needed to carry the tray with breakable bowls. For a younger toddler, you could also have the tray set up at the table with water in one bowl ready to be transferred.
Having Fun with the Montessori Squeezing a Sponge Activity
Zoey is proud of how carefully and competently she can carry trays now. After placing the tray on the table, she carries the bowl with the water line to the bathroom sink and fills it to the water line. Then she carefully carries the bowl to the table.
The presentation shows squeezing a sponge using two hands, but Zoey prefers to use one hand. Typically, sponging with a natural sponge uses one hand. The sponge on this tray is small, and I think it's fine for Zoey to use one hand.
When she completes the activity, Zoey carries the bowl with water to our water recycling bucket and pours it in. Then she cleans up any spills. In the video, she shows just how much fun she has with this part of the activity!
Not only does Zoey have lots of fun with this activity, but I love that it strengthens hands and fingers for writing. All practical life activities help increase order, concentration, coordination, and independence. Following a series of steps helps increase concentration skills even more.
I hope your child has as much fun with Montessori practical life activities as Zoey does. 🙂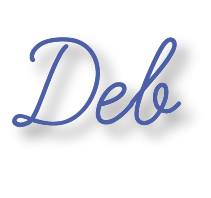 Learn more about my eBook Montessori at Home or School: How to. Teach Grace and Courtesy!
If this is your first time visiting Living Montessori Now, welcome! If you haven't already, please join us on our Living Montessori Now Facebook page where you'll find a Free Printable of the Day and lots of inspiration and ideas for parenting and teaching! And please follow me on Instagram, Pinterest (lots of Montessori-, holiday-, and theme-related boards), and YouTube. While you're here, please check out the Living Montessori Now shop.
And don't forget one of the best ways to follow me by signing up for my weekly newsletter. You'll receive some awesome freebies in the process!