A washboard practical life activity or pioneer unit is great at any time of year. It's especially fun at a time when you can do the activity or activities outdoors. Today, I want to share a Montessori washboard activity that's a fabulous practical life activity as well as a fun addition to a pioneer/Laura Ingalls Wilder unit. It's great for a variety of ages.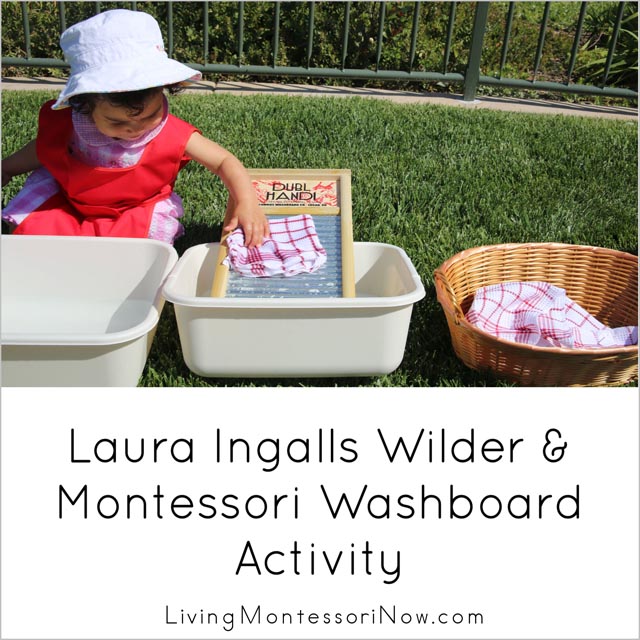 Disclosure: I was given Montessori Services cloth washing activity to review for this post. I was never required to write a positive review for Montessori Services, and any opinions expressed are my own. This post contains affiliate links (at no cost to you).
 Since I started blogging, I've hosted a number of Montessori Services reviews and giveaways. I've never been disappointed with the quality of Montessori Services materials. If you read my review posts, you can find out more about some of the Montessori Services materials that are wonderful for schools and homeschools. Parents using Montessori principles at home will also find much to offer through Montessori Services or its partner site, For Small Hands, which specializes in child-size tools and materials for families.
Montessori Services Cloth Washing Activity
I love Montessori Services! For this review, I requested the cloth washing activity to go with my Booking Across the USA activity inspired by author Laura Ingalls Wilder. The cloth washing activity with washboard would be perfect for a Little House on the Prairie unit study.
The cloth washing activity is also a wonderful activity by itself for preschoolers or toddlers. The materials from it can also be used for a wide variety of practical life activities.
The set includes these items, many of which can be purchased individually:
3 Cotton Terry Cloths
Liquid Soap
Sponge
Using the Montessori Services Cloth Washing Activity with a Toddler
The Montessori Services cloth washing activity is a fun practical life activity with a number of steps. It would work well for a variety of ages for a Laura Ingalls Wilder literature-based unit or activity. The steps can easily be simplified for a toddler.
With my 17-month-old granddaughter, Zoey, I helped her put on the apron (which is one of the simplest to put on, even for a toddler) and then had her pour pitchers of water into the dishpans. She helped me add soap to the dishpan with the washboard. Then she scrubbed the cloths using the washboard and rinsed the cloths.
Zoey loved the activity. It was a fun outdoor activity, although it would work well indoors, too. I'll enjoy seeing how the activity grows with Zoey. I also plan to introduce a variety of activities, such as doll washing, table washing, and dish washing, with many of the materials.
Laura Ingalls Wilder and Booking Across the USA
Today is the 3rd Annual Booking Across the USA trip. This year, kid bloggers have joined together to feature authors and illustrators from each of the 50 states.
Each author or illustrator was either born, lived in at one time, or currently resides in the featured state. You will discover at least one book written or illustrated by the person as well as an activity or craft to accompany the book or books.
I chose the State of South Dakota and Laura Ingalls Wilder because I was born and raised in eastern South Dakota. I grew up on a farm 40 miles from DeSmet, South Dakota, of Little Town on the Prairie fame. Both of my children were born in South Dakota, too. We lived in South Dakota until Christina, my youngest child, was 6 years old. I'm still a real fan of Laura Ingalls Wilder books. We own the Little House 9-book box set and have read all the books more than once!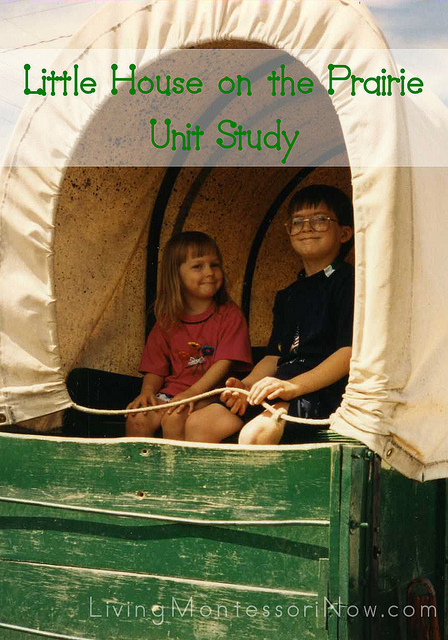 You can find many Laura Ingalls Wilder themed activities in my Little House on the Prairie Unit Study.
Special thanks to Jodie from Growing Book by Book for organizing Booking Across the USA.
Learn more about Booking across the USA at Growing Book by Book.
Check out the participating blogs below for a fun author/illustrator tour of the United States!
Alabama: Ed Snapshots
Alaska: Incredibly Confident Kids
Arizona: Child Led Life
Arkansas: Crayon Box Learning
California: Enchanted Homeschooling Mom
Colorado: The Educator's Spin on It
Connecticut: Art Curator For Kids
Delaware: 
Florida: My Little Me (Me)
Georgia: Kathy's Cluttered Mind
Hawaii: Storytime Secrets
Idaho: True Aim Education
Illinois: The Jenny Evolution
Indiana: Primary Inspired
Iowa: 
Kansas: KC Edventures
Kentucky: Chicken Babies
Louisiana: Mosswood Connections
Maine: Country Fun Childcare
Maryland: Kerry Aradhya
Massachusetts: Mama Smiles
Michigan: Buggy and Buddy
Minnesota: The Wise Owl Factory
Mississippi: Bambini Travel
Missouri: Inspiration Laboratories
Montana: Kids Yoga Stories
Nebraska: 
Nevada: 
New Hampshire: Elementary Matters
New Jersey: Just Another Mom
New Mexico: 
New York: Teaching with Grace
North Carolina: All Done Monkey
North Dakota: 
Ohio: Something 2 Offer
Oklahoma: Allternative Learning
Oregon: Cutting Tiny Bites
Pennsylvania: Still Playing School
Rhode Island: 
South Carolina: JDaniel4's Mom
South Dakota: Living Montessori Now
Tennessee: Pragmatic Mom
Texas: Kid World Citizen
Utah: Teach Beside Me
Vermont: Kitchen Floor Crafts
Virginia: Mama Miss
Washington: A Book Long Enough
West Virginia: 
Wisconsin: Brain Power Boy
Wyoming: Teaching From a Tackle Box
To see my Booking Across the USA post from the 1st Booking Across the USA, check out:
Montessori-Inspired State Box – Colorado
.
Montessori Services Reviews
For a list of my previous Montessori Services review posts, see my Montessori Services Reviews. If you win the giveaway, you could use the $50 gift certificate to choose from among the items I've reviewed or one or more of the 2500 items Montessori Services offers!
Montessori Services $50 Gift Certificate Giveaway! The giveaway is now closed. See below for the announcement of the giveaway winner!

I'm excited to host a blogiversary giveaway of a $50 gift certificate from Montessori Services, one of my very favorite Montessori suppliers for home or school! If you're from the U.S. or Canada, this is a great time to have fun checking out the amazing online catalog at Montessori Services.
Now for the Giveaway:
What You Will Win: 1 lucky winner in the U.S. or Canada will win a $50 Montessori Services Gift Certificate!!!
Who is Eligible:
This giveaway is open to anyone 18 and older in the U.S. and Canada. The first entry is mandatory. You must leave a blog post comment telling why you want to win the $50 Montessori Services gift certificate (and be sure to click the green "ENTER" on the Rafflecopter form to let me know you left your blog post comment and to open up the optional entries)! After you've completed your mandatory entry, there are lots of optional entries. You have many chances to win! (Note: For the extra entries, you may count ways of following that you already do. For example, if you previously followed Living Montessori Now on Twitter, you may still count that for your follow Living Montessori Now on Twitter entry!)
It's easy to enter giveaways with Rafflecopter! Just follow the directions to enter.If you still have questions about the Rafflecopter form, here's a 52-second video with quick directions for entering through Rafflecopter. You must complete the Mandatory Entry to qualify for any additional entries. The giveaway closes 9:00pm PST on Wednesday, April 22. Best of luck!

(Note: If you have any problems with the Rafflecopter form, you can sign up on the Rafflecopter form at the Living Montessori Now Facebook page (mobile friendly). Just be sure to leave your blog comment here! Both Rafflecopter forms are the same, so it doesn't matter which one you sign up on.)
UPDATE:
It's Thursday morning, April 23. I really appreciated all your comments and the 1,371 entries! A winner has been selected using Random.org through Rafflecopter! The winner of the $50 Gift Certificate for Montessori Services is Leah W! I'm so happy for Leah! (Note: Leah, you have 48 hours to respond to my email, or a new winner will be chosen.) The comment for Leah's mandatory entry (why she wanted to win the gift certificate) said: "We live on the prairie and I used to do laundry by hand until we moved into a home with a washer about a year ago.  I would have loved to have had a washboard 😉  I would love to win some Montessori supplies for my little homeschooled farm children."
Montessori Monday Link-Up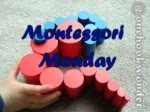 If you have some Montessori activity trays/lessons to share, please link up below. It's fine to link up a post from your archives – and you may link up anytime during the week! Your post may be any Montessori-inspired activity or idea. It doesn't need to be related to my Montessori Monday post. If you're wondering what's considered "Montessori inspired" and what to link up (or not link up), check out my "What Is Montessori Inspired?" post. Link up your exact post URL so that we can find your activity if we return to the linky at a later date (which I often do when I'm looking for activities for a roundup post). I publish the Montessori Monday post and linky each Monday morning and keep the linky open throughout the week. Please place the Montessori Monday button (using the code from the right sidebar) in your post or put a link back to this post. I do a lot of pinning on Pinterest and sharing on the Living Montessori Now Facebook page from the Montessori Monday link-up.Thanks for participating! Notes For community discussions, please join us at the Living Montessori Now Facebook page and/or Google+ Montessori Community. And don't forget the Saturday/Sunday weekend sharing days where you may share a kid-related activity of any kind at the Living Montessori Now Facebook page! It's also Motivational Monday on Mondays! I invite you to share something positive on the Bits of Positivity Facebook page (Bits of Positivity is my other blog) to help us all get a good start on the work/school week. You might share an inspirational or motivational quote, positive graphic, or post about finding balance or simplifying your life. Or you might share a post on organizing, an encouraging post, a post about making a difference in the world, or a positive parenting post. Just go ahead and share on the Bits of Positivity wall any time today! (Please "like" the Bits of Positivity Facebook page if you haven't already.) I'll be pinning a number of ideas to my regular Pinterest boards. If you have a giveaway on your blog, please add it to my Family-Friendly Giveaway Linky Page! If you enjoy entering giveaways, you'll always find some great giveaways there. Be sure to check out my giveaway sponsored by Montessori Print Shop and Montessori at Home to see some great discounts! The giveaway is over, but everyone can be a winner with the discounts.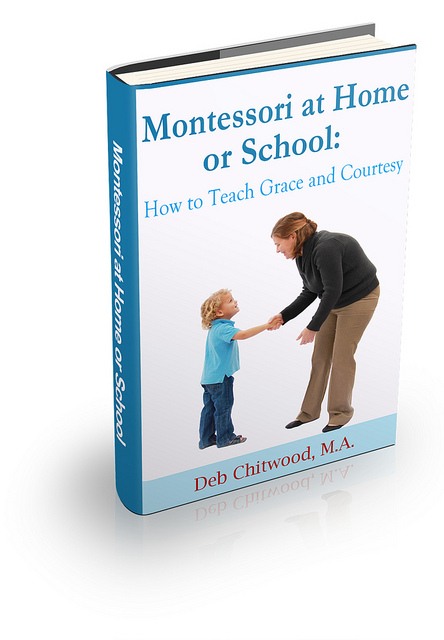 Learn more about my eBook Montessori at Home or School: How to Teach Grace and Courtesy! It's designed to help parents and teachers feel comfortable teaching manners to children ages 2-12. (And courtesy is a great addition to any curriculum.)

Also, if you've ever been linked to in one of my roundup posts, please feel free to grab the "Featured on" badge.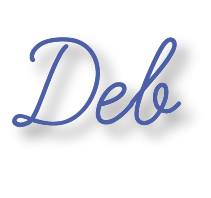 '); // ]]> Have you added the Montessori Monday button or a text link? Please be sure you've done one or the other so that others can find the link-up, too!May be linked to Afterschool Express, Thoughtful Spot, The Mommy Club Resources and Solutions, Mom's Library, A Little Bird Told Me Linky Party, The Weekly Kid's Co-op, Homeschool Link-up, TGIF Linky Party, Preschool Corner, Ultimate Homeschool Pinterest Party, Sharing Saturday, Share It Saturday, Show-and-Share Saturday, The Sunday Showcase, Link & Learn. And, always, thanks so much to all my blog sponsors!
Montessori Print Shop
Montessori Compass
Montessori at Home
Spielgaben
Trillium Montessori
KHT Montessori
Montessori By Mom
Alison's Montessori

Linked with
Contest Girl
and Free
Sweepstakes
and
Contests