May is a perfect time for kids to show appreciation to very special people … both mothers and teachers. For homeschoolers, that can be the same person. Even if you don't homeschool, gifts that are recommended for kids to make for teachers often work well for mothers and vice versa.
In the United States, Teacher Appreciation Day is the Tuesday during Teacher Appreciation Week, which is the first full week of May. Mother's Day is the second Sunday in May. I think teacher appreciation gifts are especially appropriate any time from Teacher Appreciation Day to the end of the school year.
Montessori-Inspired Mother's Day Gifts
I have roundup posts with Montessori-Inspired Mother's Day ideas: Montessori-Inspired Mother's Day 1 and Montessori-Inspired Mother's Day 2.
Simple Montessori-Inspired Card-Making Tray
You could have a simple card-making tray available in a closed cabinet in your child's room or in a lower kitchen cabinet whether or not you have a homeschool. It's nice if the cabinet has a door that closes so your child can feel the creation of cards is a special surprise.
I always had colored construction paper or typing paper, markers, and stickers available for card-making projects. My children liked to make cards for holidays like Mother's Day, but they also made cards spontaneously at other times – for example, if they wanted to say thank you or to apologize for something.
I also recommend keeping a box of 5¾" by 8¾" greeting-card envelopes available for projects like this. The envelopes can be purchased at any office-supply store and give your child an easy, professional-looking way to finish the card. My children have made their own envelopes before as well, although purchased envelopes can still be personalized with markers, stickers, etc.
Turning Mother's Day Crafts (or Teacher Appreciation Crafts) into Montessori-Style Activities
Use a tray for the activity.
Think about the practical-life skills of the activity. If your child is working with a tool such as a stapler or scissors, it's best if your child has had experience working with the tool previously.
Place all the materials needed for the activity on the tray (unless certain materials, such as crayons or markers for an activity, are always in a central place near the tray).
Arrange the materials as attractively as possible and in left-to-right order wherever possible. Materials on trays and shelves in Montessori education are placed in left-to-right order as an indirect preparation for reading and writing.
Show your child how to use the activity, focusing on points of interest. Use the Montessori technique of analysis of movement, or breaking the movements down into clear steps, when demonstrating a skill. Individualize your demonstration according to your child's age and ability. For an older child, you could even leave written instructions.
For many crafts, you can just show the beginning of the activity. It's often best to avoid leaving a model so that your child doesn't try to copy your example but feels comfortable with his or her own creation. Your child can ask you for help if he or she has difficulty with a step of the activity.
Store the tray on a low shelf, so your child can independently choose to work with the activity.
Allow your child to use the activity as often as your child wants, making sure your child cleans up the activity and returns the tray to the shelf after finishing.
In a Montessori classroom, one child uses an activity at a time unless he or she invites another child to do the activity at the same time. That allows children to develop concentration by working on an activity without interruption and teaches them to take turns. When I had a Montessori school, a new art activity often had a number of children working together, so it typically was a social experience anyway.
Mother's Day Gifts on Living Montessori Now
Here are the Mother's Day gifts I've helped my now-3-year-old granddaughter make for her mom.
Handprint Keepsake for Mother's Day, Father's Day, or Grandparents Day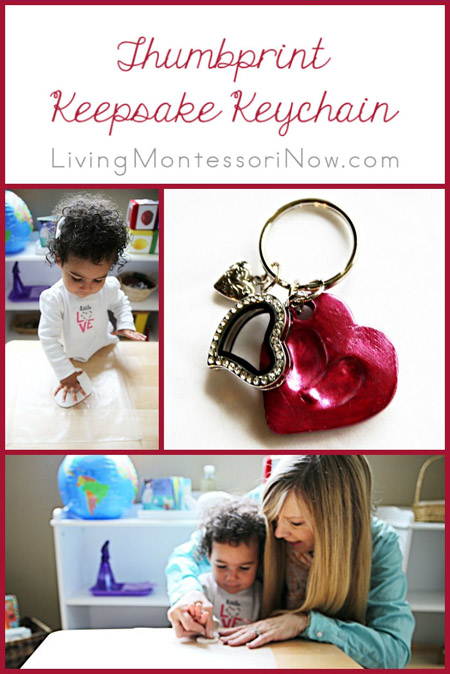 Thumbprint Keepsake Keychain Gift for Mothers, Grandmothers, and Teachers
Simple and Sweet Craft Stick Photo Frame Gift Kids Can Make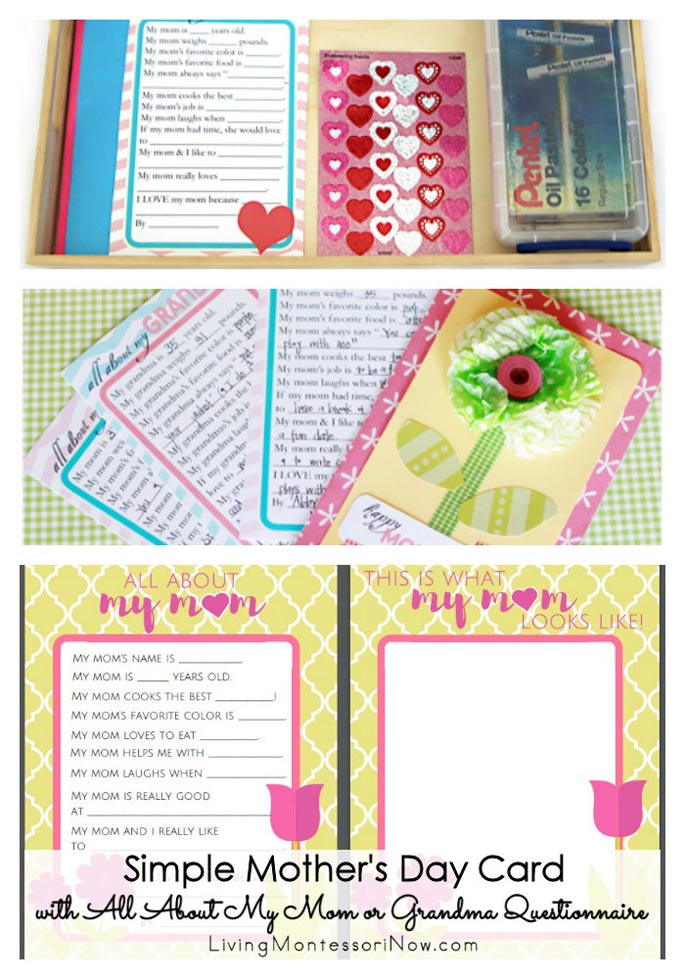 Simple Mother's Day Card with All About My Mom or Grandma Questionnaire
Gifts for Teachers
The Best Gifts for Montessori Teachers (if you need a gift for a Montessori teacher along with a few ideas for any teacher!)
Mother's Day and Teacher Appreciation Quotes for Cards and Gifts
I have posts at BitsofPositivity.com with best Mother's Day quotes and best teacher appreciation quotes to say thank you.
Kids' Mother's Day Activities Pinterest Board

You'll find links here to all sorts of Mother's Day activities, and many of them will work for Teacher Appreciation gifts as well.
Teacher Appreciation Pinterest Board
Teacher Appreciation Pinterest Board

You'll find links here to lots of Teacher Appreciation gifts, and some of them can also work for Mother's Day gifts.
Have a wonderful Teacher's Appreciation Day/Month and a wonderful Mother's Day! 🙂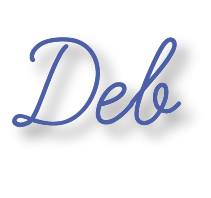 Learn more about my eBook Montessori at Home or School: How to. Teach Grace and Courtesy!
If this is your first time visiting Living Montessori Now, welcome! If you haven't already, please join us on our Living Montessori Now Facebook page where you'll find a Free Printable of the Day and lots of inspiration and ideas for parenting and teaching! And please follow me on Instagram, Pinterest (lots of Montessori-, holiday-, and theme-related boards), and YouTube. While you're here, please check out the Living Montessori Now shop.
And don't forget one of the best ways to follow me by signing up for my weekly newsletter. You'll receive some awesome freebies in the process!