My granddaughter and I had a busy afternoon yesterday making a special handprint keepsake for my daughter-in-law, Chea, for Mother's Day. Shhhh … don't tell Chea! Today, I'll share how we made the handprint art along with giving a free printable to make it easier for you to make one with a special child.
This is a project that requires thorough preparation and patience. Don't expect to get it right the first time … or the second time. I think this is one of the most difficult crafts to do with a baby or young child, but it's worth it. I adore handprint crafts and would have been sad if I missed out on them with my own children. This is a wonderful gift for Mother's Day, Father's Day, Grandparents Day, or Christmas.
This isn't a Montessori activity that would go on a shelf to be repeated again, but it was made much easier because of the Montessori environment I've prepared for my granddaughter in my home.
Disclosure: This post contains affiliate links at no cost to you.
Handprint Poem with Free Printable
There are a number of handprint poems to choose from. I used Google and my Pinterest boards to find a number of handprint poems and handprint craft ideas. My favorite poem was from a forum on Craftster. I think it's especially sweet. It says:
These are my hands
At ______ old
The ones you love
To kiss and hold
And you will remember
When I am tall
That once my hands
Were just this small
I made a Word document with the poem. Here's an editable version for you to add the correct age and whatever else you'd like for a baby or young child.
To download printable, click here.
You can use any font you'd like. If you'd like to match what I did, use the Black Jack font. If you don't have it on your computer, you can download Black Jack for free at Dafont.
I just added the date and my granddaughter's name with xoxoxo at the bottom. I would have said Mother's Day 2014 instead of the date, but my son will be buying an 8×10 frame that he'll have engraved for his wife's first Mother's Day. (Note: check back in a couple of days. I'll share a photo of the finished handprint keepsake in its frame.)
After editing the Word document, you can print out as many copies as you think you'll need. I used cardstock paper from Michaels craft store because I like the bright white color and nice texture. If you decide to cut out the best handprints, you'll only need to print out one copy of the poem and add the handprints to a blank page.
The Easiest Way to Make Handprints for Most Babies: While the Baby Sleeps
I've often seen this recommended as the best way to get a handprint or footprint from a baby. Because young babies tend to have their hands closed when they're newborns and grab everything when they're older, it's typically easiest to get a handprint while the baby is sleeping.
I found these articles helpful:
How to Get a Clean Stamp of Your Baby's Handprint from SheKnows and How to Get Good Handprints or Footprints of a Baby from Global Post.
Ahead of time, I purchased non-toxic, washable paint. I could have purchased one color but bought a set because I know I'll use it many times as a grandmother. I put a small amount of paint on a paper plate. I used a paint brush to apply the paint to my granddaughter's hand because I worried that it would be too difficult to get the handprint very even otherwise.
Before my granddaughter took her nap on the floor bed in my living room, I put a T-shirt of mine on her to keep any evidence of our project off her clothes. I made sure I had baby wipes available (and open) along with the paint and paint brush on a paper plate. I also had a hardcover children's book to place underneath the paper I wanted to get the handprint on.
When my granddaughter was sleeping soundly, I placed two paper towels under her arm. You could use a different sort of towel if you wish. It worked quite well to apply the paint with the paintbrush and add her handprint to the paper. I only ran into a problem because Zoey is a light sleeper. After the first handprint, she woke up and was ready to play.
Handprint Art at a Small Table
It was at this point that Zoey and I moved our project to the Montessori weaning table. I purchased our weaning table and chair from Michael Olaf. I love that it's the traditional Montessori weaning table that works well for babies from about 6 months and older. (My kids enjoyed theirs even as preschoolers.) You could find less expensive versions of a baby's first table on Amazon. See my post with more information about the Montessori weaning table and baby's first solid food.
I haven't purchased a child's painting apron for my granddaughter yet, so I just added a plastic bib over my T-shirt that Zoey was already wearing over her clothes.
I found it easiest to do one hand at a time. I had a few copies of the poem next to me that I could quickly reach. I used the paintbrush to apply paint to one of Zoey's hands and then quickly pressed her hand onto each page I wanted to use. I typically had to open her fingers a bit and press lightly on the top of her hand for each handprint. If you use the trick below, you could just have one or two blank pages where you press a number of handprints from each hand. I quickly removed the paper when I was finished so that Zoey didn't grab it. As I said, this isn't easy … but it's worth it. Of course, many babies won't be cooperative with this process, so you'll usually find it easiest to use the sleeping-baby method.
A Trick in Case You Have Trouble Getting Good Handprints
This wasn't easy, but I was able to get two handprints that worked, although not on the same poem. So, I decided to cut out the two best handprints and glue them onto a page with the poem. That made the process much more enjoyable for me, and I actually prefer the look of the cut-and-paste handprint because it's more 3-dimensional.
Here's a photo of the keepsake in the engraved frame. This will make a VERY special Mother's Day gift!
UPDATES: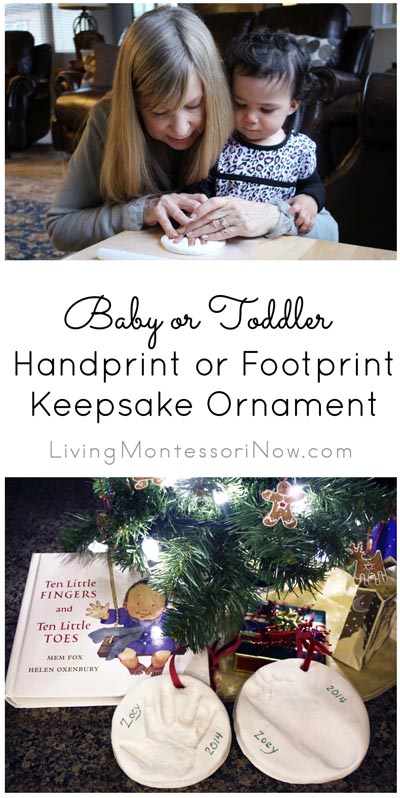 If you'd like to make a handprint or footprint keepsake ornament, check out the tutorial in this post: Baby or Toddler Handprint or Footprint Keepsake Ornament.
I also have directions for making a baby footprint keepsake with free editable poem.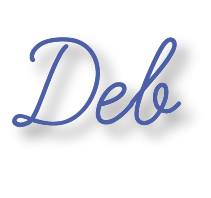 Learn more about my eBook Montessori at Home or School: How to. Teach Grace and Courtesy!
If this is your first time visiting Living Montessori Now, welcome! If you haven't already, please join us on our Living Montessori Now Facebook page where you'll find a Free Printable of the Day and lots of inspiration and ideas for parenting and teaching! And please follow me on Instagram, Pinterest (lots of Montessori-, holiday-, and theme-related boards), and YouTube. While you're here, please check out the Living Montessori Now shop.
And don't forget one of the best ways to follow me by signing up for my weekly newsletter. You'll receive some awesome freebies in the process!